2014 NBA Draft: Plenty of stars outside of the top prospects
While so much attention has been paid to the top seven players in the 2014 NBA Draft, there are a handful of guys outside of that group who could be stars.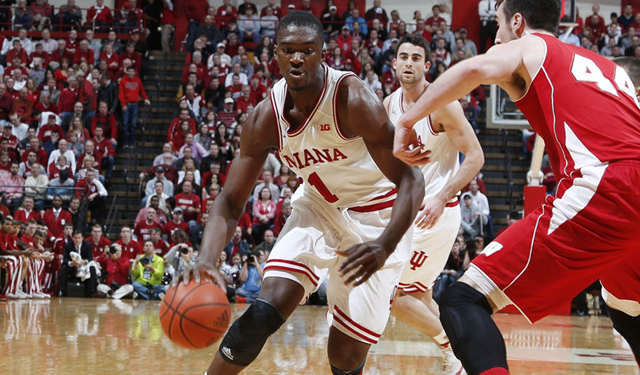 The hype of the 2014 NBA Draft will be justified if one of the top prospects ends up being an all-world superstar. Some people are banking on either Andrew Wiggins, Jabari Parker, or Joel Embiid being that star. Some are willing to throw Dante Exum, Julius Randle, and Aaron Gordon as potential players who could shoot up the ranks and find themselves as one of the top stars from this draft class. And while his stock has cooled a little bit, a scoring binge by Marcus Smart over the next month could throw his name back into the mix as one of the top stars outside of that.
Many fans and pundits have wondered if the rest of the draft class even matters to the teams that don't end up with a top seven pick this coming June. If you're not winding up with a lottery ticket that seems likely to be punched, can you still find a franchise-changing prospect amongst the "leftover" players who will round out the lottery and first round.
There are at least a handful of players with star potential who could end up being perennial All-Stars in the NBA. Some of them even have the potential to make an All-NBA team or two. We've focused so much on the top of this lottery and draft so far; let's take a look at the middle of the lottery and the potential steals of the first round who could make a GM look like a genius.
Noah Vonleh, Indiana Hoosiers
Outside of the top seven in the draft, Noah Vonleh is easily my favorite prospect. He's probably a guy I'd even want over someone like Smart or Exum. And while it might seem crazy to some, I think there's a real conversation to be had about Vonleh vs. Gordon in terms of which power forward you want for yourself moving toward the future. The physical attributes for Vonleh are all there. He's 6'10" and has a very solid frame at around 240 lbs. He also has a great wingspan of around 7'4" which makes his defensive potential stellar.
In addition to the physical attributes, the skill set is really good. He's a good post scorer, even at the college level where zone defenses might make it harder to find room on the block. He loves to drive toward the middle of the floor whenever he gets the ball and he mostly goes over his left shoulder for any post move. His jumper is good enough to have to respect too, making 59.1 percent of his catch-and-shoot jumpers. Amazingly, he's making 69.2 percent of those catch-and-shoot shots when guarded as opposed to 44.4 percent unguarded (small sample size though). 
As you can see in this snippet of highlights, he has a good touch and he moves really well. He seems to approach the game in the same way Chris Bosh of the Miami Heat does. He's not a high usage guy by any means, but he finds the open spots in the defense to make everything happen. He also has really good body control. 
Rodney Hood, Duke Blue Devils
Looking at what Rodney Hood has done since transferring to Duke and finding himself as the Robin to Jabari Parker's Batman, it's hard to find a real hole in his game. He attacks defenders like an NBA veteran, and really the only area in which he's struggled to score is in isolation. Put him in the NBA where the floor is more spread out and the offense is much more free-flowing and you could see that area of his game (39.3 percent from the field) flourish. With Hood, it's the way he makes plays for himself and others that sets him apart. 
He is one of the best scorers in college basketball when he's running a pick-and-roll. He's also a deadly cutter on the court, finding creases in the defense that give him plenty of room to attack, receive the ball, and make the defense pay before it knows he's even there. He's also an excellent jump shooter, especially from outside where he's made 43.6 percent of his 3-point shots. 
The nice thing about Hood is he'll fit wherever he ends up at the NBA level. He's not a guy that needs to dominate the ball to contribute, but if he is called to do that, he's a great playmaker. He has an effective field goal percentage of 60.8 percent on open catch-and-shoot shots so he'll make you pay if you double off of him. He attacks going left as much as he does going right and it's lethal either way. Hood may be one of the top scorers out of this draft. 
Dario Saric, Croatia
Dario Saric is this draft's true international man of mystery. While Dante Exum has been locked up in obscurity aside from a few highlights here and there, it's hard to make heads or tails of what you're getting with Saric, assuming he still enters the draft for this June. Saric is a big kid that will like split time between the small forward and power forward positions in the NBA. He has a nice touch around the hoop, he seems pretty versatile, and he's a very good rebounder. He's great in transition, he's great on cuts to the basket, and he's really good converting offensive rebounds into points.
But what else does he do? He's been a horrendous spot-up shooter this year, making just 29.6 percent. He struggles in the post and as the pick-and-roll man. He's a solid catch-and-shoot guy when he's open but guarded jumpers in this situation get converted just a quarter of the time. Still, his playmaking ability, athleticism, and size leave many scouts and executives thinking he could be the real deal with a little NBA development. 
You can certainly see the potential here but there's part of me that wonders how much he's the next Hedo Turkoglu or Toni Kukoc and how much he's probably just the next Jan Vesely. Perhaps both cases are unfair comparisons and falling somewhere in the middle suits him just fine. But with so many influencers believing he could be a fantastic import, he belongs in this conversation for now.
James Young, Kentucky Wildcats
The overall statistics for James Young won't impress you. He's averaging 14.4 points, which is solid for college basketball on a loaded Kentucky team. But his shooting percentages of 41.0/33.3/65.0 are nothing that jump off the page as something you're looking forward to. The big hype surrounding Young would definitely be John Calipari praising him as possibly the top Kentucky prospect right around the time the season started. He certainly hasn't fulfilled that praise in his freshman year there but he shows signs of being a guy who can break through.
Run him off screens, give him spot-up jumpers, or get him out in transition and he'll shine. Ask him to do much else and you haven't seen star qualities out of him at Kentucky. However, this is also a Kentucky team that has been all over the place this season and seems to struggle a bit with finding which prospects should be doing what out there. It's possible they have too much talent and someone like Young gets lost in the shuffle at times because of it. 
He's deadly as an open shooter, pouring in an impressive effective field goal percentage of 72.2 percent on unguarded catch-and-shoot attempts. The jumper has potential to really work at the NBA level and if that happens, the rest of his game will open up. If his offense opens up the way some believe it will, his overall attack will shoot him up the ranks of his draft class.
Wayne Selden, Kansas Jayhawks
It's possible I'm just holding out hope for a prospect I was very high on heading into his freshman year at Kansas. Wayne Selden seems to be the total package in terms of how a player attacks any defender. He's a very strong guard with great athleticism and a good shooting stroke, and yet he's struggled in his time on a loaded Kansas team. While Young at Kentucky can get lost in the shuffle sometimes, Selden seems non-existent far too often.
However, the skill set is still incredible and getting away from the college game and into the open flow of the pro game could help him blossom. He'd be able to show the star quality he flashed us as a high school player and in the McDonald's All-American game. He's mostly been used as a spot-up shooter this season and he's really much more of a playmaker. 
The alarming thing about Selden is it's hard to find highlight cuts of just him at Kansas this season, which shows you just how lost in the shuffle he can get at times. Selden's stock has dropped but if he decides to still enter the NBA draft for this year, he could find himself being the steal of the first round if he falls to around 20 or later. I'd expect him to have great predraft workouts and a solid tournament run for him would help a lot. Let's just hope Selden's high school prowess doesn't become Austin Rivers' NBA disappointment. 
Stephen Curry, who grew up in North Carolina, wants to be part of the next Panthers ownership...

Vince Carter is destined for a Raptors reunion; he doesn't know when it'll happen

Thomas has a target date for his return, and with the Cavaliers scorching, this could be h...
LeBron James once again is using his platform to be socially active

Not many games, but still plenty of action and intrigue Sunday in the Association

Kobe Bryant had a solid piece of advice for back in 2016 when he left OKC for Golden State