2014 NBA Draft: Projecting next year's lottery picks
Now that the 2013 NBA Draft is in the books, it's time to start thinking about the 2014 NBA Draft. College Basketball Insider Gary Parrish projects next year's lottery picks.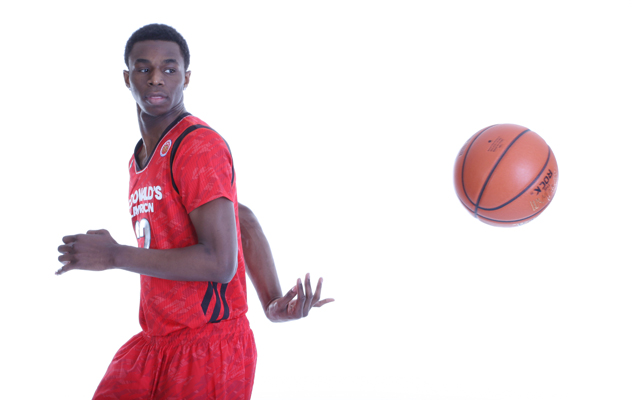 Now that the 2013 NBA Draft is behind us, it's time to start looking ahead because, you know, it's never too early to start looking ahead, to think about the future, to begin discussing opinions about the next time 30 NBA franchises will spend an evening selecting 60 prospects.
That'll be next June, of course.
And it should be fantastic because the 2014 NBA Draft should be just as star-studded as the 2013 NBA Draft was star-free. In fact, I would argue, any of the top four picks I've projected for next year's draft would've gone No. 1 in this year's draft had they been allowed to enter it. But they weren't because of the NBA's collective bargaining agreement, and the beneficiary of that should be next year's lottery teams.
Here's my projected lottery picks for the 2014 NBA Draft:
2014 NBA Lottery Mock Draft
1. Andrew Wiggins, SF, Kansas (Fr.)
Wiggins is arguably the best NBA prospect to exit high school since LeBron James. He's an explosive athlete and franchise player, the type that can have a similar impact on a market that Kevin Durant has had on Oklahoma City.
2. Julius Randle, PF, Kentucky (Fr.)
Randle is the latest high-level prospect to enroll at UK. His combination of size, power and finesse will make him an ideal power forward in college and the NBA.
3. Aaron Gordon, PF, Arizona (Fr.)
There's no guarantee that Gordon will develop into Blake Griffin, but watch him play and it's easy to see why some think he could. He's a super athlete who competes with a certain level of tenacity.
4. Jabari Parker, SF, Duke (Fr.)
Parker was never deserving of the Sports Illustrated cover that called him the best high school basketball player since LeBron. But he's still really talented and worthy of being selected in the top five after one year at Duke.
5. Marcus Smart, PG, Oklahoma State (Soph.)
Smart will go lower in next year's NBA Draft than he would haveve in this year's NBA Draft because of the quality of this freshman class about to enroll. So staying at Oklahoma State cost him money. But he knew that when he made his decision, I'm certain.
6. Willie Cauley-Stein, C, Kentucky (Soph.)
The potential with Cauley-Stein is something NBA scouts are already in love with considering he has been playing basketball for only a few years. He'll be a top-10 pick after the breakthrough season that's expected.
7. Andrew Harrison, PG/SG, Kentucky (Fr.)
John Calipari got caught last season without a pro point guard, and it showed. Harrison will solve that problem this season, then bounce to the NBA.
8. Mitch McGary, PF, Michigan (Soph.)
McGary was the breakout star of March's NCAA tournament. He could've been a first-round pick in this NBA Draft if he hadn't stayed in school. But he did. And the Wolverines -- plus the 2014 NBA Draft -- will benefit from that decision.
9. Mario Hezonja, SG/SF, Croatia (18)
Hezonja is the only international player projected in this lottery. He's a nice athlete who plays on (and can make shots from) the wing.
10. Isaiah Austin, C, Baylor (Soph.)
Austin has forever been projected as a lottery pick, which is why it was surprising when he opted to return to Baylor. Either way, most believe he'll make the jump after one more season in Waco and likely be picked about where he would've been picked this year.
11. Glenn Robinson, SF, Michigan (Soph.)
Big Dog's kid has become a way better NBA prospect than anybody anticipated. He's among the reasons the Wolverines might make back-to-back Final Fours.
12. Montrezl Harrell, PF, Louisville (Soph.)
Harrell was caught in a numbers game last season playing behind Gorgui Dieng. But he'll be the Cardinals' primary big this season, and the guess here is that he'll excel in that role.
13. Aaron Harrison, SG, Kentucky (Fr.)
How do you know when you have a good set of twins? When even the inferior prospect of the two is still a projected lottery pick.
14. Semaj Christon, PG, Xavier (Soph.)
Christon has the size and other physical tools to be a very nice professional point guard. If Xavier is good this season he'll compete for First Team All-American honors before jumping to the NBA.
Larry Hartstein has his finger on the pulse of Kings basketball and just released a play for...

One reported proposal has seeds 7-10 playing for the final two spots in each conference

The longtime Maverick says he's disappointed by all the negative news surrounding his beloved...
Larry Hartstein has nailed 17 of his last 22 NBA against the spread picks and locked in a play...

The NBA is reportedly entertaining the notion of a play-in tournament for the postseason

Cuban has had multiple interviews since the investigative report on the organization surfaced...