2014 NBA Draft: Ranking the centers of this draft class
With the news that Joel Embiid could have some big injury problems in his career, can any other centers save this drop of the NBA's most fabled position? We rank the center prospects.
More Offseason Analysis: Coaching changes, news | Free Agency | Draft | Rumors
The center position in the NBA isn't what it once was when we had Patrick Ewing, Hakeem Olajuwon, Shaquille O'Neal, David Robinson, Alonzo Mourning and other incredible centers roaming the paint. We're not exactly in that gold class of centers anymore, whether it's due to the new defensive rules of the NBA making the post more challenging or a lack of development for big men.
While the position in the NBA isn't as bad as people make it out to be, the league needs a steady stream of big men coming in who can competently fill the position in the NBA. Even as the NBA skews more toward small ball, there will always be a need for the big man in the middle. This center class won't bowl you over, unless Joel Embiid can overcome injury concerns and have a great career. The rest of the class is unlikely to help him much in that respect.
We're still going to break it down into tiers of centers -- from a future star center to role-playing hopefuls to potential backups to guys who may not have much of an impact at all. We'll be looking at how they project out based on skill set now and what we expect them to develop into in the future.
(The players in each category are in order of how good I think they'll be in the NBA. If you don't see a player in this position category, he's either not good enough to be mentioned or I think he'll play a different position in the NBA.)
Other position rankings: Point Guards | Shooting Guards | Small Forwards | Power Forwards
Star center of this draft class comes with risk
Fracture in his back earlier this year, and now he has a foot fracture in the navicular bone in his right foot. This center looks like he's damaged goods but his skill set and physical attributes when healthy are so incredible that he still might be worth the risk of selecting him high in the draft. Who will take that risk though?
Joel Embiid, Kansas: A healthy Joel Embiid is worthy of the No. 1 pick in this loaded draft. Even with the star potential of Andrew Wiggins and Jabari Parker, the allure of Embiid patrolling the paint on defense and dominating it on offense is just too great. The injuries have cut into whether he'll be able to do that game after game, week after week, month after month and season after season without a vast number of games missed in the process. Embiid would immediately boost the stock of the center position in the NBA and he could be set up to dominate it in a few years. Since we no longer know if he's going to be healthy with not one but two major injuries, he's now a much bigger risk for teams to take.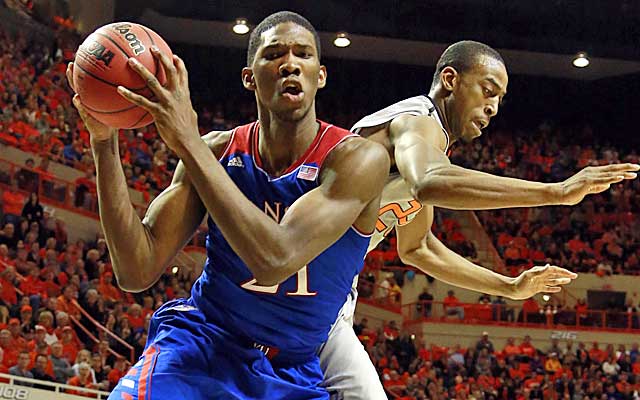 Are these centers able to develop into legit NBA bigs?
It's always tough to project an international big man prospect because you don't know if you're getting a Tiago Splitter/Nikola Pekovic type of success story or you go to the opposite end of the spectrum and get a Fran Vasquez who never comes over. These players are likely to be somewhere in between but we could see first-round commitments to a couple of them. 
Jusuf Nurkic, Bosnia: If you believe Nikola Pekovic can be a valuable center in this league, then you'll buy into the upside of Nurkic. I do on both counts. Nurkic isn't an athlete by any means but he's incredibly strong and has a very strong post game using that strength. He's a bit of an old-school center in that respect because he's not going to be flying around the floor on defense. He'll have to be a position defender more than a guy who can make plays with leaping ability. A nice bonus to his game is he should be able to draw fouls and he's a solid free throw shooter (around 70 percent last year).
Artem Klimenko, Russia: Klimenko is a guy who could sneak into the first round for a team that has multiple picks and wants to stash someone in Europe for a couple years. He's a legitimate 7-footer with a 7-4 wingspan, but he needs to add some bulk to his frame. He's also not much of an athlete but he has good timing on the boards and with blocking shots. It's hard to know how developed his skill set is because we don't know a ton about him, but the physical attributes look solid.
Walter Tavares, Cape Verde: Tavares is another big mystery in this class. He just signed a new deal overseas that will allegedly make it easier for him to come to the NBA sooner rather than later. He's 7-3 with a 7-6 wingspan. He has good mass on him as well and his hands are the size of satellite dishes. He doesn't seem like he quite understands the intricacies of the position quite yet, but there's a lot of room and time for a giant like this to learn what he's supposed to do out there. 
Nikola Jokic, Serbia: I love his skills as a big man. He can pass, he can shoot a little, and he seems to make very good decisions with the plays he makes. He could end up harnessing that basketball IQ into being a help defender that gets into position, but you can't expect much out of him on that end of the floor. You're getting a Luis Scola-type of role player off the bench, except he's not as good as Scola is/was.
This center has the chance to crack rotations instantly
I'm just throwing one guy into this category for two reasons: 1) I believe he's good enough to make an impact in a rotation with his defense and rebounding right away; and 2) I think if he gets with the right team late in the first round or early in the second, he could legitimately be in a playoff rotation.
Patric Young, Florida: He won't be Ben Wallace good but he has that type of game. He's a bruising defender, a very strong rebounder, and he's a guy you only want to give the ball when he's cutting around the basket. He doesn't have much upside as a prospect and he'll probably never be starter quality, but as a defensive role player off the bench, he's perfect for a team looking for interior depth. He never stops working on defense and can wear guys out doing so.
D-League/overseas material
These centers are more likely to have success in a career overseas in international play, but some could try to go the D-League route, shuttle back and forth between the D-League and the NBA, and hope they develop whatever deficiencies are currently keeping them from being a guaranteed second-round pick.
Jordan Bachynski, Arizona State: He's going to turn 25 before the season begins, which normally shouldn't be a concern for a guy who can contribute right away like Adreian Payne or C.J. Wilcox. The problem with Bachynski is I'm not sure he can contribute right away, so his ceiling is pretty low. Still, he's huge at 7-2 and has a decent ability to make things happen in the post. He can also rebound quite well but he might never be more than a guy at the end of the bench for fouling purposes.
Cristiana Felicio, Brazil: I'm guessing he'll be more of a 5 in the NBA than a 4 if he ever gets there. He's only 6-9 but he has good strength and his wingspan is 7 feet. If he adds a midrange jumper to his game, he can be effective on offense. Otherwise, he might not be more than a dump-off guy around the hoop and there are taller players who can do that sort of thing.
Sim Bhullar, New Mexico State: He's unlikely to be drafted, but the 7-5, 350-pound giant from New Mexico State could be a project to undertake in the D-League. He's never going to be an athlete by pro standards and his conditioning will keep his long-term effectiveness in check. But he is a force on offense inside and his sheer size will keep people away from the basket. It will be interesting to see if a team is willing to take a flier on him and see if it can mold him.
Kerr knew just what to say after Jones pulled off an upset in Alabama

The future of the league was on display on Tuesday night

Check in throughout the night for the latest news and highlights from NBA games
The Lakers legend details why the NBA popularity will continue to rise

SportsLine's Mike McClure, a DFS pro with more than $1M in winnings, gives optimal lineup...

If the Thunder forward doesn't know the reason, he has a very short memory