2014 NBA Draft: Ranking the small forwards of this draft class
The great debate continues between Andrew Wiggins and Jabari Parker, but after those two phenoms, who are the best small forwards of the 2014 NBA Draft?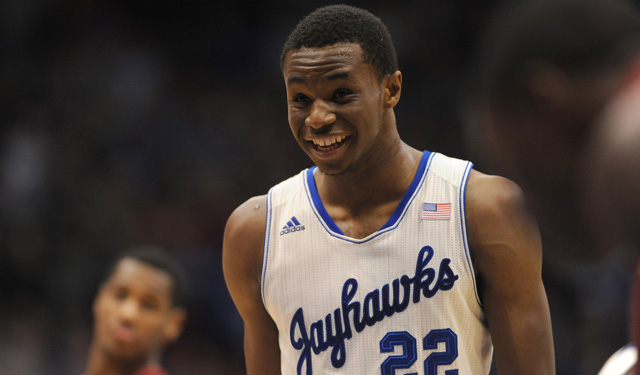 More Offseason Analysis: Coaching changes, news | Free Agency | Draft | Rumors
The small forward position in the NBA is as complicated as it's ever been. With small ball becoming such a common lineup mode for most coaches around the league, small forwards have become stretch-4s at times, power forwards have become centers, and centers have become dinosaurs of a Jurassic era of basketball for quite a few systems. Today's small forwards need to be able to play multiple positions, and more importantly they need to be able to defend multiple positions.
We have a star-studded draft class of small forwards coming in. Andrew Wiggins and Jabari Parker highlight this group of versatile players who will likely shift all over the court in terms of position. They'll boost their teams and find ways to carve how important places in this league for themselves. 
We're going to break it down into tiers of small forwards -- from the future stars of the league to role playing starters to prized backups to guys who may not have much of an impact at all. We'll be looking at how they project out based on skill set now and what we expect them to develop into in the future.
(The players in each category are in order of how good I think they'll be in the NBA. If you don't see a player in this position category, he's either not good enough to be mentioned or I think he'll play a different position in the NBA.)
Other position rankings: Point Guards | Shooting Guards | Power Forwards | Centers
These Small Forwards Are Guaranteed Stars
These guys can and likely will go 1-2 in the draft for a reason; they're big time stars with incredible potential to lead a franchise some day. Wiggins is still fairly raw in terms of basketball skills like dribbling and shooting, but we've seen significant improvements in just one year of playing college ball. Parker may end up being more of a 4 in this league, but it really depends on what he's able to do with his conditioning. If he drops some weight, he'll be a kill small forward for a long time. These two are the cream of the crop.
Andrew Wiggins, Kansas: I've got Andrew Wiggins as the top small forward in the 2014 class because I also believe he's the best prospect, now that Joel Embiid has added another pre-career ailment. Wiggins has the athleticism to dominate once his skill set catches up. He's already improved so much with his handle and shooting that it's hard to pretend this isn't a likelihood. He'll also be the best two-way wing of this draft class because his defensive ability should be through the roof. 
Jabari Parker, Duke: It's hard to say Parker will definitely be a small forward in this league when he's just as likely to play a lot of stretch-4. His athleticism is underrated and he'll have the biggest impact of any rookie right away because of his polished scoring ability. His defensive issues seem overblown to me because he was playing out of position at Duke. Also, allow him to get into shape and we'll see a guy who doesn't get tired late in games. If he trims up, his ability to dominate the small forward position will be significant, but I think his ceiling is slightly lower than Wiggins' ceiling.
They Won't Be Stars But They'll Buoy Playoff Runs
Perhaps this is the next crop of small forwards who can be huge difference-makers like we saw with Kawhi Leonard before he made the leap into being a Finals MVP. This tier of versatile forwards can play multiple positions on both ends of the court and have a wide range of skills that should be easy for any NBA team to harness. They weren't stars in college, but they were integral role players who can be incredibly important in the NBA. 
Kyle Anderson, UCLA: I don't really think it will take much for Kyle Anderson to be the third best small forward in this class. His skill set is above everybody else's, he has great size and length for the position, and he can swap between being a 3 and a 4 on both sides of the ball relatively easily. He has a great basketball IQ and feels like a Royce White type player without the baggage. He vastly improved his 3-point success from his freshman year to his sophomore year, but with under 60 attempts in each season, you can't draw much from that already. He fits with any team.
Rodney Hood: Rodney Hood was a bit of an unsung hero for Duke throughout the season while Jabari Parker was getting the bulk of the attention. The smooth shooting lefty shot 42 percent from downtown last season, he can create for others off the dribbe, and he's good at getting quality shots for himself. I think he'll project to defending 2's and 3's, rather than moving up to defend power forwards. Hood could develop into a nice third option for a team.
Not Sure They're Star Role Players But They Could Be Close
This next tier of small forwards have a couple of very distinct flaws that need to be worked out, but even then they could still be valuable role players for whatever team drafts them. Developing those flaws into strengths could be the difference between these forwards being steals in the draft or just being nice picks.
James Young, Kentucky: People keep talking about James Young's ability to knock down 3-point shots, but his 34.9 percent last season doesn't exactly blow me away. If he can fix that, the rest of his game is sound. He can create shots for himself and he should be a fantastic defender at the NBA level. His 7'0" wingspan will eat up space against scorers and when he's attacking the basket. 
Dario Saric, Croatia: It's hard to know what to make out of Dario Saric because we just haven't seen him do a whole lot outside of highlight reels. He's a good passer and his handle is excellent for a 6'10" player. His size makes him likely to see quite a bit of time at the 4 position, but his skill set is more of a wing type creator. His jumper needs work, as does his athleticism, but he's a playmaker with plenty of room to grow.
Cleanthony Early, Wichita State: Cleanthony Early should have a nice enough all-around game to be a great complementary piece in the NBA. Early will be able to play both forward positions and you may even be able to put him at the shooting guard against slower backcourts. He improved his 3-point shooting last season but it came after a subpar shooting effort in his first season. It'll be interesting to see if he can keep that momentum going for being an outside shooter with a deeper 3-point line.
These Guys Develop a 3-Point Shot And They Jump Up At Least One Tier
It feels like these three swingmen could be major role players in the NBA, but I think it's dependent on them developing good 3-point shots. If they don't develop effective outside shots, they'll still be nice role players in this league, but their 3-point shot could be the difference between them being starting quality and being definite bench role players.
T.J. Warren, N.C. State: T.J. Warren is  a fantastic scorer but it all comes from inside the arc. His size and strength should give him the ability to defend at the NBA level. Throw him in a defensive system like Tom Thibodeau's and he could be a terror on the court. He can be a nice role player without the shot, but that 3-point addition to his game could catapult him up quite a bit. 
K.J. McDaniels, Clemson: K.J. McDaniels has the chance to be the prototypical 3-and-D type of wing if he develops a 3-point shot. I love everything about McDaniels' game except his ability to shoot from the outside. In three years at Clemson, he proved he's just flat-out not a threat from beyond the 3-point arc. His leaping ability makes him a constant source of excitement as he's moving toward the hoop. He'll baptize a few big men at the rim during his rookie season until players realize they can't jump with him. He'll also be a great defender at the NBA level.
Jeremi Grant, Syracuse: Here is how little of a shooter Jeremi Grant is: he took 20 3-point attempts in 72 games for Syracuse. He has good size at 6'8'" and his 7'3" wingspan makes you pine for the defensive potential he could have. But he's got to at least make opponents pretend to respect his play from outside. If he ends up being an undersized power forward in this league, that's fine, but it lessens the impact he can have on the court.
Boosts For The Second Unit For a Long Time
These guys probably aren't good enough to be starters most years of their career, but they're primed to be good contributors for the second unit. 
Glenn Robinson, Michigan: Glenn Robinson is one of those college guys who doesn't have good shooting numbers, but I believe will be a good shooter in the NBA. In a similar way that Bradley Beal had underwhelming shooting numbers in college, Robinson could establish himself as a shooter in the NBA but on a much smaller scale of impact. He's a very smart player moving within the halfcourt and he can get up and down the floor quite well. 
DeAndre Daniels, Connecticut: There's some concern with DeAndre Daniels because he wasn't much of a prospect before UCONN's tournament run. He's long, he's athletic, and he showed a great shooting touch from 3-point range last season. He could be a very versatile weapon on both ends of the floor in the second unit, but it's a little curious that he didn't establish himself on the scene until late in his junior year.
Intriguing Question Marks
A couple of international players here who are a little under the radar. Neither player is likely to go in the first round with such a talented crop of players, especially at the same position. However, once these guys hit the NBA, they have the potential to find important support roles with their respective teams.
Damien Inglis, France: Inglis looks like he can develop into a pretty good all-around player. He shot the ball well this season in France but we're only talking a couple dozen 3-point attempts. He projects out to be a good defensive player and he can rebound well for his position. He might end up being more of a power forward in the NBA because he's a tweener and he could struggle with quicker forwards. If he develops a consistent 3-point shot, we'll see him be a nice forward option on offense. 
Thanasis Antetokounmpo, Greece/D-League: The brother of the fabled Giannis Antetokounmpo should be a second round pick with a decent shot to make a roster. He's not an offensive player at all and he's older than his brother. I wouldn't expect him to come in and make fun plays like Giannis. Defensively though, he could be a great role player, maybe in the Luc Richard Mbah a Moute type of role. 
D-League/Overseas Material
These small forwards are more likely to have success in a career overseas in international play, but they could try to go the D-League route, shuttle back and forth between the D-League and the NBA, and hope they truly develop whatever deficiencies are currently keeping them from being a guaranteed second round pick.
LaQuinton Ross, Ohio State: Ross has talent but he's an inconsistent shooter with an inconsistent attitude toward playing defense. I think he has the ability to be in the NBA, but I'm not sure his lack of defensive fire will keep him around. Perhaps, he'll end up figuring things out overseas and then finding a role in the NBA.
C.J. Fair, Syracuse: I don't buy C.J. Fair as a shooter at all and I'm not sure he's an effective scorer unless he's getting a high volume of shot attempts, which won't happen in the NBA. He has to utilize his insane athleticism into becoming a great defensive role player if he wants to stick around in the NBA. 
We've got all the scores, highlights and news for Thursday night

There were some weird discrepancies between the fan, media and player votes

LeBron and Steph will be the captains for the 2018 NBA All-Star Game
Arron Afflalo was involved in an altercation with Timberwolves big man Nemanja Bjelica on...

Fergie and Canadian rock band The Barenaked Ladies will sing their respective national ant...

Based on Gentry's tongue-in-cheek price, Boston is highly unlikely to acquire the big man