2014 NBA Draft: Ranking the top 3-point shooters in this draft class
Who is the best shooter in the 2014 NBA Draft? Is it Doug McDermott? Nik Stauskas? Could Shabazz Napier or C.J. Wilcox be the best marksman?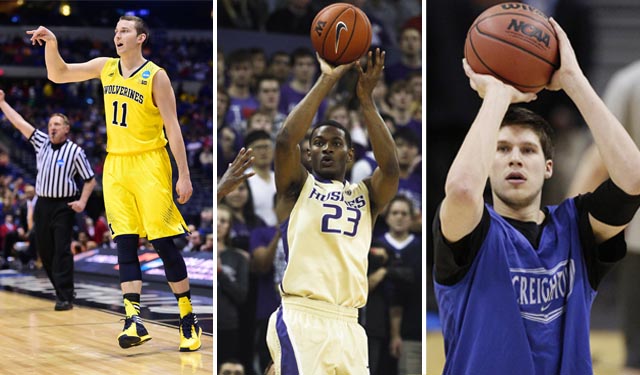 More Offseason Analysis: Coaching changes, news | Free Agency | Draft
In today's NBA, 3-point shooting is as important as it has ever been in professional basketball. We saw the San Antonio Spurs dismantle the Miami Heat in the NBA Finals with precision passing and accurate 3-point shooting at the end of those passes. We've seen an emphasis on spacing the floor with smaller lineups and more perimeter shooting against teams loading up on the strong side with pick-and-roll defense. We're seeing teams shoot more and more 3-pointers to make defenses pay.
This year's draft class has a cupboard full of shooters for teams to pick from throughout Thursday night. Some of the shooters can be grabbed in the top 10 without reaching, we have lottery shooters available, guys available toward the end of the first round, and even a couple second round shooters who could come in right away and stretch the floor. Here are the top 10 perimeter shooters from this year's draft class.
To determine the rankings, the players are judged on 3-point shooting last season, overall in their post high school career, shooting coming off screens, spotting up, off the dribble, and catch-and-shoot attempts that are both guarded and unguarded. It's not an exact science by any means as context of their roles on the team is factored in as well. Stats provided by Synergy Sports.
10. James Young, Kentucky: 82-of-235 (34.9 percent)
Young is being touted as an athletic wing player who can stretch the floor for a team in this year's lottery. The idea of him stretching the floor is curious though because his shooting percentages don't blow you away after a year at Kentucky. The shooting form is good enough, but the accuracy isn't there. His effective field goal percentage coming off screens (50.0 percent), spotting up (49.6 percent), and shooting off the dribble (33.8 percent) aren't anything to write to your local GM about. And on catch-and-shoot attempts in which he's guarded, his eFG is only 49.6 percent. 
Where he shows promise though is on unguarded catch-and-shoot attempts. He had an impressive 67.0 effective field goal percentage on unguarded attempts. If you can harness that success on open shots, you can open up his perimeter game to make him an all around threat to the defense.
9. Zach LaVine, UCLA: 48-of-128 (37.5 percent)
Determining how good Zach LaVine's 3-point shooting in the NBA will be is kind of tough because his numbers are a bit confusing. He was effective coming off of screens at UCLA (eFG of 56.1 percent) but he wasn't effective much spotting up (47.1 percent). Normally, you'd assume a shooter would have a greater impact with his feet set than on the move. However, on unguarded catch-and-shoot attempts LaVine was great (65.9 eFG percentage and just 48.8 percent on guarded attempts). The problem with judging the one-and-done guys is we don't have a huge sample size to deal with and LaVine fits that problem perfectly. His shooting stroke looks good but will that translate to the NBA along with good shooting decisions? That's the question with this incredibly athletic combo guard.
8. P.J. Hairston, Texas Legends: 73-of-204 (35.8 percent)
P.J. Hairston's case is unlike any other shooter in this class because he spent some time in the D-League last season. After not being able to play at North Carolina for his junior year, he jumped to the D-League and played with the Texas Legends. He had some big games but overall his 3-point shooting was pretty average from the deeper line. In two years at UNC, he made 34.9 percent of his 3-pointers on 364 attempts. He wasn't very accurate (eFG of 44.9 percent) spotting up in the D-League, but coming off screens he was a marksmen (eFG of 64.3 percent). On jumpers off the dribble, his 58.3 percent eFG was very promising. 
Hairston wasn't much of a shooter on unguarded catch-and-shoot jumpers (48.8 percent eFG), nor was he on guarded (51.0 percent eFG) attempts, but he seems to be a guy who could be a 3-point specialist for years to come. 
7. Gary Harris, Michigan State: 81-of-230 (35.2 percent)
Gary Harris' 3-point career at Michigan State is all over the place. He shot 41.1 percent form 3-point range in his freshman season, but dropped to 35.2 percent last season. Part of that could have been a bigger role with the Spartans. His field goal attempts and usage rate rose considerably. As an outside shooter, he was still very solid. Off screens (55.3 percent eFG), spotting up (55.0 percent eFG), and jumpers off the dribble (48.0 percent eFG) were all very solid. His catch-and-shoot accuracy (55.6 percent eFG on guarded, 59.2 percent eFG on unguarded) was also still good despite the lower 3-point percentage.
With Harris, he's unlikely to have such a big role in the NBA like he did with the Spartans. You're probably hoping to grab a Bradley Beal-lite version with Harris and have his accuracy as a freshman shine through. He's definitely a good enough shooter to do so, but you still want to see that consistency from year-to-year. 
6. Rodney Hood, Duke: 71-of-169 (42.0 percent)
In Rodney Hood's two college seasons, he went from a pretty decent outside shooter (36.4 percent) to a marksman at Duke last season. His situational percentages were kind of all over the place with coming off screens (39.5 percent eFG) being much lower than spotting up (53.4 percent eFG) and jump shooting off the dribble (55.3 percent eFG). His unguarded catch-and-shoot attempts (60.7 percent eFG) were nearly 10 percentage points higher than the guarded attempts (50.9 percent eFG). 
Where Hood was his most deadly was shooting from 3-point range as a pick-and-roll ball handler. His 63.4 effective field goal percentage in these situations made him someone you couldn't go under the screen on. It adds a dimension to his outside shooting that a lot of these other guys don't have. If he's that accurate with the ball in his hands dribbling off of screens as the defense is recovering, you have to think his long-term shooting will be great as a spot-up option.
5. Shabazz Napier, Connecticut: 87-of-215 (40.5 percent)
It took Shabazz Napier a while to become a deadly 3-point shooter, but he's here now and it's added a very important dimension to his game. He improved as a 3-point shooter in all four years of his career at UCONN and is now someone you have to worry about stretching the floor to go with his playmaking. As a senior, he was great coming off screens (59.8 percent eFG) and very solid as a spot-up guy (55.1 percent eFG). He struggled a bit on guarded catch-and-shoot attempts (51.1 percent eFG), which could be due to his lack of size against defenders closing out. However, you can't leave him open on catch-and-shoot opportunities.
He had an effective field goal percentage of 97.7 on unguarded catch-and-shoot opportunities. That is not a typo at all. He shredded the defense when they left him open to plant his feet, catch, and let it fly immediately. I think we know why the rumors of the Heat wanting him are coming out. They want to give LeBron someone to kick to. 
4. Jabari Brown, Missouri: 80-of-195 (41.0 percent)
Jabari Brown is a second round guard who could end up being a valuable weapon off the bench because of his outside shooting. He was a career 38.6 percent 3-point shooter in college and just torched defenses (61.1 percent eFG) coming off screens. He was average (50.8 percent eFG) as a spot-up guy, mostly because his guarded catch-and-shoot accuracy (53.7 percent eFG) wasn't anything special. Don't leave him open on these attempts though. If his teammates swing the ball around and find him unguarded, his catch-and-shoot accuracy goes to 68.6 percent for effective field goal percentage.
3. Doug McDermott, Creighton: 96-of-214 (44.9 percent)
It's kind of hard to imagine McDermott not being in the top 2 of this 3-point shooting list, but there is a reason. We're looking for consistency in NBA shooting and don't want wild swings from one attempt to the next. There isn't much to disparage with McDermott's accuracy in college. In four seasons, he made 45.8 percent of his 3-pointers and had an eFG of 72.4 percent when coming off screens. Off the dribble, his eFG was an impressive 57.7 percent and he was a very solid spot-up shooter (56.4 percent eFG). 
The thing that keeps him out of the top 2 is simply projecting his NBA effectiveness based on the swings in guarded vs. unguarded catch-and-shoot attempts. You simply can't leave him open. When you do, he drills the shots. His unguarded catch-and-shoot eFG was a ridiculous 97.6 percent. So what's the problem with him at the NBA level? His guarded catch-and-shoot attempts brought an eFG of 51.9 percent, which is a significant drop to say the least. Will the taller, more athletic defenders closing out give him problems in the NBA? He didn't have this gap in the previous two years at Creighton, but he also received the most defensive attention in that final season.
It's not that he won't be effective at this level; it's just if he's not left open, we're not sure if he'll be a legendary shooter or just pretty good. 
2. C.J. Wilcox, Washington: 90-of-230 (39.1 percent)
C.J. Wilcox wasn't as accurate in his four-year career as McDermott was, but he's a better athlete and a much more comfortable shooter on guarded attempts. Wilcox is a late first round/second round pick and he could be a steal if he drops into the second 30 of this draft. He was a career 38.9 percent 3-point shooter at Washington. Coming off screens, he struggled with an eFG of just 50.5 percent, but his body control and shooting stroke are good enough to believe he can improve that in the NBA. His spot-up eFG was 58.9 percent and he didn't waver much between guarded and unguarded accuracy on catch-and-shoot opportunities. 
When he was guarded on those attempts, he had an eFG of 60.3 percent. When he was left open, that eFG went up to 68.8 percent. 3-point shooting is all about consistency in the NBA and he may be one of the most consistent shooters you can find in this draft. He's comfortable with a hand in his face and at 23 years old, he's seasoned enough to not be bothered with a change to a deeper line or taller defenders. 
1. Nik Stauskas, Michigan: 92-of-208 (44.2 percent)
I don't think anybody can argue against Stauskas as the top shooter in this draft. If you have questions about his ability to score off the dribble in attacking the paint or defending at the NBA level, that's fine. But his shooting stroke is too pure to believe he won't be able to stretch the floor at the NBA level. He made 44.1 percent of his 3-point shots in his two years at Michigan. He was good when he was coming off screens (57.5 percent eFG). He was a lethal injection when he was spotting up for the Wolverines with an eFG of 75.3 percent. And it didn't matter whether he was guarded or unguarded on catch-and-shoot chances. 
His 80.0 percent eFG on unguarded catch-and-shoot opportunities show you the NBA line won't be a problem for him and the idea of giving him too much time and space (this actually can throw some shooters off) doesn't trick his muscle memory or his mental approach to shooting. Throw a defender on him in catch-and-shoot attempts and he's only dropping down to 67.9 percent for eFG. It's a 3-point shooter's NBA right now and he's the best outside shooter in the draft. It's why if he goes top 10 Thursday night, nobody around the league will really bat an eye.
Milwaukee has reportedly parted ways with its coach in the middle of his fourth season

Larry Hartstein has his finger on the pulse of the Clippers and locked in a play for Monday's...

Our advanced computer model simulated Monday's Heat-Rockets game 10,000 times
Portland is among a few teams that have reportedly tried to engage in talks for the Clippers...

SportsLine's Mike McClure, a DFS pro with more than $1M in winnings, gives optimal lineup...

Leonard was recently shut down again to rehab the nagging quad injury