2014 NBA Draft: Replenishing the center position will be tough
With the highly anticipated 2014 NBA Draft only a couple months away, let's take a look at whether or not this draft class can bolster the center position.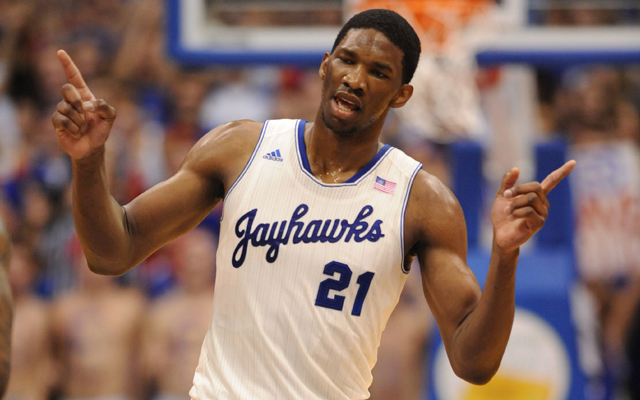 While the center position isn't as empty in the NBA as some people would lead you to believe, the more traditional sense of centers we're used to watching in the 80's and 90's certainly seems to be absent. Centers today are more specialists than anything. Tyson Chandler, Roy Hibbert, and Marc Gasol seem much more common than a complete power center like Dwight Howard or Andrew Bynum before his knees failed him.
As we look toward the 2014 NBA Draft class, we see plenty of star potential available but not a lot of that is coming out of the post. Andrew Wiggins, Jabari Parker, Aaron Gordon, and Dante Exum will all shine from a much more perimeter or aerial attack. Julius Randle and Noah Vonleh are likely power forwards at their biggest in the NBA. And the slew of shooters and perimeter players aren't going to help boost a position that may be the weakest in the NBA. 
There is one hope in this draft class with Joel Embiid out of Kansas and then the rest of the prospects are certainly filed under that specialist category. We're not going to see an influx of talent into the low post, but will we get even a few perennial starters out of belonging rather than by default? Let's take a look at the top center prospects in this year's draft. 
Joel Embiid, Kansas
As we all know by now, Embiid may be the most coveted player in this class because of the fact that he's a true center with so much production now and upside later. The only thing that could possibly derail him is the back issues that have crept up and could scare a GM or two away from selecting him with the top spot. But if the injury isn't serious or a long-term thing, Embiid should be able to become one of the top centers in the NBA for years to come.
He scores extremely well in the post, making 54.9 percent of his post-up shots. He splits his time almost evenly between the left and right block, showing a great potential skill set no matter where he ends up on the floor. He's also proven to be a very skilled passer out of the post, which means throwing double teams at him shouldn't really stop him from having an impact. Defensively, he has great instincts and he should be a good rebounder at the NBA level. He's the real deal, it seems, when it comes to being a top big man prospect in this draft, as long as the back injury isn't severe.
Willie Cauley-Stein, Kentucky
Willie Cauley-Stein is the second best center prospect in this draft, and while I think he can be a valuable specialist some day, this shows you just how weak the draft class is at the position. He's a defensive player first and foremost, whose job is to help control the boards. He's very solid at accomplishing this and projects to be a good pick-and-roll defender at the next level. Because of this, he'll always have value in a league that keys in on taking that play away. But will he ever give you anything on offense?
Kentucky doesn't really run a lot of post-ups for him. He's had more shot attempts off of offensive rebounds this season than post-ups. He's had nearly as many shot attempts (just one fewer) on cuts to the basket, which mostly consitutes just hanging around the key and getting dump-off passes from penetrators. His best-case scenario on offense is probably what Tyson Chandler does, which isn't bad but that's the best-case. You're not grabbing a guy that can definitively be penciled in as a starter for a decade.
Jusuf Nurkic, Bosnia
Jusuf Nurkic is probably the sleeper big man of this draft. Projected to go in the late first round, he may be a big man that keeps getting seasoning in international play before he comes to the NBA. He's playing in the Adriatic League so it's not the absolute best competition Europe has to offer, but he's killing when he's over there. He dominates scoring in the post this season and his per 40-minute numbers of 28.6 points and 13.7 rebounds are impressive. 
He's strictly a bruiser inside. He won't be much of a pick-and-roll guy unless he really improves how he moves in the half court and he doesn't really take jumpers. He scores on the block and he scores on offensive boards. Could he possibly be the next Nikola Pekovic in this league? If so, does that move him being the second best center in this draft?
Patric Young, Florida
I don't think we expect much offense out of Patric Young on the next level, especially when it comes to scoring on the low block. He's a guy who can score well there against college talent, but it doesn't look like it will easily translate to the NBA. That's fine though because he's going to be much more of a specialist. He moves well on pick-and-rolls and cutting to the basket. Between those aspects and offensive rebounds, the majority of his points will come there. 
But you're not drafting him for his offense; you want Young for his defense and rebounding. Because he's undersized at 6'9", his best-case scenario will be some type of Ben Wallace player in the NBA. I don't think anybody is projecting him as a multiple winner of the DPOY award, but he could end up beinbg the best specialist center of the draft.
The rest of the field
After the four centers above, there isn't a lot of promise in the next three guys that makes you feel like they're locks for anything.
A.J. Hammons, Purdue
The big center out of Purdue is a legitimate 7-footer with a filled out frame. But that may be the best asset he has. The Boilermakers post him up a lot. It's where over 50 percent of his offense comes from, but he's nothing special on the low block. He's terrible on the left block and needs to develop that side of the floor in order to be a scoring option at the next level. He'll be a big body to throw out there for 15 minutes per game, but that's not going to exactly get him cover of the media guide.
Nikola Milutinov, Serbia
Nikola Milutinov is a very raw prospect. He's only 19 years old and isn't used all that much by Partizan in the Adriatic League. He plays 19 minutes per game and his per 40-minute numbers won't bowl you over at 9.1 points and 6.8 rebounds. He's scored well in the post and on the offensive boards, but we're talking about a very small sample size that doesn't give us a great picture. He's a guy you stash for years and hope he matures.
Dakari Johnson, Kentucky
There's not even a guarantee that Dakari Johnson will be in the draft. He's been solid in the post when he's put there and he scores extremely well on the offensive boards. He's had so little run (12.2 minutes per game) it might behoove him to wait until the 2015 draft, get another year figuring out how to use his size, and jump into a center-heavy class in 2015 when we have Jahlil Okafor, Myles Turner, and Karl Towns highlighting the big man crop.
Victor Oladipo just wants to live his life and enjoy his breakout season with his new team

Keep it right here for all of the news, notes, scores, and highlights from around the Asso...

LeBron has a player option for next season, and is expected to opt out and become a free a...
The Pistons will be looking to snap a five-game losing streak when they host the Celtics on...

Bryant offers some advice for Ball and other rookies about having a sense of urgency in the...

Burks has stepped up in a big way for the Jazz, averaging over 20 points per game since Rodney...