2014 NBA Draft: Sacramento Kings get a D+ for picking Nik Stauskas at No. 8
With the No. 8 pick in the 2014 NBA Draft, the Orlando Magic selected Nik Stauskas out of Michigan.
• 1 min read
The Sacramento Kings selected Michigan guard Nik Stauskas with the No. 8 pick in the 2014 NBA Draft.
The 6-6, 205-pound Stauskas averaged 17.5 points per game in 2013-14 for the Wolverines, who finished 28-9 and lost to Kentucky in the Elite Eight.
Kings: Nik Stauskas: D+: Better talent here. Stauskas is slow to move and could struggle with the ball. Could have find another shooter..

— Matt Moore CBS (@MattMooreCBS) June 27, 2014
Stauskas gives the Kings an absolutely deadly shooter from behind the arc. He made 44 percent of his threes last season. With the attention that Rudy Gay and DeMarcus Cousins attract on offense, he's likely to get some open looks. He also gives the team another ballhandler in the event that Isaiah Thomas does not re-sign in free agency.
There were rumors that Sacramento would try to trade the pick from the moment the lottery ended. The Kings intend to keep Stauskas, not trade him, according to USA Today's Sam Amick.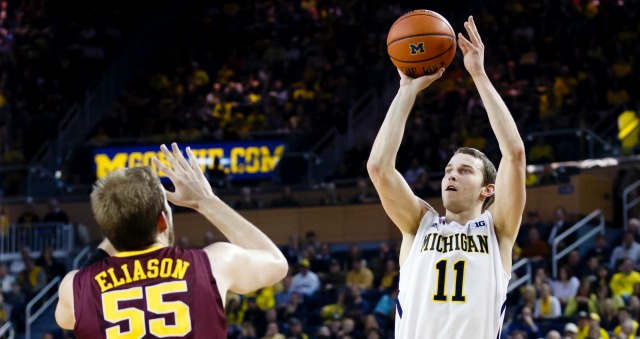 The NBA broke its silence with a statement related to the Lakers-Paul George tampering cha...

The Clippers big man thinks LeBron will reunite with the banana boat crew at some point

Have the Clippers reportedly found their next GM?
The NBA stayed to the point in their response to the Greek basketball federation

The Pacers believe the Lakers tampered with Paul George before they traded him

Among the questionable decisions by Jackson was signing Noah to a long-term, lucrative dea...