2014 NBA Draft: Spurs get an A- for picking Kyle Anderson at No. 30
With the No. 30 pick in the 2014 NBA Draft, the San Antonio Spurs selected Kyle Anderson out of UCLA.
• 1 min read
The San Antonio Spurs selected UCLA forward Kyle Anderson with the No. 30 pick in the 2014 NBA Draft.
The 6-9, 230-pound Anderson averaged 14.6 points and 8.8 rebounds per game in 2013-14 for the Bruins, who finished 28-9 and lost to Florida in the Sweet 16.
Kyle Andersson: A-: Terrific value here. They like guys who can pass and shoot. Guess what he can do?

— Matt Moore CBS (@MattMooreCBS) June 27, 2014
Of course the Spurs took the guy everybody's been comparing to Boris Diaw. The differences between him and Diaw, though, are that Anderson is not as strong or as good of a shooter and was never asked to set screens in college. He is a heady player, though, and San Antonio is the best environment you could possibly envision for him.
Three UCLA players went in the first round, as Zach LaVine and Jordan Adams went earlier.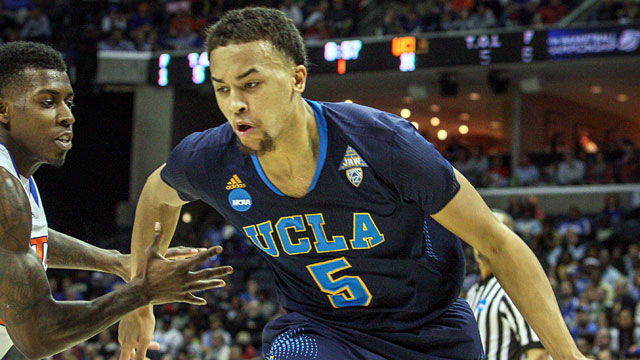 Can the former MVP be a healthy contributor to the reigning East champs amid organizational...

Lillard made the comments in regards to the Kyrie Irving situation

Rose reportedly agreed to a one-year deal with the Cavs
Fredette starred for the Shanghai Sharks last season

The free-agent point guard spent last season with the New York Knicks

Stevens was trying to take Hayward and his wife to their hotel