2014 NBA Draft: Spurs get an A- for picking Kyle Anderson at No. 30
With the No. 30 pick in the 2014 NBA Draft, the San Antonio Spurs selected Kyle Anderson out of UCLA.
• 1 min read
The San Antonio Spurs selected UCLA forward Kyle Anderson with the No. 30 pick in the 2014 NBA Draft.
The 6-9, 230-pound Anderson averaged 14.6 points and 8.8 rebounds per game in 2013-14 for the Bruins, who finished 28-9 and lost to Florida in the Sweet 16.
Kyle Andersson: A-: Terrific value here. They like guys who can pass and shoot. Guess what he can do?

— Matt Moore CBS (@MattMooreCBS) June 27, 2014
Of course the Spurs took the guy everybody's been comparing to Boris Diaw. The differences between him and Diaw, though, are that Anderson is not as strong or as good of a shooter and was never asked to set screens in college. He is a heady player, though, and San Antonio is the best environment you could possibly envision for him.
Three UCLA players went in the first round, as Zach LaVine and Jordan Adams went earlier.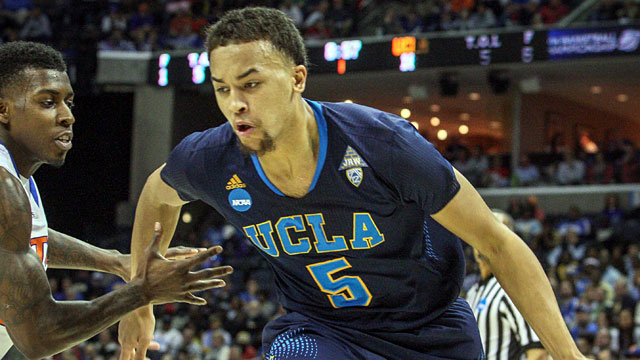 We've got all the scores, highlights and news for Thursday night

The Sixers big man got his first All-Star selection -- and maybe some revenge -- on Thursd...

It appears some players are not entirely taking the All-Star voting process seriously
There were some weird discrepancies between the fan, media and player votes

LeBron and Steph will be the captains for the 2018 NBA All-Star Game

Arron Afflalo was involved in an altercation with Timberwolves big man Nemanja Bjelica on...