2014 NBA Draft: The steals
Rodney Hood, Clint Capela and K.J. McDaniels are just a few of the players who should turn out to be steals in the 2014 NBA Draft.
• 4 min read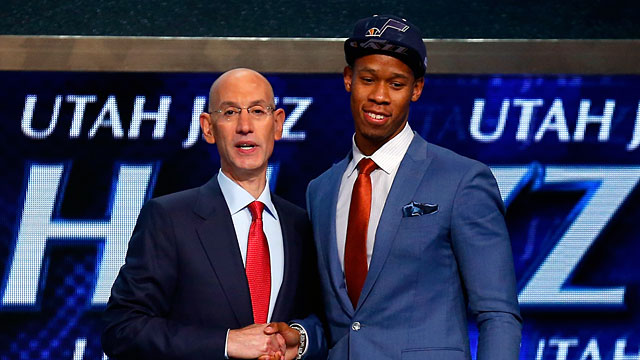 More 2014 NBA Draft: Draft Tracker | Trade Tracker
The 2014 NBA Draft is over, and undoubtedly some players were selected way later than they should have. Steals aren't necessarily apparent right away, but here's an early look at some who could turn out to be excellent value at their draft spot.
No. 12, Philadelphia 76ers: Dario Saric, Croatia
Sam Hinkie is the MVP of this draft, and the fact I feel safe saying that without knowing what will happen with Joel Embiid's health is quite something. Saric is the most versatile offensive player in the draft, and he plays with an edge in addition to being incredibly skilled. The more you watch him, the more you fall in love with him.
He fell because he won't play in the NBA for two years, but why should Philadelphia care about that? Hinkie is thinking long-term, and if even half of his high-potential guys come through by the time Saric comes over, the Sixers are going to be set up extremely well.
No. 16, Denver Nuggets: Jusuf Nurkic, Bosnia-Herzegovina
The Nuggets got great value from their No. 11 pick, trading it to Chicago for Nurkic and Gary Harris, who they selected at No. 19. On the broadcast, the analysts credited Denver for picking Harris so late, but Nurkic is more interesting to me. He is only 19 years old, and is huge. Like, 6-foot-11, 280 pounds huge. Guys will not want to run into him if he's setting a screen.
Nurkic isn't a stiff, either. He is surprisingly light on his feet, and he has a chance to be something special if he improves his shooting. The Nuggets took a risk, but they also made a big bet on their player-development program. It could pay off.
No. 23, Utah Jazz: Rodney Hood, Duke
It's hard to believe Hood fell this far, especially considering he wasn't exactly hidden from the public at Duke. Hood is versatile, skilled, smart and has the kind of game that should translate well immediately. He will be able to hit open shots and create for a team that badly needs more playmaking.
Hood was not a good defender last season, but he has length and enough athleticism that it's not crazy to think he'll eventually be effective at that end as a pro. Not sure James Young and Jordan Adams should have gone ahead of him.
No. 25, Houston Rockets: Clint Capela, Switzerland
Capela might be the biggest sleeper in the entire draft. He showed tons of promise for Chalon in the French league and Eurocup last season, but his stock dropped after a disappointing showing at the Hoop Summit. He's only 20, and everyone loves his attitude and his approach to the game.
Pairing him with Dwight Howard is potentially scary for opponents. He'll guard the pick-and-roll effectively, and be a big target for alley-oops out of the pick-and-roll on the other end. He isn't exactly a huge shot-blocker, but he's athletic and long and has good timing. He'll be able to shoot the midrange jumper, too. If he develops as he should, think Amir Johnson.
No. 26, Charlotte Hornets, P.J. Hairston, North Carolina/NBA D-League
With Noah Vonleh falling to Charlotte at No. 9 as well, this draft has to be seen as a huge success for Charlotte. There's absolutely no way Hairston would have lasted this long if not for all of his off-court trouble. He can flat-out score, which is exactly what the Hornets need.
In the D-League, Hairston averaged 21.8 points per game on 45.3 percent shooting, and he made 35.8 percent of his threes. There were a surprising number of good wings at this point, and Charlotte took one who should fit in its system.
No. 32, Philadelphia 76ers: K.J. McDaniels, Clemson
McDaniels' stock slid in the weeks leading up to the draft, but he has lottery talent. Teams doubt his ability to shoot, but he'll be a solid one-on-one defender and excellent help defender immediately. I called him underrated when he was projected to go late in the first round, and in the second round this was a no-brainer for Philly.
He's an incredible athlete, and he'll be a beast in transition on both ends. He does the things wings are supposed to do in 2014 in the NBA, meaning he's not the type to force up bad 2-point jumpers. If McDaniels is just able to hit spot-up 3s, this is a great get.
No. 34, New York Knicks: Cleanthony Early, Wichita State
He's similar to McDaniels in that he projects as a tenacious defender right away. Early is a bit unpolished offensively considering he's 23 years old, but competes like crazy and made 37 percent of his threes last season with the Shockers.
The Knicks want to change the culture, and, while rookies can't do that on their own, Early can absolutely be a part of that. New York fans will love him.
No. 35, Memphis Grizzlies: Jarnell Stokes, Tennessee
Stokes gets to stay in his home state, and the Grizzlies get an NBA-ready rebounder in the second round. He was a banger in college and will remain a banger in the NBA, but he grew up playing on the outside. If he can hit midrange jumpers as a pro, what a win this would be for Memphis.
No. 38, Detroit Pistons: Spencer Dinwiddie, Colorado
Dinwiddie fell because he's coming off a torn ACL, but if the Pistons are patient with him, it could pay off in a big way. He's an efficient, confident, smart combo guard who can shoot and create and plays hard on defense. Stan Van Gundy is the perfect coach for him.
No. 46, Los Angeles Lakers: Jordan Clarkson, Missouri
This is tremendous value this late in the draft. He has fantastic size for a point guard, is an excellent athlete and can shoot, even though his 3-point percentage dropped a bit this past season. Probably should have gone in the first round.
Kevin Durant says he doesn't agree with what President Donald Trump agrees with

Evaluating where the future Hall of Famer might land up if he is freed from Chicago's rebuilding...

Adam Silver said his piece with the schedule out; we address that and what the slate looks...
The Hawks and Sharecare reportedly agreed to terms on a five-year deal

A look at the context of the schedule and who plays who when, and how far they travel during...

Durant took on rapper Lil Dicky and actually might have lost