2014 NFL Draft: LeBron James hoping Johnny Manziel is top pick
LeBron James doesn't have a mock draft, but if he did, he'd have Johnny Manziel going No. 1 to Houston.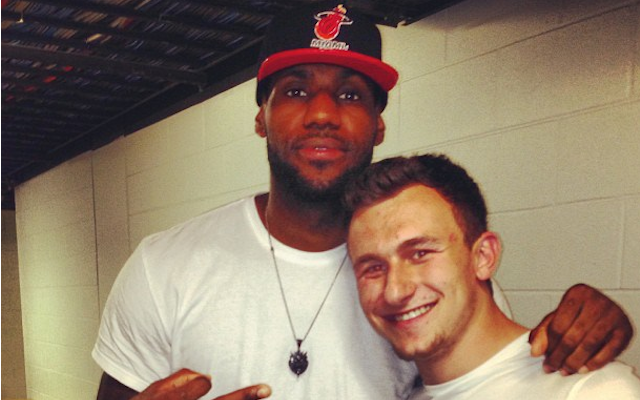 More Draft coverage: Mock Drafts | Prospect Rankings | Big Board | News
LeBron James and the Miami Heat are in the middle of a second-round playoff series against the Brooklyn Nets, but that's not important right now. What is important is where LeBron thinks Johnny Manziel is going to go in the NFL Draft.
Lucky for us, a reporter asked James that exact question during a press conference this week. 
"Being a huge supporter and friend of Johnny, I want him to go No. 1," James said.
What this means is that LeBron's one-player mock draft has Manziel to Houston at No. 1.
If Johnny Football doesn't end up with the Texans though, James says that's not a problem because Manziel will be successful no matter where he goes. 
"If that doesn't happen, wherever he lands, he's going to be a heck of a football player for that franchise," James said. "There going to get a good one. He's a guy that loves to play the game and he plays at a high level."
If you're wondering when and where LeBron and Manziel became friends. The picture at the top of the page was taken in San Antonio in April 2013. The duo took their friendship to the next level in February when they filmed a McDonald's commercial together. 
The Blazers guard was a guest on the Sirius XM radio show 'Sway in the Morning'

L.A. reached a three-year jersey ad patch deal with Wish, a San Francisco-based e-commerce...

John Paxson doesn't intend to buy Wade out without some sort of compromise from the 3-time...
Lonzo's signature shoes have a sleek, all-black design and will be available in November

Durant recently apologized for tweets criticizing the Thunder and Billy Donovan

Jackson says he has 'no respect' for Durant after KD created fake Twitter pages