2014 Offseason Report: Brooklyn Nets
Brooklyn's going to look different next season, with Jason Kidd in Milwaukee and Paul Pierce in Washington. Who saw that coming?
• 5 min read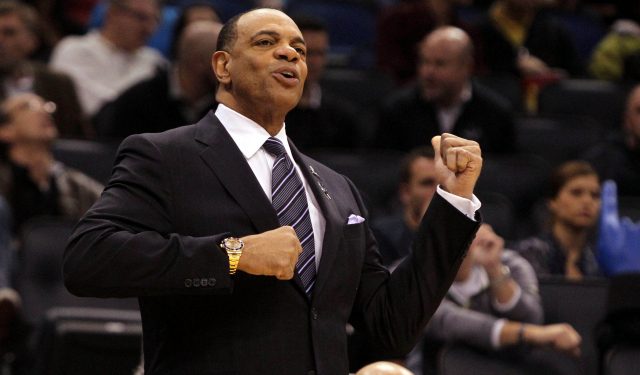 Offseason: Free Agency | Latest from Ken Berger | Rumors
CBSSports.com's Eye On Basketball is taking a team-by-team look at the 2014 NBA offseason. We continue with the suddenly Lionel Hollins-led Brooklyn Nets. Check out the rest of the offseason reports here.
How they finished 2014: The Nets had an eight-point lead against the Miami Heat with less than five minutes to go in Game 5 of their second-round series but couldn't hold on. They'd lost a close one in Game 4, too, but few will remember how hard they fought against the eventual Eastern Conference champs. Miami dealt them a gentleman's sweep, and every player on the $190 million roster owner Mikhail Prokhorov assembled had to go home and wonder if Brooklyn's title window was closed.
The season had twists, turns and spills, but the Nets actually did an admirable job of sticking together. At the end of the 2013 calendar year, the team was 10-21 and had lost seven of eight. As soon as January hit, Brooklyn won five in a row and 10 of 11 with Paul Pierce and Kevin Garnett playing power forward and center. Brook Lopez had been the team's most productive player before breaking his foot in December, but his absence allowed it to find an identity. The Nets could switch everything it wanted to on the perimeter, and it stretched the floor with shooters.
Rookie coach Jason Kidd clearly got more comfortable as the season went on, and his veteran squad impressively won a Game 7 on the road against Toronto. Brooklyn just didn't have enough talent to beat a team like the Heat, not with Lopez injured and Garnett diminished.
Offseason needs: The front office knew it wasn't going to have flexibility given its salary-cap situation, so it seemed the summer would be about trying to bring most of the team back and making minor moves. First, the Nets needed to figure out what Garnett and Pierce wanted to do. Garnett had one year and $12 million left on his contract, but could retire. Pierce would be a free agent. 
Shaun Livingston had enjoyed a terrific season, which meant it'd be unlikely the Nets would be able to retain him in free agency. Alan Anderson would also be on the market, and Andrei Kirilenko and Andray Blatche both had player options. It looked likely Jason Collins would retire. 
Brooklyn could have used more athleticism, rebounding and rim protection. It could also have used some youth. It wouldn't be easy to acquire anyone significant, though, so the main task would just be figuring out how to best utilize the returning Lopez. You couldn't have predicted anything dramatic would take place with the organization for a year or two … but funny things happen in this league.
The draft: The Nets didn't have a first-round pick, but had a surprisingly eventful night. They took Markel Brown at No. 44, and the Oklahoma State product is one of the best athletes in the draft. He played shooting guard in college, but needs to learn how to play the point in the pros. If he does, he could be a steal. Brown signed a partially guaranteed two-year, minimum-salary contract, but he just broke his hand. 
Brooklyn bought the final two picks of the draft from the Raptors and Spurs, and used them on San Diego State guard Xavier Thames and Baylor big man Cory Jefferson. Thames will spend the year in Spain, while Jefferson signed an unguaranteed contract and should make the team. 
Free agency and trades: Kirilenko exercised his option, so the versatile vet will be back, making $3.3 million next season. Blatche, however, opted out. Just before free agency officially began, though, all hell broke loose.
Kidd reportedly prodded ownership to trade Lopez and Mirza Teletovic to the Milwaukee Bucks for Larry Sanders and Ersan Ilyasova. This was after he reportedly had -- during the season -- expressed dissatisfaction with general manager Billy King. Kidd wound up attempting a bold power grab, demanding to be the top decision-maker in the front office in addition to his coaching duties. It's still hard to believe Kidd tried to pull this off after only one season on the sideline.
When it didn't work, Kidd bolted to the Bucks, even though Larry Drew had not actually been fired as coach. It turns out Milwaukee co-owner Marc Lasry was once Kidd's financial advisor. The whole situation was messy, but King and Co. moved quickly to hire ex-Grizzlies coach Lionel Hollins. 
Back to the roster: The team expressed no interest in retaining Blatche, and Livingston left for a lucrative deal in Golden State. To make up for the loss of Livingston, the Nets traded Marcus Thornton for backup point guard Jarrett Jack, also receiving Sergey Karasev in the three-way deal with the Cavaliers and Celtics. 
The second-most shocking moment of Brooklyn's offseason occurred July 13, when Pierce agreed to a contract with the Washington Wizards. This was a significant setback, as he was a major part of the team's turnaround last season. He thought he'd have a better chance to win in Washington, and he's probably right.
Shortly after the Pierce news, Anderson re-signed for two years and $2.7 million, a relative bargain for a solid role player on the wing. Bojan Bogdanovic, who the Nets selected No. 31 in 2011, is finally joining the team, too, on a three-year, $10.1 million deal. He obviously won't be expected to replace Pierce, but he should help.  
Garnett still hasn't said anything about whether or not he's coming back for a 20th season, but Hollins said everything he's heard from management indicates that the future Hall of Famer will return.
Overall grade and accomplishments -- C: This grade mostly reflects losing Pierce. The Kidd thing was insane, but it's hard to look at replacing him with Hollins as a bad move. Hollins likely will relate to the experienced roster, and perhaps he's a better fit with Lopez's low-post game. Jack is a downgrade from Livingston defensively, but is better on offense than he showed in Cleveland last season.
The reality is it's going to be a while before Brooklyn can hope to compete for a championship. That's mostly to do with its approach over the past few years than what happened this summer. While no one could have scripted the offseason playing out like this, the Nets did a decent enough job recovering. They could still be pretty good, and that was essentially their ceiling regardless. 
The former Clipper apparently had some tricks up his sleeve after a chippy game

The Rockets were apparently looking for Austin Rivers and Blake Griffin after a chippy gam...

If they don't meet in the Finals again, let's appreciate every one of the 27 matchups since...
D-Wade picked up the steal and got creative on the fast break as the Cavs headed into half...

Despite the embarrassing hiccup, the youngest Ball had himself a pretty great day on the c...

The players were both ejected in the closing seconds, then continued their discussion off the...