2014 Offseason Report: Detroit Pistons
The Detroit Pistons now have Stan Van Gundy running the show, which gives them a great coach and a real focus as an organization.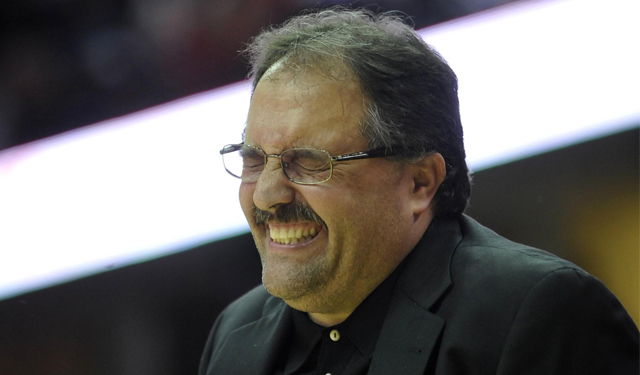 More Offseason Analysis: Coaching changes, news | Free Agency | Draft
CBSSports.com's Eye On Basketball is taking a team-by-team look at the 2014 NBA offseason. We continue with a new sherrif in Motown for the Detroit Pistons. Check out the rest of the offseason reports here.
How they finished 2014: Have you seen the 2013 movie version of The Great Gatsby? It had everything you would want to make a great movie experience. It had a director with great visual aspirations, who was once nominated for Best Picture. It had an actor who has been nominated multiple times for an Academy Award and another actor who has been nominated for a Golden Globe and won the MTV Best Kiss award. It had one of the most successful musicians of all time producing the soundtrack. It had a nine-figure budget. Everything was there to make this a great movie experience. 
And yet, it delivered a disheveled mess of a performance in which you were left with more questions and wanting much more direction. This is what the Detroit Pistons' 2013-14 season felt like. They went into the season with big new acquisitions in forward Josh Smith and point guard Brandon Jennings that ended up being deflating by season's end. Joe Dumars was on the hot seat, blamed Maurice Cheeks for the debacle he was asked to coach for 50 games, and then ended up replacing him with John Loyer to finish out the season. The Loyer stretch was a complete disaster with an 8-24 record, and the team won just 29 games after committing big money to two free agents. It was a lot like the 2009-10 season after they signed Ben Gordon and Charlie Villanueva before winning 27 games.
The Pistons didn't even come close to the playoffs, despite having a very promising big man combination in Andre Drummond (20 years old, 13.5 points, 13.2 rebounds, 1.4 blocks, 1.2 steals) and Greg Monroe (23 years old, 15.2 points, 9.3 rebounds, 2.1 assists, 1.1 steals). They were the 29th-worst 3-point shooting team in the league, the fifth-worst defense despite having Smith and Drummond, and the 19th-best offense.
Offseason needs: The Pistons went into this offseason needing a leader and some shooters. They have plenty of talent. Some of that talent might not really fit together all that well (see: Smith, Josh and Jennings, Brandon), but there is simply too much talent on the roster to produce the ineptness on both ends we saw night in and night out. The Pistons needed new depth in the backcourt and shooters to spread the floor for their big men to have room to dominate inside. But mostly, they needed to hit a home run on the coaching decision for once, while also replacing Joe Dumars with someone who will spend wisely and keep a focus on how this team is constructed.
Detroit also needed to figure out what to do with Monroe. His restricted free agency was going to be tricky because he fits next to Drummond and he fits next to Smith, but you're not sure if the three of them fit together. The Pistons had to decide if they were going to attempt to sell high on Monroe and risk him becoming an All-Star big man or keep him around and risk him being lost in the shuffle of a three-headed frontcourt that might not know how to attack.
The draft: The Pistons lost out on having the eighth pick in the draft when the Cleveland Cavaliers jumped to the No. 1 pick. The Pistons' first-round pick was top-eight protected from the 2012 trade of Ben Gordon and a future first-round pick to the Bobcats for Corey Maggette. The Pistons' pick dropped to ninth and the Hornets received it, where they took Noah Vonleh out of Indiana.
In the second round, the Pistons used the 38th pick on Spencer Dinwiddie out of Colorado. Dinwiddie looked extremely promising in his junior season before blowing out his ACL. He's a combo guard who can comfortably play both positions in the backcourt, is a solid shot creator for his teammates, and can shoot from downtown. If he's able to bounce back in the next year or so from his knee injury, he sounds like exactly what the Pistons need.
Free agency and trades: The first order of business for the Pistons was finding their new coach and leader. With Dumars essentially being reassigned within the organization, Stan Van Gundy took the job as both coach and the president of basketball operations. The Pistons were able to lure him away from taking the job with the Golden State Warriors by offering up personnel power in addition to the coaching responsibilities. This total control is rare in the NBA with only a handful of coaches really having that power. What it did for the Pistons was ensure they were going to stick to a plan and get back on the right track.
With Dinwiddie coming in the draft, Van Gundy decided to load up on another shooter in free agency. He signed Jodie Meeks for three years and $19 million. Meeks hit 40.1 percent of his 3s on more than 400 attempts with the Lakers in 2013-14. The Pistons also added some veteran players in Caron Butler (two years, $9 million) and D.J. Augustin (two years, $6 million) to bolster the bench. Butler had a solid end of the season with Oklahoma City after being waived by Milwaukee, and Augustin owes the revival of his career to Tom Thibodeau in Chicago. The Bulls picked up Augustin after the Raptors had no use for him, and Augustin rediscovered his shot and was fairly effective at times for the Bulls. The Pistons also grabbed Cartier Martin while losing Rodney Stuckey to the Indiana Pacers.
As of the posting of this article, Greg Monroe still hadn't been re-signed by the Pistons nor had he signed an offer sheet with another team.
Overall grade and accomplishments -- B-plus: The big win of the offseason for the Pistons was hiring Van Gundy. It will be difficult for him to do both roles but he's building a staff on the court and in the front office that will help him balance the two. In 14 seasons with Dumars in charge, the Pistons went to the playoffs eight times, the Eastern Conference finals six times, the NBA Finals twice, won a championship, and went through nine different coaches. That's a remarkable amount of success considering how many times its coach has been thrown under the bus by the president of basketball operations. Van Gundy will fix that, both because he's a very good coach and he's now in charge apart from the owner.
Not having Monroe's restricted free agency figured out yet is a little troubling, but he's unlikely to find a big offer anywhere at this point. Monroe can choose to work something out long term with the Pistons at probably less than he thought he would get or he can sign the one-year qualifying offer and become an unrestricted free agent in 2015. Regardless, I imagine Detroit will keep him around and figure out the frontcourt minutes and fit within the next year.
Some of the money being thrown around at the signings of Meeks, Butler and Augustin can be justified but it's also fair to question. The Pistons filled a need with 3-point shooting, adding a couple of really good shooters to the mix. Butler's money seems too high for his age and production, but only the first season is fully guaranteed. The Pistons are starting to head in a direction with their athletic big man, likely his big counterpart in Monroe, and a point guard Van Gundy will have to find a way to get through to in Jennings.
He can turn this into a great experience.
If Charlotte indeed moves its star guard, there's going to be more people impacted than just...

Trading Kemba Walker (and dumping salary in the process) may be harder than expected for C...

Our advanced computer model simulated Friday's Jazz-Knicks game 10,000 times
There was some explosive guard play this week in the NBA's rookie class

With half of the season in the books, there were some clear favorites for our Midseason Aw...

SportsLine's Mike McClure, a DFS pro with more than $1M in winnings, gives optimal lineup...