2014 Offseason Report: Memphis Grizzlies
The Grizzlies almost fell apart this offseason, but they're coming back with their core intact.
• 5 min read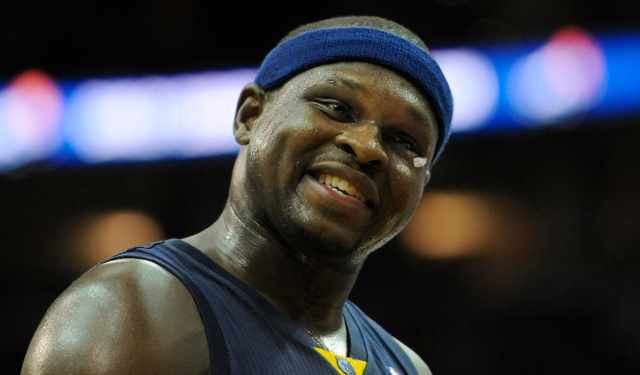 CBSSports.com's Eye On Basketball is taking a team-by-team look at the 2014 NBA offseason. We continue with the surprisingly stable Memphis Grizzlies. Check out the rest of the offseason reports here.
How they finished 2014: Much better than how they started it. There were two Grizzlies seasons last year, the seemingly catastrophic one in which they started 10-15 in the brutal West and the rather impressive one in which they fought back and earned the seventh seed. Memphis had the third-best record in the league from January until the end of the regular season, with Marc Gasol returning from a sprained MCL and midseason acquisitions James Johnson and Courtney Lee giving the team a different look.
No one wanted to play the Grizzlies in the playoffs, and against the Oklahoma City Thunder it was evident why. Games 2 through 5 all went to overtime, which looks even crazier now than it did at the time. Memphis could have taken a 3-1 lead in the series if not for Thunder reserve Reggie Jackson exploding for 32 points and nine rebounds in Game 4, and OKC ended up winning the deciding seventh game at home. That's how it goes sometimes.
While the Grizzlies' 50 wins and a first-round loss fell short of preseason expectations, the turnaround was remarkable considering a report later indicated that owner Robert Pera wanted, among other wacky things, to fire new head coach Dave Joerger early in the year. The coaching staff and players stuck together and Memphis looked like an elite team again by the end of it. 
Offseason needs: The No. 1 priority was figuring out what to do with power forward Zach Randolph. He had until the end of June to exercise his $16.5 million option for 2014-2015, and he wanted an extension. Turning 33 years old in July, he knew this was his last chance for a big payday. The Grizzlies wanted to retain him without overpaying. Reserves Mike Miller, Johnson, Ed Davis and Beno Udrih were all hitting free agency, too. 
As far as on-court needs go, it was the same story as it's been for a long time. Memphis needed more shooting, more athleticism, more skilled and versatile two-way players. Joerger initially wanted to play a bit faster and share the ball more, but wound up letting Memphis be the slowest team in the league again. Also given that Tayshaun Prince had shot 41 percent from the field and 29 percent from 3-point range while slipping on defense, the Grizzlies had to try to find a new starting small forward.
The draft: Before we even get to the draft, let's talk about what happened in May. Completely out of the blue, Memphis parted ways with CEO Jason Levien and assistant general manager Stu Lash, who had both reportedly had a falling out with Pera. Joerger almost left, too, as Pera granted him permission to visit with the Minnesota Timberwolves to interview for their head-coaching job. For a moment it looked almost certain that he was gone, but Joerger ended up agreeing to a contract extension with the Grizzlies. Exiled executive Chris Wallace is back as the team's general manager, too. It's hard to exaggerate how strange this all was.
OK. The draft. Memphis took shooting guard Jordan Adams with the No. 25 pick, and this could wind up looking brilliant because advanced stats love him. He can score efficiently and help spread the floor. The issue is that the Grizzlies really needed a small forward and passed on several who were available there, including Rodney Hood, who was drafted one pick later. 
Memphis traded a 2016 second-round pick to Utah for the No. 35 pick, and used it on Jarnell Stokes. The big man who was born in Memphis and played his college ball at the University of Tennessee rebounds the hell out of the ball and looks like a great fit with this group.
Free agency and trades: The day after the draft, Randolph exercised his $16.5 million option and agreed to a two-year, $20 million extension, which is about as fair a deal as you could construct. After all that uncertainty in May, it became clear the team would keep its identity. 
Miller said publicly he wanted to return to the Grizzlies, but negotiations broke down and he wound up signing with the Cleveland Cavaliers at a discounted rate to reunite with LeBron James and chase a championship. Memphis lined up a good replacement, though, inking Vince Carter to a three-year, $12 million deal. The final season is only partially guaranteed. 
Carter isn't quite the shooter Miller is, but he isn't as far off as you might think — he made 40 percent of his 3s last year and 41 percent the year before in Dallas. Carter is turning 38 this coming season, but he should still be a defensive upgrade over Miller.
The Grizzlies let Johnson and Davis walk for cheap contracts with the Raptors and Lakers, respectively, but they did re-sign Udrih for two years at the biannual exception of $2.1 million per season. The second season is only partially guaranteed. They'll need him at the beginning of the season while backup point guard Nick Calathes serves a 20-game suspension for violating the NBA's anti-drug policy.
Calathes has said that the suspension is unfair, by the way, and the Orlando Sentinel reported he was taking medication to treat baldness.
Overall grade and accomplishments — B: Memphis didn't make a single splashy move, but it's still in a good position in the short term. The biggest change next year might be the return of forward Quincy Pondexter, who missed most of last season after suffering a stress fracture in his right foot in December. He was a great stretch-four option late in the season two years ago, and he or Carter could start at small forward in place of Prince. 
It would have been nice if the Grizzlies had figured out a way to make a major move to add some offensive talent, but it wasn't totally necessary. Continuity can be an advantage, and the year of experience playing for Joerger should mean a much stronger start this time. Memphis accomplished what it wanted to in keeping Randolph, and Gasol can go into the last year of his contract feeling like he has a chance to compete with the best teams in the league. That will work for the Grizzlies, even if it's not much of a story.
Leonard's relationship with Spurs also reportedly strained because of how injury has been...

San Antonio hasn't missed the playoffs in 20 years, but the road is rocky this season

Last year's MVP finalist has missed all but nine games this season
The design for the patch is still being worked on

The explosive forward and upcoming free agent is having a career year

Cuban said on Dr. J's podcast that losing is Dallas' 'best option'