2014 Offseason Report: Utah Jazz
The Utah Jazz struggled in their first rebuilding season, but a productive offseason could be adding new life to this organization.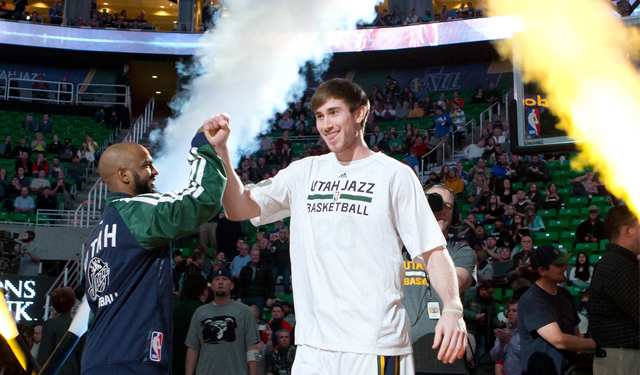 More Offseason Analysis: Coaching changes, news | Free Agency | Draft
CBSSports.com's Eye On Basketball is taking a team-by-team look at the 2014 NBA offseason. We continue with the Utah Jazz, who are still building to their next era. Check out the rest of the offseason reports here.
How they finished 2014: As poorly as they started in the first year of their new rebuild. Trey Burke sat out the first 12 games of his rookie season with a broken finger, and the team didn't have the depth to handle that void at point guard. They went 1-11 with Burke out to start and started out 4-19 overall. Once Burke came around and injected some life into the point guard position, the Jazz were able to right the ship quite a bit. 
Over the Jazz's next 34 games, they were a .500 team other clubs couldn't walk over. They had the 16th-best record in the NBA over that stretch, fueled by seven different players averaging double-digit scoring: Gordon Hayward, Richard Jefferson, Trey Burke, Alec Burks, Derrick Favors, Marvin Williams, and Enes Kanter. But once the Jazz got into March and April, the competitive streak was over. 
The Jazz crumbled the final 24 games. They were only 2-15 in March and followed with a 2-5 April. This killed a lot of buzz the team seemed to generate during their extended .500 stretch. Burke struggled to knock down shots (shooting 38 percent), Hayward was a much more pedestrian shooter (41.3 percent FGs, 30.3 percent 3-point FGs) than we saw the previous season (43.5 percent FGs, 41.5 percent 3-point FGs), and the team just couldn't hit shots or force turnovers.
Offseason needs: Heading into the offseason, the Jazz had a couple of goals. First, they needed to find a new coach. While Tyrone Corbin had been a decent enough over three-plus seasons, the organization needed someone to create a better basketball culture and to whom the young roster could be entrusted with moving forward. The Jazz were coming off of 23-plus seasons with Jerry Sloan when Corbin took over in 2010-11. He was a place-holder, not the future.
The Jazz also needed to hit a home run in the draft and re-sign Gordon Hayward. Hayward struggled as the No. 1 guy, but his all-around game is too good to give up on now. If the Jazz could develop a couple of players to join him at that level, he could really expand on a season in which he averaged 16.2 points, 5.2 assists, and 5.1 rebounds.
Utah isn't quite ready to make a run at the playoffs, so their mission was to keep acquiring young talent.
The draft: The Jazz had the Nos. 5, 23 and 35 picks in the 2014 NBA Draft. With the fifth pick, they grabbed the mysterious but dynamic Australian point guard Dante Exum. Even though the team drafted Burke the previous year, Exum's selection allowed them plenty of flexibility with their backcourt moving forward. Exum is 6-foot-6 and can play both guard positions. You can have him lead the offense and play Burke off the ball as a scorer or you can play Exum as a slashing guard off the ball while Burke runs the show.
With the 23rd pick, Duke's Rodney Hood fell to them. The lefty wing is a natural scorer and shot well over 40 percent from 3-point range in one season after transferring from Mississippi State. Hood had been projected to go in the teens of the first round. His selection allowed the Jazz to eschew re-signing Williams or Jefferson. 
Jarnell Stokes was the pick at No. 35 but they traded him to the Memphis Grizzlies for a 2016 second-rounder.
Free agency and trades: The big news of the Jazz's offseason was them matching Charlotte's nearly $63M offer sheet for Hayward. It immediately started two questions about whether he was worthy of the money being thrown his way and whether he is better than Chandler Parsons, who received a big offer sheet from the Dallas Mavericks. Hayward's all-around numbers are hard to match, but his poor shooting left doubt about whether the Jazz should do what everybody assumed they do and match whatever offer sheet found Hayward's signature.
The Jazz resolved the coaching issue by hiring Quin Snyder, who has coached as an assistant at the NBA and college levels, as well as a head coach at the college and D-League levels. He spent the 2013-14 season under Mike Budenholzer on the Atlanta Hawks' coaching staff and was a pretty hot name on the coaching market this offseason. Snyder is the young, energetic, and creative coaching hire the Jazz wanted to make to lead the next era of this organization.
Utah traded Diante Garrett to the Toronto Raptors for Steve Novak to bring in some outside shooting. They also dealt three non-guaranteed contracts in John Lucas III, Erik Murphy, and Malcolm Thomas to the Cleveland Cavaliers for Carrick Felix, a 2015 second round pick, and cash considerations. It allowed the Cavs to have movable contracts for trades and it gave the Jazz a second round pick and another wing for depth. The Jazz also signed Trevor Booker away from the Washington Wizards for two years and $9.7 million. Only the first year of the contract is guaranteed.
Overall grade and accomplishments -- A-minus: You can quibble whether Utah is overpaying Hayward, but the financial and cap situation for the Jazz is so good and flexible it's unlikely to become a problem for them during the life of this contract. Utah is a hard place to attract free agents to, so the majority of their moves will be via trades to bring in key players. They can still find reasonable extensions for Kanter and Burks, or wait for the summer of 2015 to play the restricted free agency game with them. They still have a lot of their young talent under rookie deals for a few seasons to come, so they can remain flexible with how their roster is shaped.
Their goal was to add young dynamic talent and a good, young coach this offseason while keeping Hayward on their books. They accomplished all that. Exum looks to have star potential and can play with just about any lineup combination. Hood has the makings of a solid scorer and playmaker who can stretch the floor and also play in a number of lineup combinations. Booker gives the team a nice big man off the bench to pair with Favors or Kanter. And Snyder is by all accounts the real deal for a coaching position.
The Jazz appear to be ahead of the game entering the second season of their rebuilding process. They have roughly a full rotation of promising young players and role players. They're also left with open options for moving any combination of young players for a really good veteran or two.  
Kevin Durant says he doesn't agree with what President Donald Trump agrees with

Evaluating where the future Hall of Famer might land up if he is freed from Chicago's rebuilding...

Adam Silver said his piece with the schedule out; we address that and what the slate looks...
The Hawks and Sharecare reportedly agreed to terms on a five-year deal

A look at the context of the schedule and who plays who when, and how far they travel during...

Durant took on rapper Lil Dicky and actually might have lost