2014 Offseason Review: Sacramento Kings
A look at a strange offseason for the Sacramento Kings as they continue to look for ways to drag this franchise out of the doldrums under new ownership.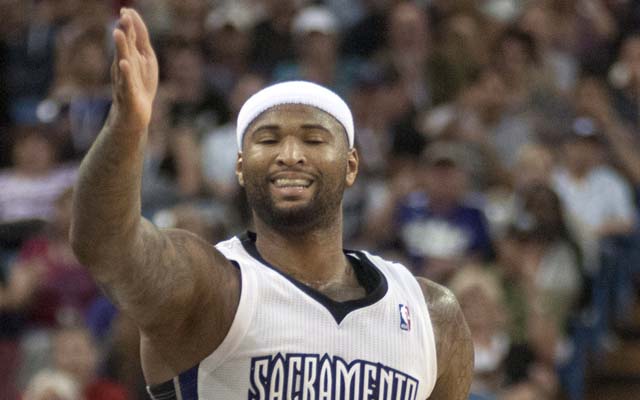 Offseason: Free Agency | Latest from Ken Berger | Rumors
CBSSports.com's Eye On Basketball is taking a team-by-team look at the 2014 NBA offseason. We continue with Sacramento Kings. Check out the rest of the offseason reports here.
How they finished 2014: There wasn't much to distinguish this past season from others for the Sacramento Kings . Sacramento has been frustrating since its championship run ended more than a decade ago. You can argue they had a true superstar for once, but Kevin Martin really was there for a while in the late 2000s. You can argue they had a decent season, winning 28 games ... which was the exact same amount they won the previous season.
The good news? Mike Malone seemed to genuinely fit, at least more so than the other attempts at coaches. And owner Vivek Ranadive, along with the braintrust of Pete D'Allessandro and Chris Mullin were agressive all season, picking up star-potential players like Rudy Gay and Derrick Williams , while mostly maintaining flexibility.
I watched Sacramento a lot, and by the end of the season I couldn't imagine being a Kings fan. They were just good enough to keep you interested, and yet would always make enough mistakes to cost them the win, making it pretty much like every other season with the Kings.
Offseason needs: Sacramento had a lot of questions. Gay had an opt out, and there was talk that the Kings could break the bank to keep him, a move that would have been received pretty poorly given Gay's career-long inefficiency. But Gay was genuinely great for Sacramento in the short amount of time he was there. It was going to be a tough decision between keeping one of your best players and maintaining financial flexibility.
Luckily for them (I guess), Gay opted into the final year of his deal at $19.3 million. The Kings will look to lock him into a long-term extension, while Gay may want to keep his options open to seek a deal with a better team next summer. He does seem to like it in Sacramento, at least as far as their love of him, but Gay has also long been interested in playing in a larger market after spending a large chunk of his career in smaller markets.
They did have to figure out something regarding Isaiah Thomas , who was set to be a restricted free agent. There had been mixed signals all season about Thomas, arguably their best player the past two seasons. Thomas is ball-dominant and small, which reportedly was a strike against him in the minds of the front office. Throw in all the talk of a Rajon Rondo trade interest from Sacramento and it was clear they had a much different idea of Thomas' value than the rest of the league, the fans and the media.
As for upgrades, they needed shooters, better depth at point guard, and to create roster flexibility by clearing the logjam at both forward positions.
Oh, and as always, they needed DeMarcus Cousins to grow up a little bit more.
The draft: I panned the selection of Nik Stauskas when it happened, in large part because the idea of pairing Noah Vonleh , who the Kings passed on, with DeMarcus Cousins made sense to me. There were other players (Zach LaVine, Doug McDermott ) who would have been great picks here as well.
But what I didn't think about at that point was how much the Kings needed this pick to have value. They needed to avoid players with a high bust factor, and Vonleh, LaVine and McDermott all had that. Much of this comes down to relative value in the league right now. A wing with size who can make 3-pointers just has too much value in the league. If Stauskas becomes nothing but a B-grade Kyle Korver , that's still exceptional value.
In the Grantland documentary series that showed the inside of the Kings' war room on draft night, there was talk of how they needed to "go for it" by trying to go for a star. There was potential star talent at that spot, but they all came with bigger concerns. Stauskas was a safe pick, but he's also maybe the one who has an identifiable role for the duration of his career.
Free agency and trades: And here ... is where things get weird.
The Kings kicked off free agency by signing ... Darren Collison ? That was a pretty clear indication you could say goodbye to Thomas in Sactown. Collison is bigger than Thomas, because almost every NBA player is. But the idea of him being more of a distributor than Thomas is mostly on account of him not being a scorer.
Defensively, Collison is often ribbed, but he did good work vs. Stephen Curry in the playoffs and is a better defender than Thomas. Whether that means he's a plus defender is open to skepticism. Regardless, the Kings did not upgrad at point guard.
Other than that, the Kings wer pretty quiet. They signed Omri Casspi off waivers from the Pelicans after being traded from Houston. Casspi was a bust the last time he was in with the Kings, but has improved his shot at least. They also added Eric Moreland .
They pulled off one minor trade, moving Quincy Acy and Travis Outlaw 's contract to the Knicks for Wayne Ellington and Jeremy Tyler . Neither player is expected to stick with the team for the duration of the season.
Overall grade and accomplishments -- C-minus: Losing Thomas was bad, because there is no way to spin replacing Thomas with Collison as positive.
But the bigger key: They didn't make a drastic mistake regarding the future. Whether it was their choice or not, they haven't locked up Gay to a long-term deal before they see whether he can replicate last season's efficiency. They haven't committed themselves to anything long-term except Cousins, who despite his faults, is still the one guy you want to tie yourself to.
They have just $40.7 million committed next season, and they can likely move Carl Landry 's remaining $18.5 million, and can likely figure out a buyout with Jason Terry 's remaining $12.5 million guaranteed.
This could and likely will all change when the Kings wind up paying Gay $16 million per year or more... or he could wind up being the franchise cornerstone they believe he is. But while I'd label the Kings' offseason as disappointing overall, I can't consider it a disaster.
So not completely bad, but certainly not good either. You know, like seemingly every Kings season.
Minnesota has even bigger expectations headed into next season. Can it live up to them?

When the NBA MVP odds came out, it got us thinking: Will stat-compiler Russell Westbrook win...

Durant labeled the Cavs' situation as a regular problem in the NBA
James takes to Instagram for a better look at the Cavs' new Nike-made uniforms

Kevin Durant says he doesn't agree with what President Donald Trump agrees with

Evaluating where the future Hall of Famer might land up if he is freed from Chicago's rebuilding...