4-Point Play: Defending Kobe
How do the Heat attack the pick and roll and what do they need to do against Kobe Bryant Thursday night?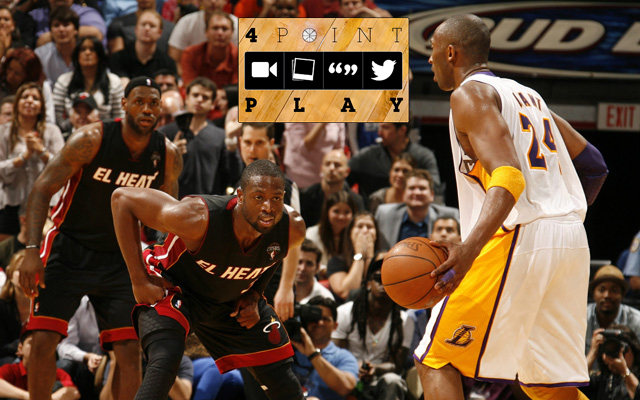 Try to stop me if you can, and I'll give you a cookie. The Lakers and Heat play Thursday night.
(Getty Images)
It's not hard to find storylines in Thursday night's Heat-Lakers matchup. Miami comes in off a big win against the Warriors, after struggling for a stretch defensively. The Lakers have finally gotten off the mat and have now won two in a row. The Heat can say they've righted the ship with a pair of road wins on a back to back out West. The Lakers can feel like finally, maybe, finally, they've gotten their act together with three straight and a win over the defending champions. 
You've got LeBron James in the midst of another MVP run, having just passed the 20,000 points and 5,000 assists barrier. You've got Kobe Bryant in maybe his best season, ever, a truly astonishing feat at his age. You've got a history of incidents between Bryant and Dwyane Wade, bad blood between Dwight Howard and the Heat, and oh, yeah, these two were considered title contenders before the season began. 
And a particular facet to watch out for defines both teams. The Heat and their help defense which lead them to a title last season, and Bryant's individual ball-centric offense, which has made him one of the best offensive players in the NBA. 

Bryant wants you one-on-one. That's where he eats. The majority of Bryant's possessions are in isolation. And he's lethal there, scoring .976 points per possession there according to Synergy Sports, and 42 percent from the field. But the second highest for Bryant is in the pick and roll. Makes sense, right? Give one of the best scorers in the NBA some space to work and let him create a shot for himself or others. 

The Lakers have so many weapons, but you have to send both men at Bryant often to prevent a shot. Committing the defender works, to a degree. You can shave off a few fractions of a point off a possession with Bryant, and it increases the odds of forcing a turnover. The one area Bryant struggles most is in traps that hedge him out and away from reasonable distance, but those are hard to spring.
Overall, though, teams don't send the second defender at Bryant as much as they should. When they do, he's able to punish them with his passing ability, maybe the most underrated, if underused, part of his arsenal. Observe.


Now, the Heat are not shy about sending that second defender. Synergy Sports says that the Heat deploy a second defender to press or attack the ball-handler the second most in the league behind Dallas, and are the fifth most effective team at it. For all their defensive issues, this is one where they excel.
Getting the ball out of Bryant's hands is always a good plan. But there is the risk, as seen above, that he'll find a good shooter in rhythm, or Howard underneath. It's not enough to get the ball from Bryant, you have to contest the pass enough to force a poor one, which allows time for help defenders to rotate. 
For Bryant, he can still break the double, either by splitting it, shooting over it, or passing. But he has to be careful not to let his more adventurous and determined instincts take over. He can fall into traps of fadeaway 3s over both defenders in this situation.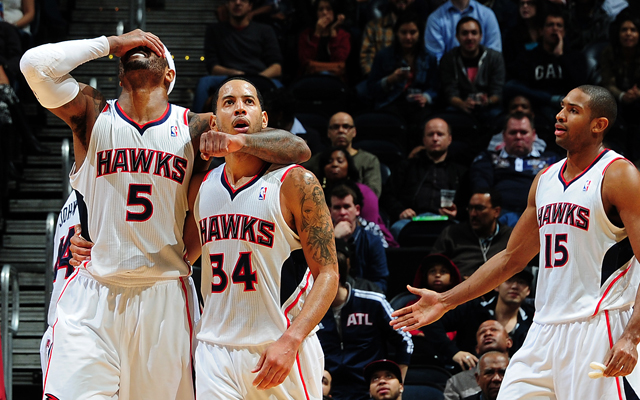 The Hawks scored five points in an entire quarter, and now shoulder the blame for the day basketball died.
(Getty Images)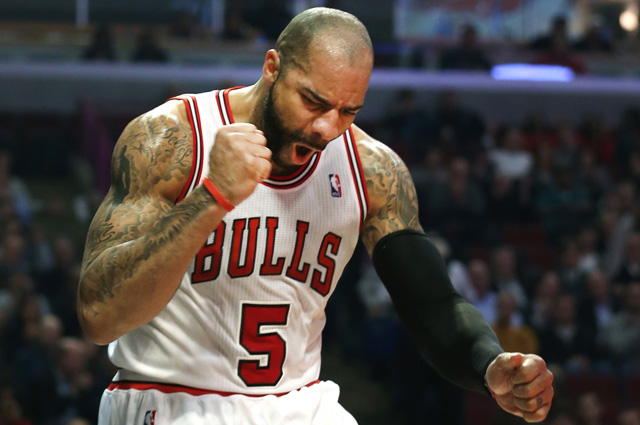 Boozer's happy now, but wait until Derrick Rose returns from knee surgery. Boozer might be real happy then.
(Getty Images)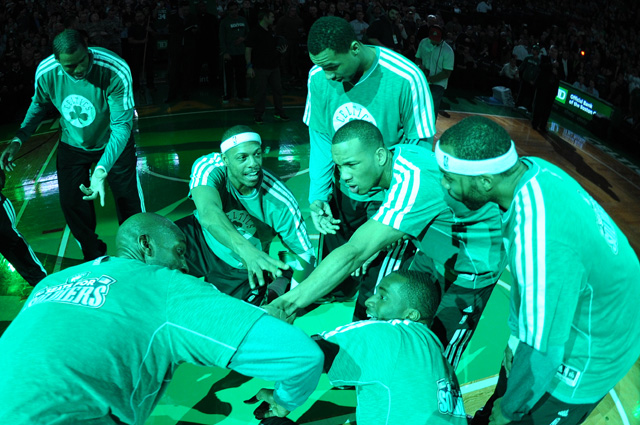 The Celtics' play this year has left a lot of people feeling green.
(Getty Images)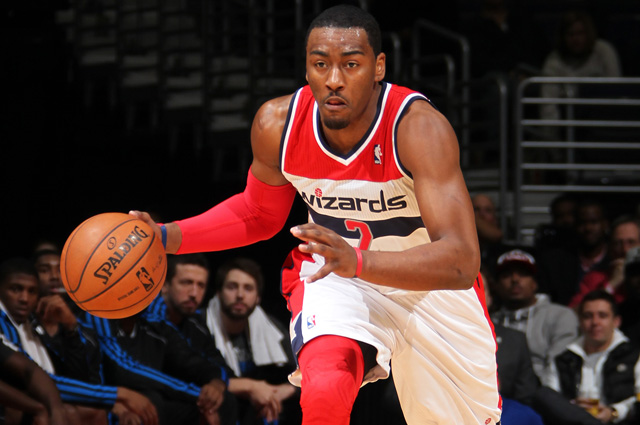 Welcome back, John Wall.
(Getty Images)

"It's hard. (laughs) Just like our players, I get frustrated too, because I'm used to winning. And this doesn't sit well with me. But I also see the light at the end of the tunnel. It's way down there, but it's on, and it's getting closer and closer. I know that next year we're going to be better, and the year after that we're going to be much better. I can see the future this organization is building; Chris Grant has been great, he's helped me along with Dan Gilbert to stay focused on the future and not get caught up in what's going on right now.

"My patience has always been something I've had a lot of, but at this point, I'm ready for it to start happening. But I understand that I still have to be patient.

"Injuries frustrate you more than anything. We've had seven games with our starting team. Seven. The whole season. And that's going to stay seven for another two months with (Anderson Varejao) out six-to-eight weeks. So that's the one thing that frustrates you as a coach. You don't really understand what you have because you haven't had these guys play together for 40-50-60 games, to know each other and their tendencies. We think we do have some good pieces, but we haven't had a chance to see them for a month together." -- Byron Scott regarding the Cavs' struggles
"The one thing I want him to work on is playing without the ball. Learn how to move, cut, set-ups without the ball. Catch-and-shoot, not catch-and-hold. Learn how to play without the basketball. He's so used to, from high school and college, always having the ball in his hands. And I think he would be so much more effective if he learns how to play without the ball. And that'll be first on my list for him this summer. " -- Scott on Dion Waiters

The Cavaliers won the much-anticipated matchup, 121-112

Two of the league's most interesting teams will meet on national TV on Friday night

A mic on the court evidently picked up what the Cavs superstar had to say to the Lakers ro...
The idea was to bring Bell along slowly, but he's making it harder and harder to keep him on...

Donovan Mitchell kept the top spot in the rankings, but there was plenty of shuffling below...

Stephen Oh is 23-7 picking Rockets and Spurs games and just locked in a play for Friday