5 Things to Watch: Knicks resurgence faces stiff test vs. Grizzlies
Five keys to Memphis vs. the Knicks on Friday night.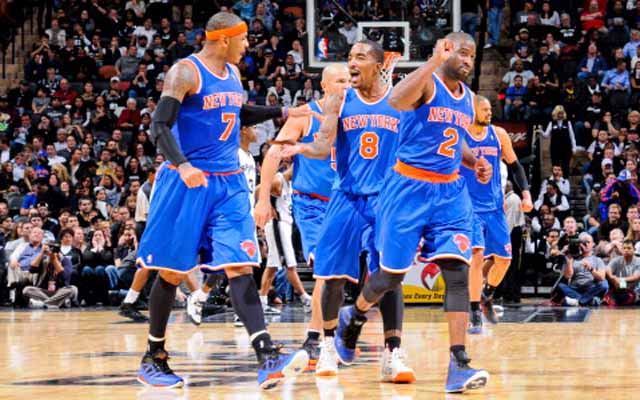 The Knicks face the Grizzlies as they try and go 7-0 Friday night.
(Getty Images)
How 'bout those Knicks?
Undefeated, the boys in blue/orange, and after a win on the road vs. San Antonio, looking very much like the contenders their strongest supporters thought they would be. It's been a thrilling and unexpected development to see the Knicks develop into a juggernaut on both sides of the ball. 
But even after facing arguably the best team in the West in San Antonio on Thursday, they have just as stiff a test Friday night vs. Memphis.
Memphis has been a stellar team since their opening-night loss to the Clippers, and the improvements they've shown are almost as significant as those of New York. For years, the Memphis bench has been an issue. But this year, the Grizzlies feature the fifth-best team in bench points per 48 minutes, according to hoopstats.com. The addition of Wayne Ellington as a 3-point shooter and Jerryd Bayless as a combo guard has lifted them. In years past, Memphis fans would just pray that the bench wouldn't lose the lead so quickly that the starters would be exhausted. Now the bench is maintaining, even extending leads. 
Here are five keys to the Grizzlies vs. the Knicks on Friday night. 
1. Beware the bigs: New York hasn't played anyone with a consistent post presence yet. Tim Duncan only attempted a shot out of the post twice against the Knicks on Thursday night, and the rest of their post defense has been against players like Glen Davis and Spencer Hawes. But the Knicks are seeing a whole new challenge Friday against Marc Gasol and Zach Randolph. It's not just the twin-towers duo of scoring, it's their passing that makes them so good. The Grizzlies are up there with the Heat for the best inside-passing team in the league, and they can punish teams. Tyson Chandler can only guard one man (we think), and how they respond to the other player will be huge. 
2. Untouchable Melo: Tony Allen may spend time on Carmelo Anthony, but if he goes into the post on his own from the power forward position, that will wind up putting him in foul trouble and helping out Anthony. Instead, expect Allen to spend some time on J.R. Smith and Raymond Felton, while Mike Conley handles Felton and Kidd. Rudy Gay may be the best bet to guard Anthony, but even then, after a quiet night against the Spurs, expect Anthony to have a huge game. 
3. Live and let Melo: But maybe that's OK. The plan for Memphis should be to let Anthony go isolation all he wants and get 40, as long as they contain the other guys. The Knicks haven't been winning with herculean efforts from Anthony, they've been winning with defense and smart play. They need to bog down the offense and get Anthony to commit to his worst instincts, something he hasn't done all season. 
4. Long-range artillery: Both teams have shooters, though the Grizzlies are a much worse shooting team. If the Grizzlies don't stay with their man and close out strong, they'll get buried. The Knicks take an unbelievable amount of threes, and when they start falling, that's when leads for them extend. Pay particular close attention to how the Grizzlies guard J.R. Smith. Teams tend to forget him, focusing on their other weapons. The Grizzlies have to assign someone to Smith just to keep him from slipping out and finding catch-and-shoot opportunities on the perimeter. For the Knicks, they need to keep an eye on bench shooter Wayne Ellington, who has been huge for Memphis, having a career year. They can't just hope their bench unit contains him, and may have to put a starter on him if he gets hot. 
5. The Undiscovered RG: Rudy Gay has quietly had a phenomenal start to his season. Anthony has been quietly a terrific defender. The Knicks also have a quality defender in Ronnie Brewer. How this matchup works out should be interesting. Gay has done most of his damage out of isolation, but the Knicks' help defense is so good, this could cause problems. It could wind up simply being a matter of whether his shot falls or not. 
The Warriors coach added there should be no shame in being picked last since everyone's an...

We've got all the scores, highlights and news from all of Saturday's games

The two teams have reportedly not had any substantial discussions to this point
Oladipo may be getting most of the shine, but this second-year big man has been phenomenal...

SportsLine's Mike McClure, a DFS pro with more than $1M in winnings, gives optimal lineup...

The Lakers were just 2-14 from the stripe