94 feet of point guard defense: The rise of the full court pest
A full court press in the NBA is frowned upon because it's so easy to break. However, full court pressure by one guard is something that can win you games.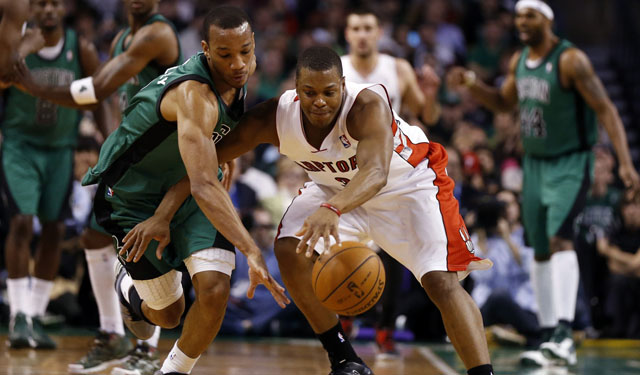 You can't press in the NBA; that much we know for sure. 
When a college coach makes a killing annihilating subpar dribblers and passers by throwing out a 2-2-1 press or a full court, trapping defense; when 19-year-olds wet themselves before they can get the ball past half court, we immediately question whether or not their defensive style of play is capable of working at the NBA level. It's safe to say that pretty much every college coach that has brought the press to the NBA level has quickly taken it back to the college ranks within a couple of years.
And the reason we question it is because it simply can't work at the NBA level. It can cause a truck load of chaos when that coach is making the transition to summer league in Las Vegas like we saw with Mike Dunlap and the Charlotte Bobcats in 2012, but once the regular season gets underway, the full court press has to be tucked away into a dark, safe place that nobody will ever find. The guards and even the small forwards at the NBA level are simply too talented and quick to react for such a device to be effective.
However, the difference between pressing an NBA team and providing full court pressure are two separate things that are similar in nature but quite different in application. There's an art to being a pest on defense and there are specific players of various calibers that are capable of pulling off this feat on a regular basis. 
The question, though, becomes whether the full court pressure is worth the risk?
There are some coaches and scouts around the league that find it to be a fruitless tactic. Pressure a ball handler too fervently 90 feet away from the basket and you risk a point guard putting one move on you, speeding ahead, and finding a way for a quick 5-on-4 opportunity. However, the idea of a single player full court press of sorts is a tactic designed to disrupt the offense of the opposing team and even creating that brief 5-on-4 opportunity could be considered a small victory.
The reasoning behind that is an offensive scheme is meant to be played at a specific rhythm. There are grind-it-out teams that want to play it safe in the half court and execute what they like to do. There are other teams that want to play with some controlled chaos and keep a certain tempo. Having a capable point guard or combo guard that can defend for 94 feet, disrupt the opposing flow, and not hurt his team defensively is the perfect way to blow up those schemes.
In a way, creating that brief flurry of a 5-on-4 while the often tenacious defensive guard is stalking the play while he's recovering and looking where he needs to rotate if a pass is made is a good thing for the defense, as long as you're forcing a slower team to increase the tempo. By increasing the tempo, you're making the offense play at an uncomfortable pace in many cases. 
Of course, that's only if your full court pest gets beat early in the possession. Often, you'll see the ball handler provide a much more conservative approach to bringing the ball past the half court line. There's a fine line they toe between taking care of the ball and getting across the line in eight seconds. With a full court, steady defensive pressure from a guard, you can usually shave off one-third of the shot clock just for them getting the ball within 45 feet of the basket. From there, it could take a few more conservative seconds before they get their offensive set going.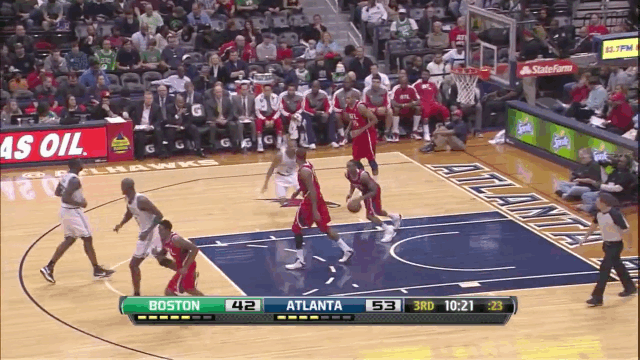 That's where the strategy of full court pressure really can benefit a team. A lot of decent offensive systems take a little time to get moving and set up their options, but if you've essentially knocked 10 seconds of shot clock off before the offense even gets into their set then you've limited the amount of time they have to get a quality shot. This can cause the offense to rush their shot or play against the shot clock. That level of disruption over the stretch of a couple minutes can ruin the flow of an opposing team.
Finding the balance of when to unleash your prowling guard and when to hold him back at half court is key to utilizing this type of player. Not just anybody can pull off this role and it's certainly not something you can do for 48 minutes of a game. You probably can't even do it for half of a game, but you can find spurts throughout to change the pace and rhythm. It takes a special breed of defender to be willing to exert that energy over an entire court while still maintaining the balance and discipline necessary to be a pest.
For years, Lindsey Hunter was probably the best at this role. He'd pick up his man for full court pressure, get deep into a defensive stance, and wait for a lazy dribble or a brief moment of mental relaxation before he pounced on the ball and tried to force a turnover. 
There aren't more than two handfuls of players in the NBA that consistently succeed in this role or even attempt this role. While starting point guards like  Ricky Rubio of the Minnesota Timberwolves and  Rajon Rondo of the Boston Celtics have shown flashes of using this strategy, Rubio doesn't really do it enough and Rondo more often than not flashes the full court defense before retreating to pick up at half court. 
The players that regularly succeed are often backup point guards that are brought in to cause a little chaos and change the flow of the contest.
Patrick Beverley has developed quite the reputation in just a short amount of time, most famously when he overplayed Russell Westbrook as the Oklahoma City Thunder guard was trying to call a timeout on a play that resulted in a lateral tear of Westbrook's meniscus. In a preseason game against Jrue Holiday over the weekend, Beverley hounded the new New Orleans Pelicans ' point guard.
You really see it all from Beverley in that set of highlights. He gets a steal at half court for a basket the other way, he gets the Pelicans to delay the start of their offense until the 12-second mark on the shot clock, and caused four turnovers in 3.5 minutes before Holiday frustratingly fouled out. There isn't a big enough sample size to truly measure the impact of what Beverley did for the Houston Rockets ' defense last year, but for what it's worth, they were six points per 100 possessions better defensively with him on the floor in their six playoff games.
Guys like Norris Cole of the Miami Heat and Nate Robinson of the Denver Nuggets also carry out this role, although they aren't the types to greatly impact the overall team defensive efficiency. Toney Douglas of the Golden State Warriors is also pretty effective at it. These guys cause a little more mental wear and tear throughout the course of an NBA game, which is already mentally exhausting enough for point guards.
New backup point guard for the Atlanta Hawks Dennis Schroeder is someone that looks to have an effective style early of pressuring the ball full court and causing a little havoc in the process.
The best in the league at this feat is Avery Bradley , who used to be a terror at it two years ago when he was coming off the bench in most games. Now he's forced to conserve a bit more energy throughout the course of a game because of increased playing time and role but he's still often in the backcourt looking to poke away the ball with his dangerous wingspan.
In the first clip, you get a much more traditional look at how he attacks someone bringing the ball up the court. In the second clip, he's forced another player to handle the ball at midcourt as he denies his man 45 feet from the basket, looking to attack the passing lane once the ball is transferred.
This season, you'll see Eric Bledsoe be one of the best at hounding the opposing point guard for 94 feet. His defensive impact with the Los Angeles Clippers was immense and he'll be asked to do the same thing while assuming more offensive duties and minutes with the Phoenix Suns .  Kyle Lowry and Jrue Holiday are two starting point guards you'll see employ this quite often.
This isn't a new tactic by any means but it seems to be one that's becoming very important in today's NBA. Time management with the clock and getting into your offensive sets quickly and efficiency is a big emphasis for a lot of coaches. If you can disrupt that process then you can cause brief moments of panic. It may not work every time, but if you're able to steal a couple possessions a game with one of these guys, that may be all you need when the final buzzer sounds.
Wade opted in to his $24 million player option earlier this summer

Barkley spoke to the NFL Today crew about the response the president received in his home...

The restricted free agent has a deal in place that will keep him with the Bulls after a st...
James' support continues his trend of social activism on social media

The newly-acquired All-Star thinks the addition of Anthony boosts the Thunder in the NBA's...

The Knicks were asking for the house in discussions for Carmelo Anthony