A long road in Memphis: The rise of Mike Conley
Mike Conley has gone from being the target for scrutiny by the media to one of the best game-managing point guards in the league on a contender. Matt Moore sits down to eat some crow and find out how Conley got here.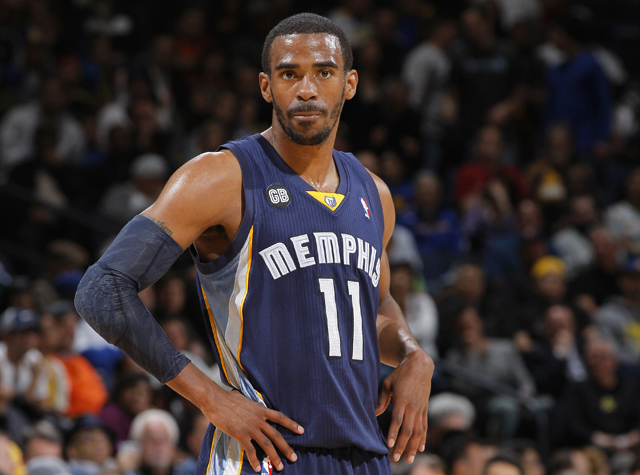 Mike Conley has the Grizzlies in the hunt for the Western title.
(Getty Images)
"It's harder early on, because you think you know it all, but you don't. I had to watch a lot of film. Watch guys like Steve Nash, Chris Paul, Tony Parker. Guys who I think are the best. Go out and try and simulate that the best you can in practice and games. The more you do that, the more comfortable you get." -- Mike Conley on how hard it is for point guards when they enter the NBA, December, 2012
• • •

It's June 28, 2007, and the Memphis Grizzlies believe they've just drafted their franchise point guard of the future. Mike Conley, starting point guard for the national championship runner-up Ohio State Buckeyes, is selected with the fourth pick.

Conley is soft-spoken with an engaging smile. He doesn't display the stunning top speed of the elite point guards in the league (nor the crop to come in the coming years), but he brings a wide skill set and good basketball IQ.

He is 19 years old.
• • •

"Learning how to play point guard in the NBA takes at least three years. Three years, before you really understand what you need to do and how." -- Conley on the learning curve for point guards, December 2012
• • •

Now it's Nov. 1, 2010. Conley, after a disappointing three years in the league, has just signed a four-year, $30 million contract. It comes as a shock to many, particularly, well ... me.

HEADLINE: GRIZZLIES COMMIT FRANCHISE SUICIDE, EXTEND CONLEY.

In the words of Bill from "Kill Bill," "I ... overreacted."

Conley is just 23 and has had the start to his fourth season that you want. But despite improving each season, he had never logged a PER higher than the average-bearer 15. The signs are all there that he's on track to become a good point guard. But too often when a player is given that contract, people (and by people I mean the media; and by media, I mean me) tend to ignore their potential, their leadership, the work they've put in.

If you spend any time with the Grizzlies even that season, you see Conley's leadership. You see him spending extra time at practice. You see him managing things on the floor. He looks like the leader of a playoff team. But we'll get there.

Three months later, I write an apology post about Mike Conley.
• • •

"It's not just being vocal. It's about being accountable. Being able to tell guys, 'Hey, I made mistakes. This is what I'm doing wrong.' So they open up when you tell them, 'Here's what you're doing wrong.' It's not acting like you don't make mistakes, too, but saying, 'Here's where I messed up. Here's what I need to do to get better. Here's what you need to do right now.' They respect that. And the more respect you get, the easier it is to lead." -- Conley on the key to leadership, December 2012
• • •

Now it's Dec. 14, 2012. Mike Conley sits in a hotel suite across from a guy who once described him as "the worst starting point guard in the NBA." (That would be me. Again, whoops.)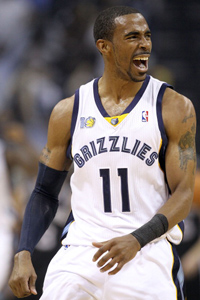 Conley won over critics.
(Getty Images)
But Conley doesn't glare, sulk or act dismissive. Unlike a lot of players, he looks me in the eye. And when I say I'm here pretty much to eat crow for having missed the boat so hard I fell in the water, he modestly cocks his head. "I don't get too many of those."

Conley's fresh off a flight from Phoenix but seems relaxed, as most of the Grizzlies do. Memphis is an odd outlier. In a league where most of the top teams are either veteran squads like Miami and Boston or young whippersnappers like Oklahoma City, Memphis is comprised of veterans who haven't hit vintage yet.

Memphis is in the midst of its best start in franchise history. As Conley says, they're a team with experience which also doesn't suffer from the wear and tear of age.

"We've got a lot of guys who are hitting their stride," he says. "A lot of guys have enough time in the league to play and understand what to do. It helps us to be a better team knowing everyone's got experience, but not too much."

In a league filled with superstar team-ups trying to make things work on the fly, as the Lakers continue to flounder like a bass stuck on the shore, Memphis has featured the same core for three seasons, behind the same coach, Lionel Hollins, an early-season Coach of the Year candidate. They know one another, very well. But there's always a risk with teams that have been together so long that they'll start to stagnate. Instead, Memphis seems to get better every second they spend on the floor together.

Conley attributes that to the fact that, in a way, Memphis has become the Island of Misfit Toys (my words, not his).

"The core group of guys that we have, we're different from other teams," Conley says. "A lot of guys were outcasts from other teams. Zach Randolph, for instance. People said he was a black hole, he couldn't play with teammates and so on. And he has turned into one of the best power forwards in the league. He's a great player, a great teammate, does all the little things you need to win.

"Everybody has a chip on their shoulder. Everybody has their own battles, their own demons they've had to face. We've just never been satisfied with being a playoff team or a winning team. We want to be better. We know we have to strive for something in order to get it."

And they have. After winning their first playoff series in franchise history in 2011, the Grizzlies followed that up with a tremendous season last year despite a huge injury to Randolph that kept him out most of the year. It cemented Memphis as "for real," and that has carried over to this season as more and more people start to discuss Memphis as a dark-horse title contender.

"People ask us, 'Do you really think you can go all the way?' " Conley says. "We always answer, 'Why not?' We feel like we have a team that can play with any other team in the league. Some of the earlier wins we've had really got our confidence up and showed we can play with any team in the league if we believe in it."

And Conley has been part of that formula. Since he signed that extension, Conley has turned into one of the most underrated point guards in the league. While Russell Westbrook and Derrick Rose wow people with their athleticism and speed, Conley has become an elite game-manager.

Ah, that word.
The term "game-manager" often gets pegged as a backhanded compliment, meaning he can't do anything incredible but is instead just solid. But with Conley, it means a lot more. He leads the offense, fills in the Grizzlies' considerable gap at perimeter shooting and makes sure that the Grizzlies' considerable arsenal of weapons (Randolph, Marc Gasol, Rudy Gay, Darrell Arthur, Marreese Speights) get their touches. That might sound easy. But it isn't, especially for one of the youngest guys on the team, still.

"It's been the biggest challenge, running the point especially for this team," Conley muses, almost with wonder for the players whom he goes to battle with every night. "We've got almost three All-Stars in our frontcourt. We've got so many guys who can score, so many guys who can make plays. You've got to know when to pick and choose, when to be aggressive and you don't want to be the point guard taking all the shots because you've got so many mouths to feed. The team's not going to run correctly if I'm taking all the shots. I understand that, and the earlier you get point guards to understand that, the better off you'll be."

But when Conley is shooting, he's hitting. He is shooting a career-best 41 percent from three and sports a career-best 56 percent True Shooting Percentage, which factors field goal percentage, three-pointers and free throws.

Meanwhile, that PER that never went over 15? It hasn't dipped below since. This year, he's rocking a 19.4, good for ninth best among point guards playing significant minutes. That should work out well with new Grizzlies analytical advisor John Hollinger, who invented PER during his time with ESPN.

Conley has essentially become the point guard he was signed to be, and the success has followed for Memphis with it.
• • •

But how did he get here? How did he go from a timid player who never made the right play to one of the most reliable starting point guards in the league?

Conley attributes much of it to his relationship with Hollins, who challenged him the summer before his extension.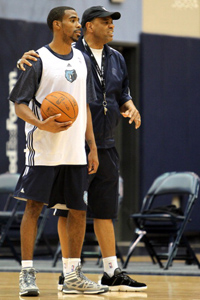 Hollins' help is key.
(Getty Images)
"The biggest thing is he just teaches perserverance and how to handle adversity," Conley says. "We've had a lot of it in Memphis, and our team, and me personally. And he's always there, encouraging and saying, 'You're not there yet.' He'd tell me, probably the same things you were saying in your article. 'You can't shoot yet. You gotta be able to do that. You've got to be able to get stronger. Guys are getting right by you. You've got to be a better defender.' He's always been honest with me. He's helped me with handling adversity and helped me to be a stronger person and be a better player."

So how is it that everyone (and by everyone, again, I mean me) missed this development? What is it that we didn't see, couldn't see, couldn't know?

"People on the outside don't see the work you put in, not only in practice but in the offseason," Conley says. And for the first time, there's a real seriousness to his voice. "Guys who have a lot of critics, guys who have a lot of pressure on their plate, who are expected to do things, the good ones are going to work to try and prove everybody wrong.

"That's where I've been. I said, 'I'm just going to become a better shooter. I'm going to become a better defender. I'm going to become stronger.' All these things that I needed to do to get better. People on the outside don't see that as much as someone who's been in the gym with you every day."

Conley has put in the work, and it has paid off.
• • •
"Just being able to have the experiences that I've had over the past few years, playoff experience, all those things, help to be more comfortable. It's knowing when I need to take over offensively, to be more aggressive, and then when to dial it back and look for other guys." -- Conley on how his patience has developed, December 2012.
• • •
Now it's Dec. 21, 2012. The Grizzlies have just defeated the Mavericks for the second time this season, in a game that they simply controlled from the start. It's no longer a surprise when Memphis wins a big game against a quality opponent.

Conley dropped 11 assists along with nine points and, in doing so, became the Grizzlies' all-time assists leader. He's 25 years old.

Memphis is in sole possession of first place in the brutal Southwest Division, third in the West, trailing leader Oklahoma City by only two games. After years of being a league punch line, the Grizzlies are no longer a feel-good story, no longer a surprise. They're legitimately an elite team in the West. But for Conley, now isn't the time to bask in how far he and the Grizzlies have come.

"I feel like I haven't arrived. I feel like we haven't arrived. I don't think it'll hit me until we've reached that ultimate goal. Where it's, 'We're here. We're on the biggest stage. It's the NBA Finals.' For now, I feel like we're still working our way up."
After the Buzzer: 
The Grizzlies have not gotten over their playoff-series loss to the Clippers in seven games last spring. "I think it still hangs with us today," Conley says. "We still hear about it. It's what motivated us in the offseason, and it still motivates us today."
Do the Grizzlies think they would have won the series had they not suffered arguably the worst collapse in NBA playoff history in Game 1 at home? "No question. We needed to win the games at home. We knew that. The Clippers are a tough team to beat on the road. We managed to force it to a Game 7. We'd run out of gas by that time in the series. It was tough to lose."
Conley attributes his improved shooting for making his entire game easier. "It's more evident that now I'm able to get in the paint a lot easier. Guys are going over screens and getting hit by screens more often because they're not able to just go under screens and play off 10 feet and meet me at the free throw line. It opens up so much for me. I'm happy with where I've gotten to and, hopefully, I just keep getting better."
Conley is an avid video gamer, his favorite series being the XBox "Halo" series. He was out at midnight to get "Halo 4" this fall. Conley says if he weren't a basketball player, he'd be a professional video gamer. He is not smiling or kidding when he says this. Conley says he torches the entire team at any game that they play, with Darrell Arthur his only real competition.
Conley's particularly proud of his good friend, Marc Gasol, whom he has played with since his sophomore season. Gasol has become an All-Star and one of the top centers in the league. "It's been awesome to see him grow and become what he is today. He's one of my best friends. We've been together for five years, it feels like. And in international ball and the Olympics, he's accomplished so much. It's great to see him get credit for it."
Memphis' locker room is full of characters. To hear Conley tell it, they have a pretty good time together. "We were listening to Marvin Gaye today in the locker room. Zach Randolph was playing it, and then everybody was singing it. The dynamic is unbelievable. Guys are obviously loving each other, loving the journey that we're going through."
Last year Durant said returning to his old home was 'never going to be a regular game'

The All-Star forward injured his wrist during Sunday's loss to the Lakers

Steven Adams believes he's the problem with the Thunder struggles in the clutch
LaVar claims that Luke Walton has been 'soft' on Lonzo so far

Allen has filed an emergency motion in an Orange County court in response to an accusation...

Larry Hartstein has been crushing NBA picks and just made a play for Bulls vs. Lakers on Tuesday...