A look at the Pistons' epic fourth quarter struggles
Why is Detroit so bad in fourth quarters, and is there anything they can do to fix their problems closing?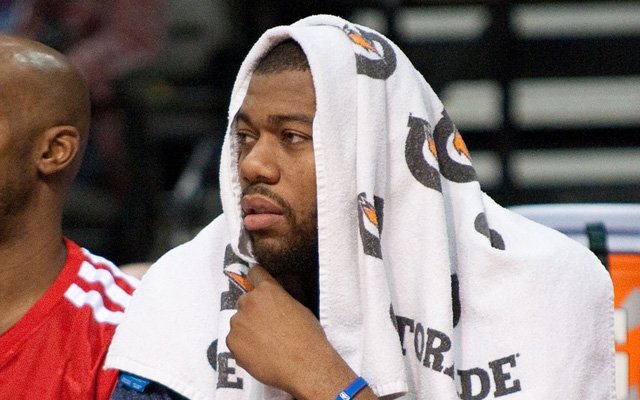 The Detroit Pistons finally had a good fourth quarter on Friday. 
The Pistons outscored the woeful Philadelphia 76ers 30-23 in the fourth quarter on their way to a 114-104 win. So a team projected by many to make the playoffs beat a tanking team which is projected to be one of the worst in the league by season's end. So what? 
Well, it's notable because of how unbelievable terrible the Pistons have been in fourth quarters this season. You can take my word for it, but in case you don't, here's where the Pistons rank in various categories in the fourth quarter before Friday's win. 
Points per possession: 30th
Points allowed per possessions: 23rd
Assist to Turnover ratio 30th
Assist ratio: 30th
Rebounding percentage (percentage of available rebounds snagged): 30th
True Shooting Percentage (factoring free throws and three-pointers): 28th
All of this leads to the Pistons being last in net points per possession, as they are outscored... wait for it... by 13.3 points per 100 possessions.
So, yeah, it's been a chemical spill of awfulness. 
While the defense isn't good, those problems are clearly in the offense. What's interesting is in the 4th, Detroit is 4th in points off turnovers, 16th in second chance points, 7th in fast-break points,  and 8th in points in the paint. So you can really isolate the problems to halfcourt offense. 
And Pistons blog Detroit Bad Boys did last week: 
The Pistons as a team average 19.7 shots in the fourth quarter, but the duo of (Greg) Monroe and (Andre) Drummond combine to take just 3.4 shot attempts in the fourth quarter. 3.4! The pair of (Brandon) Jennings and (Josh) Smith, however, take 7.6 shots. Of the team's six major contributors in the fourth quarter (the starters plus Kyle Singler), Monroe ranks fifth in shot attempts and has just two more than rookie Kentavious Caldwell-Pope. Jennings has almost 50 more shot attempts in the fourth quarter than anyone else and has more 3-point attempts (49) than Monroe has total shot attempts (48).

And while it's true that Monroe's efficiency takes a dive in the fourth quarter (just 43.8 percent), it still ranks second of the team's six main fourth-quarter players behind only Drummond. Jennings, meanwhile, shoots just 39.6 percent while Smith shoots an eye-gouging 31.4 percent. And remember, Smith and his 31.4 percent shooting have taken 86 fourth-quarter shots (nearly double the 98 taken by Drummond and Monroe combined). Chauncey Billups has played just 53 fourth-quarter minutes and attempted just 12 shots, nine of them 3-pointers ... and he has one less make from deep than Smith (five to six) despite 20 less attempts.
via Pistons and the terrible, horrible, no good, very bad fourth quarters - Detroit Bad Boys.
Here's a look at the Pistons' usage in the 4th quarter broken down by player: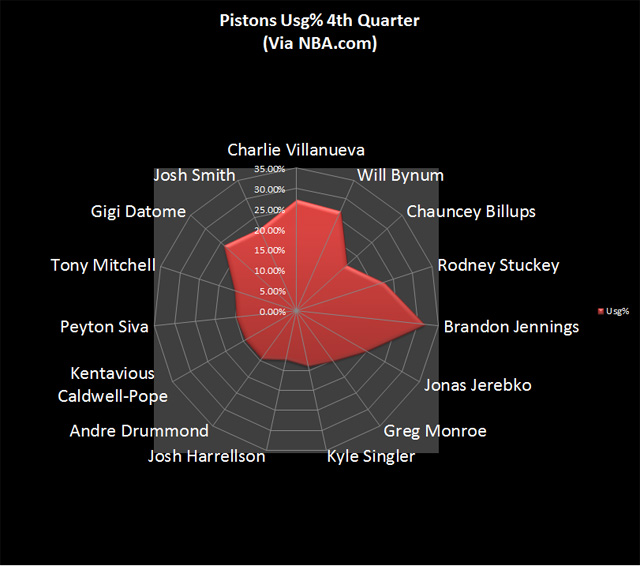 You notice Charlie V, sucking up the possessions in just 43 minutes of 4th quarter time across eight games. Bynum's volume here when you look at their struggles seem bad, but Bynum is just -.7 per 100 possessions, one of the best 4th quarter net efficiencies for Detroit.
Oh, and on Saturday? The Pistons reverted to their old habits, outscored by Phoenix 29-21 before holding on for the win on a Josh Smith game-winner. Smith was 3-for-3 in that fourth quarter, which is great, but still the Pistons were still outscored by 1 in his nine minutes. Brandon Jennings was 0-for-4 Andre Drummond and Greg Monroe combined for seven minutes total. 
The Suns went small, but still. Woof. 
In the win over the Sixers in which they won that fourth quarter? Monroe and Drummond combined for just 12 minutes total, but at least they played half the quarter. Smith and Jennings both had positive plus/minus numbers and Jennings had nine points and two assists. The big lift? Will Bynum, with nine points, while Drummond and Monroe had eight together. 
It's not about Smith and Jennings not playing, nor is it about these individual examples. It's about reinforcing the overall lessons. The Pistons need to share the ball, create better looks. What's odd is watching their overall offense, I like their ball movement. It just results in a bad shot, more often than not. 
We'll see if Cheeks listens to the numbers or at least catches on to the trend. But Detroit needs to resolve how they close games. Get Jennings and Smith to play better, create more balance offensively whatever. They've got to resolve that or it's going to get to be a major issue later this season.
McCollum hurled a clever insult at the French forward

Hosts Bill Reiter and Reid Forgrave are joined by Blazers guard CJ McCollum

Check back throughout the night for the latest updates from Monday's NBA games
Garnett has worked with Maker and says he is reminded of himself

It might be a good time to place a bet on the Boston Celtics

SportsLine's Mike McClure, a DFS pro with more than $1M in winnings, gives optimal lineup...