A mature, patient Derrick Rose begins another comeback
Derrick Rose has been down this road before. As he embarked on the next step in another comeback Monday, he vowed that maturity and patience will guide him.
Offseason: Coach K on Rose: No restrictions | Latest from Ken Berger | Rumors
LAS VEGAS -- Derrick Rose sat on the sideline surrounded by reporters for a good 20 or 25 minutes on Monday after his first live scrimmaging against elite NBA competition since tearing the meniscus in his right knee eight months ago. More than anything he said, what Rose was clutching in his hands captured the essence of his second long road back from injury in as many years. 
Rose grasped one of those rolling massage sticks as he answered questions from wave after wave of reporters. He carried it with him everywhere on the court when he was done. Fellow USA Basketball invitee Kyle Korver had some fun with the former MVP as Rose described the meticulous stretching and soft-tissue work he subjects himself to before stepping onto the floor.
"I was telling him like, 'Man, I'm old,'" Rose said. "'I've got to stretch, I've got to use these rollers and stuff.' And he looked at me kinda weird, like, 'Hold up: You're only 25!' ... I joke around with my trainer all the time. I think I could train someone, to tell you the truth."
At 25, Rose knows more about the rigors of rehab than players with 10 more years in the league. After missing the entire 2012-13 season with a torn ACL in his left knee, Rose's first comeback lasted only 10 games before the meniscus in his other knee gave way.
The experience -- the grueling rehab, the endless hours working to regain his strength and nurture his game, the criticism and self-doubt -- changed him.
"I'm able to control my body a little bit more, use my speed, being smarter with my speed instead of just being wild out there," Rose said. "I'm a smarter player ... a totally different player, but it comes with experience."
At only 25, Rose has youth on his side as he tries to regain the MVP form that the cruel twists of torque and explosiveness have stolen from him for almost two full seasons. He also has an unshakeable confidence and a certain maturity that could only come from walking in his shoes.
"I think when I came back last time, I wanted it too bad," Rose said. "I was trying to work the game and this time around, I'm just trying to let the game come to me – of course be aggressive, but at the same time, have control of the game and be smarter."
Rose's return with Team USA marks another milestone in another long road back. He played five-on-give at the Bulls' practice facility all summer, and practiced with the Bulls' Summer League team in Las Vegas. But there is no substitute for competing against some of the best in the world, and it's that cauldron of pressure in which Rose has chosen to measure his progress.
"Every day working my ass off, torturing my body every single day so [in] these little scrimmages, of course, my wind is the last thing I need," Rose said. "I played probably a total of nine minutes [Monday]. I worked out three or four hours a day, so that ain't ___. I've been preparing for this for a long time."
In some ways, the theme is the same as it was in 2013, when he began the long journey back from ACL surgery. The physical work behind him, Rose needs simply to play and compete -- to rediscover his niche and prove to himself and to anyone doubting him that his MVP talent is still there.
There is one key difference, and Rose knows he wouldn't have the perspective to detect it if he hadn't gone through all of this before. 
"Of course, I wanted to prove everybody wrong last year," Rose said. "I just wanted it too, too bad. And this time around, I just know that I've got to let the game come to me; go out there and just play."
After Day 1 of Team USA's training camp here, it isn't clear how this potential return to international play will end for Rose. A member of the 2010 team that won gold at the FIBA World Championships, Rose missed the 2012 Olympics with the torn ACL. 
Now, as Team USA begins the process of paring the roster from 19 to 12 for the FIBA World Cup in Spain, Rose is among nine ball-handling guards (10, if you count the 6-10 Kevin Durant) and five point guards in the mix. There may not be room for a former MVP who is playing his first competitive basketball since last November.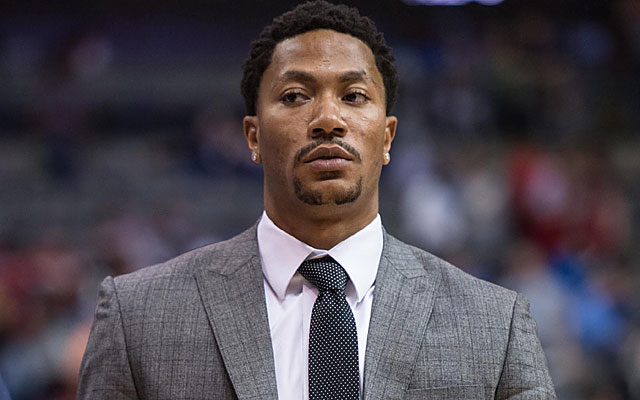 "I'm really trying to make it, but if they decide to go another way or another direction, there's no hard feelings and I wouldn't feel mad about it," Rose said. "I'm just happy that I have the opportunity to come here and showcase my talent in front of everyone."
Whatever happens, Rose is taking the next critical steps in a comeback that presents entirely different challenges in the East than the last time he played in the postseason in 2012. LeBron James is back in Cleveland, having made it to four consecutive NBA Finals with Miami while only having to get through Rose's Bulls once. Carmelo Anthony flirted with Chicago, but decided to stay with the Knicks.
"That's a hard decision," Rose said. "You've got your family to think about, you've got money to think about – not to say that you should only think about money, but you're talking about millions and millions of dollars. You can't just put that behind you. I'm not mad with the decision that he made and I wish him nothing but the best."
As for the offseason moves the Bulls did make -- adding Pau Gasol, amnestying Carlos Boozer, bringing Nikola Mirotic over from Real Madrid, bringing back Kirk Hinrich, adding Aaron Brooks -- Rose liked it all, especially Gasol.
"He's won championships and brings that experience to our team," Rose said. "Having him around our bigs, Joakim [Noah] and them, talking to them and giving them advice, I think that's all we needed. … I think we're going to be a contender; a strong contender."
With Hinrich and Brooks capable of handling the playmaking duties for stretches, Rose envisions playing more off the ball, where he can showcase the meticulous work he's done on his catch-and-shoot game and save his body a little wear and tear.
"He's much more patient," said his coach, Tom Thibodeau, an assistant with Team USA. "I thought he just found the rhythm of the game."
And he's found out a lot about himself in the process, both on and off the court.
In October 2012, as Rose was dealing with the anguished reality of a lost season, his son, P.J., was born. Rose's family and friends from the old neighborhood in Chicago always called him, "Pooh." Thus, P.J. -- as in, Pooh, Jr.
"I have a son looking up to me," Rose said. "And when he gets older and realizes what's going on, he's going to look back and hopefully that gives him a little bit of motivation knowing that I had to go through so much. I hope that pushes him to become a great individual."
As always, Rose has plenty of forces driving him, fueling him to get back where he once was.
CBS Sports HQ Daily Newsletter
Get the best highlights and stories - yeah, just the good stuff handpicked by our team to start your day.
Please check the opt-in box to acknowledge that you would like to subscribe.
Thanks for signing up!
Keep an eye on your inbox for the latest sports news.
Sorry!
There was an error processing your subscription.
SportsLine's Mike McClure, a DFS pro with almost $2M in winnings, gives optimal lineup adv...

It wasn't the best night for the Bucks, but they still found a way to win

There were nine games in the NBA on Monday night, and a number of intriguing matchups
The Wizards had multiple verbal altercations last week, according to reports

Victor Oladipo will not play for the Pacers due to knee soreness

Josh Richardson is now a little lighter in the wallet