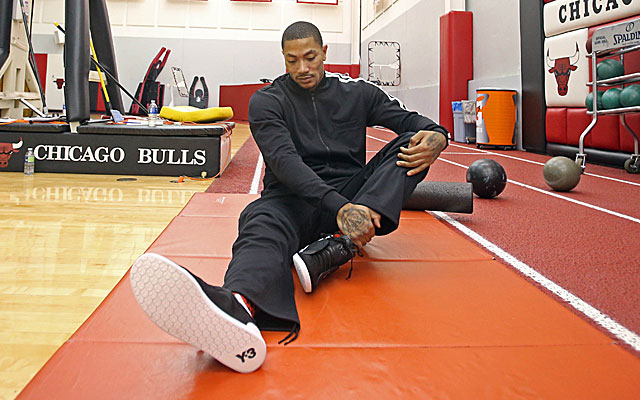 When Derrick Rose went down with a torn anterior cruciate ligament in his left knee in April 2012, it was a relatively rare instance of an NBA All-Star succumbing to a major knee injury in his prime.
According to extensive research conducted by BasketballProspectus.com, Rose was the first current All-Star to tear his ACL since Danny Manning in 1995. Before that, you have to go back to Bernard King in 1985.
But Rose's injury opened the floodgates for a modern wave of ACL tears in basketball. On the same day in the 2012 playoffs, Iman Shumpert went down with the same injury. Before the Knicks' first-round series with the Heat was over, 34-year-old Baron Davis' knee came apart. Davis had first torn his ACL as a freshman at UCLA during an NCAA tournament game.
During the 17 months since Rose and Shumpert went down, the league has lost Brandon Rush, Lou Williams, Rajon Rondo, Leandro Barbosa and Danilo Gallinari to ACL tears. Ricky Rubio tore his ACL about a month before Rose in March 2012.
Rose's comeback on Saturday at Indiana will only be the first of many such milestones around the league in the coming months.
And if the recent outbreak is any indication, these won't be the last members of the NBA's ACL fraternity.
"Since they're all individuals it could be different for everybody," famed basketball trainer Tim Grover said. "But fatigue has a lot to do with an ACL giving out. Muscle imbalances have a lot to with ACL's giving out. These guys are guys that change directions often and at very high speeds, like Rose and Rondo. Rubio's whole game is based on deception and changing directions.
"Guys are getting bigger and stronger, and a lot more emphasis needs to be put on those muscles that stabilize those different areas."
Grover, who has trained Michael Jordan, Kobe Bryant, Dwyane Wade and other NBA superstars, said he's fortunate that most of his high-level clients have not fallen victim to major reconstructive knee surgery.
"Whether it's proper training, luck or a combination of everything, I don't know," Grover said. "But we try to prepare our guys to avoid such circumstances. I try to really put emphasis on programs that deal with injury prevention first before anything else."
Despite the apparent uptick, the recent series of ACL injuries is in line with what the NBA has seen in the past seven seasons. During that time, the average number of ACL tears per season is approximately 4.5, with no more than five and no fewer than three in a season.
When Rose, Shumpert and then Davis went down, it was sensible to blame the lockout. With the threat of the 2011-12 season being canceled entirely, many players didn't prepare themselves as they normally would have during the offseason and teams didn't have players in organized conditioning programs. Once the league opened for business, the 66-game schedule was crammed into a six-month period. It was a recipe for disaster.
But the flurry of ACL injuries has continued long after the NBA's work schedule went back to normal. Something else must be happening.
"The game is becoming so athletic and so explosive that you're putting so much stress and such a pounding on there," Shumpert said. "You gut guys Euro-stepping around people. You're contorting your body in so many different ways now with the new-age game that I could see like the ACL's are going like that.
"It used to be people just ran straight lines in basketball," Shumpert said. "You watch Bob Cousy and them, they're running straight lines. Now you've got all these crossovers, you've got Euro-steps, you've got guys like James Harden scooping the ball and making their body scoop low before it comes up. We're putting different type of stress on our bodies."
An ACL tear is as violent and visceral as a sports injury gets, but so much of the recovery is emotional. The Clippers' Jamal Crawford, who tore his ACL in 2001, said he returned to play eight months later but didn't feel 100 percent for more than a year.
"You might walk with a limp just because you've been walking with a limp for months Ð even though the leg that you had surgery on is probably stronger than the leg you didn't have surgery on," Crawford said.
And you don't have to endure a torn ACL to understand the emotional rollercoaster of knee rehab. The Thunder's Russell Westbrook went down in last season's playoffs against Houston with a torn meniscus. As training camp opened this week, Westbrook had to undergo another surgical procedure on the knee and will miss the first 4-6 weeks of the regular season.
Wade, whose bouts with chronic knee pain hampered him throughout the Heat's championship run last spring, said this week that he regrets having the meniscus removed from his left knee while at Marquette in 2002. A meniscus repair, if surgically possible, often is a better long-term solution. But as Westbrook's meniscus repair shows, there are no guarantees.
Bryant, one of Grover's longtime clients, is still rehabbing after rupturing his Achilles' tendon last April. But he went to Germany this week for another round of platelet-rich plasma treatment on his right knee.
The only certainty about the new age of knee injuries in the NBA is that the recovery and comeback represent an emotionally draining experience for the athlete. It can take months or in some cases more than a year to rebuild confidence in the surgically repaired knee.
Grover revealed many of his training tools and psychological tricks in the book "Relentless," but none was more relevant to this discussion than a story he told me on the phone this week. When a client does have a significant knee injury, Grover adds a dose of mind games to the grueling physical rehab.
"Instead of playing basketball, I'll have them play volleyball or baseball," Grover said. "I don't tell them that's what we're doing. I'll say, 'Guess what, we're taking a day off and we're going to go play a game of volleyball.' I try to put them in a relaxed atmosphere where they're not doing basketball-related activities but I'm actually monitoring their activities.
"Later, I'll sit down and say, 'Guess what you just did?'" Grover said. "You've got to get your mind off of it. They're thinking, 'Man, I hurt it playing basketball. If I go play basketball, the first thing I'm going do it hurt it again.' "