Actions of Heat and Spurs not equal, but NBA has a rules problem
With perceived double standards on the strategic resting of players, someone has to decide if the NBA wants to be a professional sport that is taken seriously all the time or a kangaroo court.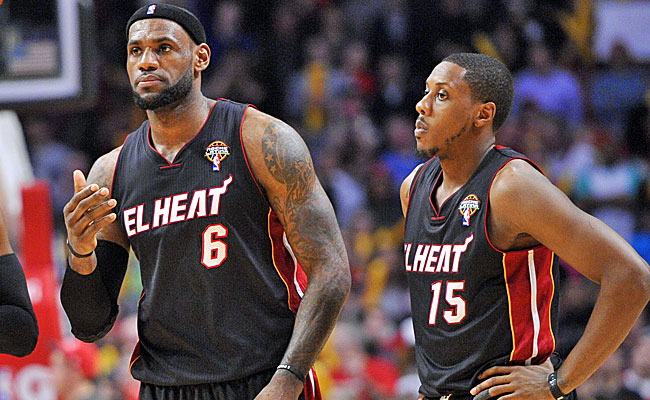 So the NBA won't fine the Miami Heat for doing the same thing the Spurs did to them in November. But was it the same thing?
It was not.
Flying four players home from Orlando instead of to Miami for the next game, and not telling anyone about it until shortly before tipoff, is not the same as holding out three players who were at the arena but deemed not able to play.
The Spurs' actions back in November -- when Tim Duncan, Tony Parker, Manu Ginobili and Danny Green didn't make the trip for a game in Miami -- earned a $250,000 fine from the league. The Spurs felt they weren't getting a fair shake back then, faced with their sixth road game in nine nights against a Miami team playing its third home game in 12 nights. They were right about that; the schedule was no friend of the Spurs, and the Spurs decided to exact their own measure of vigilante justice. It was a costly decision.
Even after deputy commissioner Adam Silver had condoned the Spurs' decision to rest their stars before the 2012 playoffs, a response as brazen as what San Antonio did in November was not what he had in mind when it comes to "strategic resting of particular players on particular nights" being "within the discretion of the teams."
Strategic resting is within the discretion of the teams, and isn't against the rules -- whatever the rules are. In fining the Spurs, the NBA cited a "league policy, reviewed with the NBA Board of Governors in April 2010, against resting players in a manner contrary to the best interests of the NBA." No team executive I've conferred with has knowledge of any such rule existing in writing. I can't find it, either.
Like most forms of league discipline -- save for drug offenses, for which retribution is collectively bargained -- punishment (or not) for resting players is a judgment call. And in the league's judgment, the Heat did not run afoul of the "rules," chiefly because they were nice enough to play along. As soon as it was determined that LeBron James, Dwyane Wade and Mario Chalmers would not play Sunday night, that information was communicated through the proper channels.
Now, nobody is naive enough to think there was no message or intent behind Miami's decision to return the favor Sunday night in San Antonio. Anyone who is blind to that doesn't know or understand Pat Riley. But at least the Heat were smart enough to go through the motions and at least pretend that James, Wade and Chalmers might've been able to play in the game since they were actually in the same zip code where it was being played. Had they been sent home to Miami beforehand, it obviously would've been a different story.
Here's the problem: None of this alters the appearance of a double standard, a perception that the rules aren't the same for everyone and aren't applied evenly from one circumstance to the next. Short of a league-and-union-appointed physician at every arena with final say over players' fitness to compete, there's no way to police the job that every team's medical and coaching staff must perform before every game.
And here's the bigger problem: Nobody seems to know what this rule supposedly reviewed with the Board of Governors in April 2010 is all about, or how it is enforced. The NBA has no standardized policy on injury reporting, and it badly needs one. Injuries that prevent full participation in practice or shootarounds should be reported to the public -- and thus to opponents -- as well as players' status for the games.
As it stands now, teams make up their injury reports as they go along. Players who are "listed" as doubtful routinely play, and players with no injury reporting history sometimes do not. Other players are simply listed as "out indefinitely," or "day-to-day." Coaches who wish to keep their jobs continue to obfuscate when asked about injuries and timetables with vague quotes like, "He's getting better," "He's progressing," or, "Nothing's changed."
It's time for this charade to stop, and it's time for the NBA to have a clearly communicated and understood policy about injury reporting and the so-called "strategic resting of particular players." As discussed here, the fiasco that is March and April of the NBA regular season has to come to an end, too.
No one should violate the covenant between players, doctors and coaches when it comes to who is healthy enough to play and who isn't. Similarly, no one should usurp a coach's right to prepare his team for the playoffs in whatever way he believes is in the team's best interests.
But everyone needs to understand that the NBA isn't a collection of 30 independent businesses. It's a conglomerate. The Heat can't win a championship without 29 other teams to beat. The billions that flow into the revenue pool to pay players' salaries and justify the enormous investment by TV networks will be siphoned off if large chunks of the competitive landscape are rendered meaningless, unfair or inequitably regulated.
I don't have all the answers, but I know it's time for someone smarter than I am to fix this problem. Someone has to decide if the NBA wants to be a professional sport that is taken seriously all the time or a kangaroo court rife with pettiness and perceived double standards. Right now, the kangaroos are jumping out of the gym and winning in a blowout.
We've got all the scores, highlights and news from all of Sunday's games

The Rockets beat the Warriors 116-108 on Saturday night

The Cavaliers gave up 148 points in their loss Saturday afternoon to the Thunder
Blatt made the comment before coaching in the All-Star Game in Turkey

Is this rock bottom for the Cavaliers because it sure feels like it is

Wade, as he's done so many times in his career, threw it up to LeBron for the thunderous f...