Adam Silver: Legalized sports betting 'inevitable' in more states
Commissioner Adam Silver's position on betting differs from his predecessor.
• 2 min read
The NBA isn't taking a hard-line position against sports betting anymore. Commissioner Adam Silver, speaking at the Bloomberg Business Summit in New York, said on Thursday that the league will eventually profit from legalized gambling on sports in the future, via Bloomberg:
It's inevitable that, if all these states are broke, that there will be legalized sports betting in more states than Nevada and we will ultimately participate in that," said Silver, 52.

Silver, who has been with the NBA for 22 years and replaced former Commissioner David Stern in February, said that he doesn't have any moral issue with sports betting. The league, which already allows teams to create marketing deals with casinos, would further profit from the legalization of sports wagering outside Nevada, he said.

"If you have a gentleman's bet or a small wager on any kind of sports contest, it makes you that much more engaged in it," Silver said. "That's where we're going to see it pay dividends. If people are watching a game and clicking to bet on their smartphones, which is what people are doing in the United Kingdom right now, then it's much more likely you're going to stay tuned for a long time."
Silver saying he has no moral issue with it is a pretty large departure from how his predecessor, David Stern, handled the issue. From ESPN:
It's a change in tune for the NBA, which in 2012 joined the NCAA, NFL, MLB and NHL in suing New Jersey over its efforts to bring legalized sports betting to its casinos and race tracks. During deposition testimony in the New Jersey case, former NBA Commissioner David Stern scolded Gov. Chris Christie for his efforts.

"The one thing I'm certain of is New Jersey has no idea what it's doing and doesn't care because all it's interested in is making a buck or two," Stern said in November 2010, according to court documents. "They don't care that it's at our potential loss."

The sports leagues, who were joined by the Dept. of Justice, ultimately prevailed over New Jersey with a majority decision by Third Circuit Court of Appeals. New Jersey, however, is continuing its pursuit of sports betting.

…

More than $3.6 billion was wagered on sports at Nevada sports books in 2013. The American Gaming Association, citing the National Gambling Impact Study, estimates that as much as $380 billion is wagered illegally in the U.S. annually.
People called Silver "forward-thinking" before he took over for Stern, but we really didn't know how that quality would manifest itself. This is one huge example of it. Being open to sports betting is a change, but it's practical. In most of Europe, the idea that it would be illegal is laughable, and there's no debate about whether or not Americans like to do it. Sports betting is already a big business, and the NBA might as well try to benefit from it.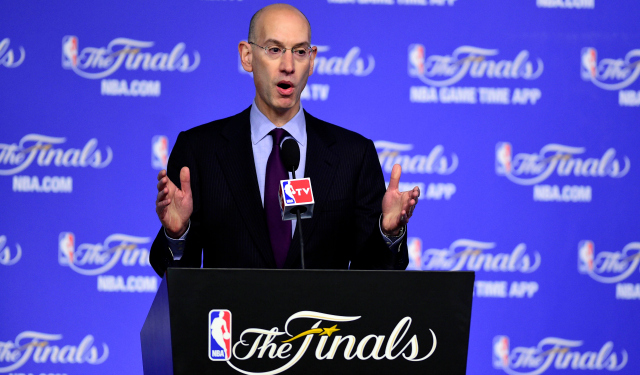 The former Slam Dunk Contest champion will take his talents to Tri-State

Do NBA players have look-a-likes from famous paintings? We found out on the new Arts & Culture...

Larry Hartstein is on quite a run in picks involving the Suns and the Trail Blazers
Rodman's agent says he is urging the ex-NBA star to check into rehab

The players and referees are working to fix a relationship that has recently been deterior...

The locker room heist is going to lead to plenty of fines and maybe some suspensions from the...