Adam Silver: Off-site replay center to be used next season
It's official: The NBA will have a central replay system in place next year.
• 1 min read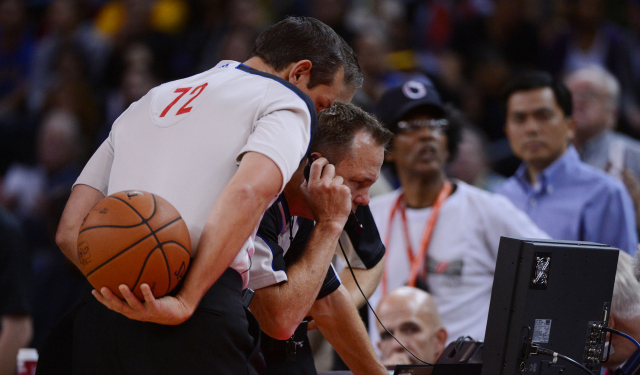 More Offseason Analysis: Coaching changes, news | Free Agency | Draft
It was reported in May, but NBA commissioner Adam Silver has confirmed that the NBA will have off-site instant replay in place next season:
Adam Silver: Competition committee met for 10 hours this weekend. New replay center will be based in Secaucus, N.J.

— Scott Cacciola (@ScottCacciola) July 16, 2014
Silver: New Replay Center up soon and will be experimented in WNBA in September. Ultimate decision still with refs.

— Marc J. Spears (@SpearsNBAYahoo) July 16, 2014
You'd have to be the biggest contrarian on the planet to have a problem with this. The whole process takes way too long as is, and having someone reviewing plays at a central location should only speed it up. It only ever made sense for the board of governors to approve this.
Oklahoma City has reportedly offered the MVP a five-year extension worth over $200 million

The big man was a big part of the Warriors' championship run last season

The Cavs jokes were out in full force after Golden State reportedly agreed to sign Antonius...
New York seems to be at the top of Irving's list of preferred destinations

Is it just a normal workout, or is LeBron continuing his recruiting efforts?

Chris Bosh answered on the spot about the LeBron James and Kyrie Irving situation