Adam Silver wants the NBA to 'rival' the NFL
New NBA commissioner wants basketball to become predominant sport in America.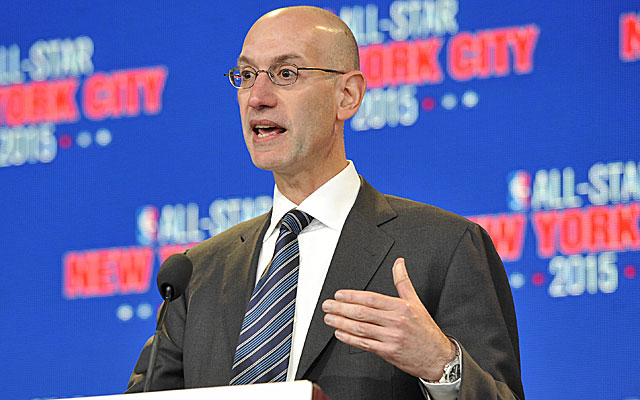 On a visit to Sacramento this week, new NBA commissioner Adam Silver said his intention is for the NBA to "rival" the NFL.
"As much as we talk about international [...] I still think there's an enormous opportunity in the United States. [...] I think this game should be a rival to football. In the United States, it's the No. 1 participatory sport. We've all played it. I want to focus on the game. The business is going well, but this is a beautiful game."
Big note here: There's no indication that Silver thinks it can or will, but that it should. Big difference there. And the gap is not narrow. SBNation broke down exactly how wide the gap is. 
The NFL sees annual revenues of about $10 billion, compared to the NBA's $4 billion. NFL playoff TV ratings often double or triple those of the NBA. The annual Harris Interactive poll about sports this year found that 36 percent of respondents consider pro football their favorite sport. Pro basketball claims five percent.
via Adam Silver's gauntlet: The NBA should rival the NFL - SBNation.com.
The hidden implication here is what's important. During the lockout, Silver was the so-called "bad cop" to Stern's "good cop." During that process, one of the things the league kept pushing as it continued to squeeze every single penny it could out of the players was that they wanted to level the playing field for small market teams. 
You know who has a level playing field for all 30 of its markets? The NFL. The best thing the NFL has done beyond fantasy football and a perfect format for gambling is to actualize all of their fanbases. Each season, 25 of 30 teams can put together a reasonable argument for why they can make a run to the Super Bowl. In the NBA, about five teams can make a reasonable case for winning the title. 
When Silver talks about the future of the game, he doesn't talk about attracting casual fans or developing it as a brand concept, he talks about making it ubiquitous. That's what you can read into this. It's not about trying to compete with the rabid love of the NFL, it's about developing basketball as an integral part of the world's sports culture. 
But even then, good luck. It may happen, but I feel like the odds are good we'll all be dead and gone by then. 
The inaugural BIG3 season comes to a close Sunday with the championship game

Thomas was traded to Cleveland yet some fans are taking it out on him ... and his jerseys

The Celtics dealt the No. 1 pick to Cleveland as part of the Kyrie Irving-Isaiah Thomas tr...
Thompson was rumored to have been a point of discussion with the Cavs regarding Kyrie Irvi...

What the Celtics and Cavs look like after the Eastern Conference powers swap point men

Simmons was the No. 1 pick in the 2016 NBA Draft but did not play last season