After breathing life into East finals, Celtics have to do it again
Despite nearly blowing a 22-point, fourth-quarter lead, the Celtics held on for a 101-91 victory over the Heat Friday night to pull with in 2-1 in the Eastern Conference finals. Now, all they have to do to make this a series is do it again.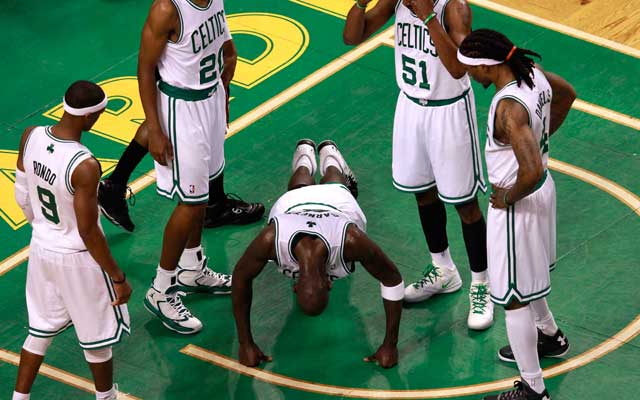 Kevin Garnett's line: 24 points, 11 rebounds, eight pushups.
(Getty Images)
BOSTON -- This wasn't the final stand for these
Celtics
, it was the stand that makes the final stand possible.
The real thing will happen less than 48 hours after the buzzer sounded on Boston's 101-91 victory over Miami Friday night, trimming the
Heat
's lead to 2-1 in the Eastern Conference finals. The real thing is Game 4, when all the Celtics have to do to make this a series is beat the Heat again.
"[Expletive] jungle was rockin' tonight,"
Kevin Garnett
said, in a profane (surprise!) postgame interview transcribed and distributed to the media. "I loved it. [Expletive] loved it. [Expletive] it."
More on Heat-Celtics
Related links
Video
I think that's another way of saying it's on.
But regardless of Garnett's sophomoric banter and after-the-whistle intimidation tactics, the Celtics will have to endure twice the energy and twice the force that they glimpsed from the Heat in the fourth quarter Wednesday night, when Miami cut a 22-point lead to eight in the closing minutes. 
"We can't dig that big of a hole for ourselves,"
LeBron James
said.
James is now 2-8 at Boston in the playoffs since Garnett,
Paul Pierce
and
Ray Allen
formed the Big Three in 2007. But James has nothing to do with the Heat squandering a chance to bury the Celtics under an insurmountable 3-0 deficit in this series, in which he's averaging 33.3 points per game.
And James has never lost two straight playoff games in Boston during the Big Three era, which possibly explains why he sat quietly at his locker late Wednesday night, his feet in an ice bucket, a doo-rag on his head and his latest book of choice in his lap: "Mockingjay," a novel about a dystopian, futuristic society that is the third and final installment in Suzanne Collins'
The Hunger Games
trilogy.
But I digress.
"We're going to keep attacking," James said of himself and
Dwyane Wade
, who failed to attempt a free throw for the first time in a playoff game since his rookie season. "We're attack players."
And the Heat were on the attack in the fourth quarter, but only after the Celtics had mesmerized them by playing even better than they did in Game 2 -- a game they should have won.
"It feels good," Pierce said, "especially after we felt like we had a chance at Game 2, how we let it slip through our hands. ... You don't want to get in a situation where you're down 3-1 and they have two games at home."
The Celtics got 68 points from Pierce, Garnett and
Rajon Rondo
, the indefatigable blur of Game 2, when he played all 53 minutes and scored 44 points in Miami's overtime victory. Rondo has played a series-high 140 minutes, and has to turn around and do it again Sunday night.
"I feel great," Rondo said. "I'm young."
Garnett is not, but the Celtics finally exploited his size advantage in the post in Game 3. Garnett had 24 points on 10-for-16 shooting with 11 rebounds. Pierce had 23, and Rondo 21 points and 10 assists.
"We got our butts kicked in Game 1," Rivers said. "Game 2, we felt like we played well ... and we never felt like we took advantage of Kevin in that game."
Garnett was not only scoring on his usual assortment of turnaround jumpers, but also was catching lob passes in the post after getting deep position on Miami's undersized,
Chris Bosh
-less front line. And of course, he was up to his usual psychological warfare -- trying to slap the ball away from James after the whistle, dropping and doing pushups after absorbing a hard foul and blasting
Mario Chalmers
with an elbow as the Heat surrounded him and tried to pry away a loose ball.
"You know, that's K.G.," Chalmers said. "I'm not worried about K.G. He's going to do that every game. So we've got to stick to our plan, not let him get in our heads -- which we didn't -- and we've got to keep playing."
The Heat got little from anyone not named James or Wade, who had 18 points on 9-for-20 shooting but failed to attempt a free throw for the first time in the playoffs since his rookie season. James had 34 points on 16-for-26 shooting with eight rebounds and five assists. With officiating an issue for fans of both teams in this series, the personal fouls were even at 24-24 in Game 3.
Before the game, Rivers said, "We haven't given our best shot yet." Despite all the Celtics did right in building a 22-point lead, 85-63, through three quarters, Rivers had better hope this wasn't Boston's best, either. Because the Heat nearly put this series out of its misery with a furious 24-10 run in the first nine minutes of the fourth.
"We showed we're not going away," Chalmers said.
The Celtics showed that, too. 
"You know at this point, it's desperation," Garnett said, in the fully printable version of his quotes. "Desperation basketball. You know next, Game 4, it's going to be even more."
After giving themselves a chance to make one final stand as the Big Three, all the Celtics have to do now is turn around and do it again.
CBS Sports HQ Daily Newsletter
Get the best highlights and stories - yeah, just the good stuff handpicked by our team to start your day.
Please check the opt-in box to acknowledge that you would like to subscribe.
Thanks for signing up!
Keep an eye on your inbox for the latest sports news.
Sorry!
There was an error processing your subscription.
Keep it right here for the latest news, scores and highlights from Friday's NBA games

Butler has publicly made it very clear that he does not want to be in Minnesota

We'll have to wait for the Oklahoma City Thunder star's return to the court
L.A. will reportedly have cap space to sign two max players next summer, and may very likely...

A lot of centers tried to expand their range this preseason ... with mixed results

The Warriors star is listed as an executive producer for the movie, which stars Topher Gra...