After James, Wade dominate Game 1, Rondo says they need to 'hit the deck'
MIAMI -- LeBron James and Dwyane Wade continued to dominate the ball and most everything else for Miami, and the Heat easily dispensed with the aging, hobbled Celtics with a 93-79 victory in Game 1 of the Eastern Conference finals Monday night.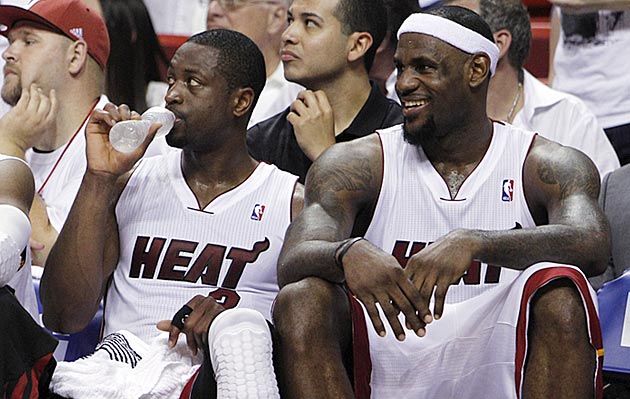 Wade and James combine to score 54 points on 21-of-35 shooting, and earn some rest in the waning seconds. (AP)
MIAMI -- For five years,
LeBron James
has been staring at these Celtics, and in three previous playoff series, Boston's Big Three have coldly stared him down. James' career in Cleveland crumbled at the hands of the proud champions from Boston, and so he went to Miami to form a Big Three of his own.
James -- the Chosen One -- would never live it down if, in his second season after defecting from Cleveland to team up with
Dwyane Wade
, the Celtics somehow were able to stop him again. Last year's 4-1 victory against Boston in the conference semifinals was but a whisper in the wind trying to cut through the humid air in Miami when everyone got together to do it again in Game 1 of the Eastern Conference finals Monday night.
What happened here, on the very court where James finally slew the Celtics last spring, was either the continuation of a trend, the end of an era or merely the first uppercut to the chin in what will be a bloody, 12-round fight for supremacy -- a fight, now, for the very legacy of the Celtics in this era.
The Celtics, beaten to every inch of paint and every loose ball by the breathtaking skill of James and Wade, were telling themselves Monday night that it was the latter. The evidence says otherwise.
"It's a long series," the Celtics' Paul Pierce was saying in the visiting locker room, after the Heat easily took a 1-0 series lead with a 93-79 victory. But it will be a short series if the Celtics don't find an answer to the dominance and unfair brilliance of James and Wade, the stars who decided that if James couldn't beat Boston, they'd team up and emulate them.
"We're doing a good job of playing off each other," Wade said.
James and Wade combined for 54 of Miami's 93 points, continuing a trend that began in earnest in Game 4 of the previous round against Indiana. In the past four games, all victories and all without
Chris Bosh
, James and Wade are averaging a combined 62.8 points per game.
What had the Celtics seething after Game 1 was not the volume of points, but the ease with which they were surrendered. James (32 points) and Wade (22), seemingly unleashed by the absence of Bosh, invaded the paint Monday night and converted 12 of 14 layup attempts -- 6-for-7 each. 
"Way too many easy baskets," Pierce said.
No one was angrier than Rondo, who had little to do with James and Wade getting to the rim with abandon but who knows enough about these heated battles with them to understand how to stop it -- or at least slow it down.
"Shrink the floor," Rondo spat out in the visiting locker room, and when asked if making James and Wade pay for driving the lane was the appropriate counter, he offered the quote that will define Game 2.
"Nothing dirty," Rondo said. "But, you know, they've got to hit the deck, too."
Rondo is a rare breed of playoff warrior in basketball, one who will be able to forget his 8-for-20 shooting night but who will never forget what happened to him in Game 3 of the conference semifinals against Miami last spring. He'll never let go of what happened to his elbow when he got tangled up with Wade as both crashed to the floor, Rondo's arm grotesquely contorted -- but not enough to keep him from continuing to play with one arm.
"We let Wade and LeBron play in extreme comfort," Doc Rivers said.
The Celtics can beat the Heat, and believe they can, even in their depleted state. Last spring, they couldn't overcome the debilitated Rondo after Game 3. Now, the great Hall of Famer, Ray Allen, is so hobbled by an ankle injury that he grimaced while gingerly stepping around an interview scrum on the way to his locker from the shower Monday night. Allen was 1-for-7 in Game 1, a shooter's shot that's been deadeye accurate for 15 years drifting left almost every time with his balance so badly compromised. The best free-throw shooter in
NBA
history was 3-for-7 from the line.
There is nothing Rivers or the Celtics can do about that. But in Eastern Conference playoff basketball, there is something the Celtics can do to give themselves a chance -- a chance to stop James one more time and preserve their legacy. And Rondo said it.
They've got to hit the deck, too.


"That doesn't change anything for us," James said. "We expect to hit the deck every single game, me and D-Wade. It's how we feel like teams approach us. They feel like they need to put us on the floor, hard-foul us. It doesn't change our approach. We still have to be in attack mode no matter what happens, because that's when we're at our best as a team."
Game 2 is Wednesday night in Miami, with the Celtics facing an 0-1 series deficit for the seventh time during the five seasons of the Big Three era. They're 3-3 under those circumstances, including a 4-2 victory over Atlanta in the first round this postseason after losing Game 1 on the road.
Boston got 23 points on 9-for-16 shooting and 10 rebounds from Kevin Garnett, but not nearly enough from anybody else.
"We've got to put up more of a fight," Garnett said, "more of an effort."
The first punches have been thrown, a deadly combination of roundhouses from James and Wade. These next two games in the East, one in Miami and one in Boston -- scene of that gruesome Rondo injury a year ago -- will be high drama. We will learn if the Celtics have any fight left, or if all they have now is talk.
Gobert, who missed 11 games earlier this season with a knee injury, will have an MRI

Get all the latest scores, news and highlights from Friday's NBA games

Porzingis is questionable for Carmelo Anthony's return to MSG on Saturday
The Spurs and Rockets will renew their in-state rivalry on Friday night

Anthony will play at Madison Square Garden on Saturday for the first time since being trad...

SportsLine's Mike McClure, a DFS pro with more than $1M in winnings, gives optimal lineup...