After near-meltdown, Pierce says Nets need to clean up their act
After the Nets nearly blew a 15-point lead with five minutes left against the Toronto Raptors on Friday night, Paul Pierce said they need to clean up their act if they hope to advance to a second-round date with LeBron James and Miami.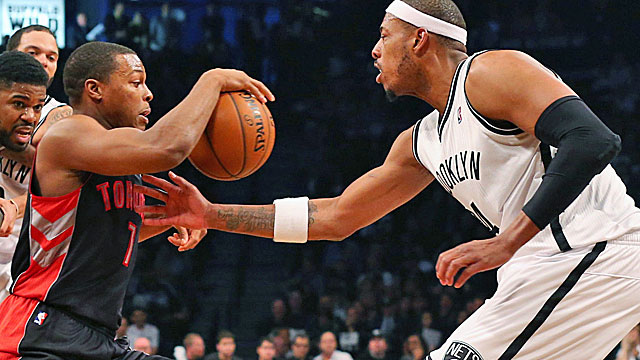 NEW YORK -- In the end, the Nets took a step toward giving us the Brooklyn-Miami matchup in the second round that would be must-see theater -- another shot at LeBron James for Paul Pierce and Kevin Garnett.
Those old Celtics ghosts were galloping away from the Toronto Raptors on Friday night, cruising with a 15-point lead with five minutes left and making a beeline for Miami in the Eastern Conference semifinals. Then, they wrecked in turn four. 
After squandering all but one point of that lead with an array of bonehead plays, the Nets survived with a 102-98 victory over Toronto to take a 2-1 lead in their best-of-7 series. But take it from someone who has been through his share of playoff battles: The Nets aren't going anywhere if they don't clean up the debacle that unfolded in the final, regrettable 5:02 of Game 2 and figure out how to close out games.
"By no means should everybody be satisfied with the way we won, because we know we're a better team; we know we can play better," Pierce said in the locker room. "I'm just looking for the long run, fellas. We can't be playing with fire. We have to be a better team down the stretch."
At one point, Pierce alluded to needing to clean up the mess that unfolded in the closing minutes because the games will get tougher "as the rounds go, as the games go on." Maybe it was a Freudian slip, because Pierce knows full well that the rounds will be going on without the Nets if they don't fix this.
It was a comedy of errors. After Joe Johnson gave Brooklyn a 93-78 lead with a 3-pointer at the 5:02 mark, the Nets went 1-for-5 from the field the rest of the way. Shaun Livingston had a turnover that was compounded by Johnson's foul that stopped the clock with 1:07 left as Toronto cut it to 95-90. Inexplicably, the Nets kept fouling, kept stopping the clock and kept putting the Raptors at the line. Fortunately for the Nets, the Raptors melted down, too -- missing free throws and giving the Nets a free point with Greivis Vasquez's technical foul with 47 seconds left.
Deron Williams made that free throw, but missed three of his next four. Pierce and Johnson finally sealed it with two free throws each, but it was nothing short of a fiasco.
"We're up 15, and we've got to work on extending that and putting teams away, especially in our building," Williams said. "We've got the crowd behind us and we've got to put our foot on people."
What the Nets got that will come in handy if they do put their Raptors away was an aggressive performance from Williams, who had his second 20-plus scoring performance of the series. (He had only four of those in the final 24 games of the regular season.) Williams had 22 points on 7-for-14 shooting and eight assists, relentlessly attacking Toronto's defense and making things easy for Pierce (18 points) and Johnson (29 on 11-for-17 shooting).
"We need that from him and Joe constantly," Pierce said. "When these guys are getting into the paint, scoring, getting to the free-throw line, we're a better team. We feed off their energy, we feed off them getting into the paint and scoring. The more they do that, the more it frees everybody else up."
But Pierce, the championship voice of his old coach in Boston, Doc Rivers, dancing in his head, knows the Nets need more than that.
"We've got to understand that everything's on the line now," Pierce said. "We can't have these silly turnovers. We can't have these silly fouls late in the game. ... If you go to the next round, you can't afford those mistakes. It's best that we take care of them now."
Warriors' forward doesn't understand the reasoning behind the all-too-common double technical...

Hardaway Jr. gave a 'safe' call like he was an umpire in baseball

Barnes hits the trey with less than a second left to lift Mavericks to dramatic 95-94 vict...
Kevin Durant was once again back in Oklahoma City

Gregg Popovich has never seen an injury lead to the issues that Kawhi Leonard has been fac...

Kobe Bryant, of course, had his 81-point game against Rose and the Raptors back in 2006