After Paul George's injury, what happens to the Pacers?
Paul George shouldered a huge load for Indiana, and he's going to be missed in a major way.
by

Eye on Basketball staff

• 5 min read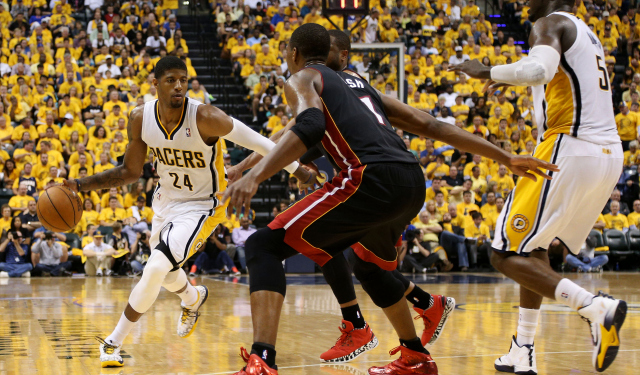 Offseason: Pacers' odds drop | Free Agency | Latest from Ken Berger | Rumors
By Matt Moore and James Herbert
The Big Picture
Everything involving the Pacers is secondary. The kind of injury Paul George suffered is so severe, so traumatic, that the priority must be on George's health. If George is able to fully recover from a quality of life standpoint, which seems likely, that's still worth being grateful for. If he's able to play basketball again, that's terrific for him, for the game, everyone. If he's able to play at anything close to the All-Star level he played at prior to the injury, all the more reason to rejoice.
But with word of his diagnosis of a compound fracture of the right tibia and fibula, and his prognosis of 7-12 months of recovery time, there are reasons to look at the basketball impacts. This isn't meant to ignore the severity of the injury, but instead provide perspective on the scope of the injury and how it extends past George to the Pacers and the rest of the NBA.
So what happens to the Pacers without George next season?
Offense
Offense is where the Pacers will clearly miss George the most. He was their best player, a facilitator as well as a scorer, a rebounder as well as a spot-up weapon. George ranked in the 68th percentile offensively last season according to Synergy Sports. He's particularly good coming off screens in catch-and-shoot situations. He's a savvy negotiator behind those screens, able to find space and punish defenders hanging on too tight by drawing fouls, getting free throws off such plays nearly 10 percent of the time.
George is also a creator in the pick and roll. Nearly 30 percent of his possessions are in pick and roll sets, and as he evolved as a scorer, that helped open up passing opportunities. And for a team that struggles mightily with shooting, George was in the 94th percentile, averaging 1.2 points per possession spot-up, a stellar mark, shooting 44 percent on those possessions.
The Pacers were a bottom-10 offense last season. It was their inability to score after their late-season tail-off that doomed them. George isn't just their best overall player, he's a vital component to keeping their offense afloat. The problem is compounded by the loss of Lance Stephenson in free agency. Stephenson does much of what George does offensively, and is a little more of a creator. After losing Stephenson in free agency, George figured to be faced with an even higher role. Without him ... the Pacers are essentially losing the one guy they couldn't survive without.
Roy Hibbert's offense crawled into a hole and died at the end of last season, but even if you neeed the post presence, there's Ian Mahinmi behind him, and Luis Scola can play in the post. David West is getting up there in years so his impact is lessened, and Scola again helps in that regard.
Without George and Stephenson, there's no backup plan. Solomon Hill is an untested sophomore player who didn't establish a position in the rotation. Granted, Stephenson was in the same position after his first season, but there's little confidence Hill can fill that role. Even Evan Turner, which is not a good replacement option, is gone. Beyond that, the Pacers are guard heavy. George Hill, C.J. Watson, the addition of C.J. Miles and Rodney Stuckey. Damjan Rudez is a virtual unknown from Spain.
Again, there could be a huge surprise, the Pacers' system has specialized in it. But the early indications are bad. Very bad.
How big is the loss of George and Stephenson combined for the Pacers offensively?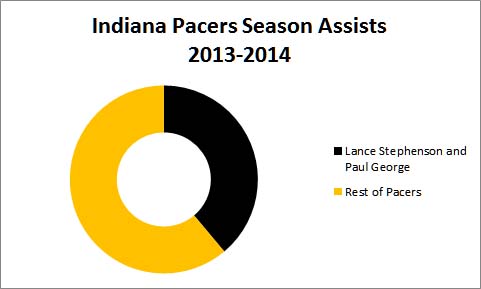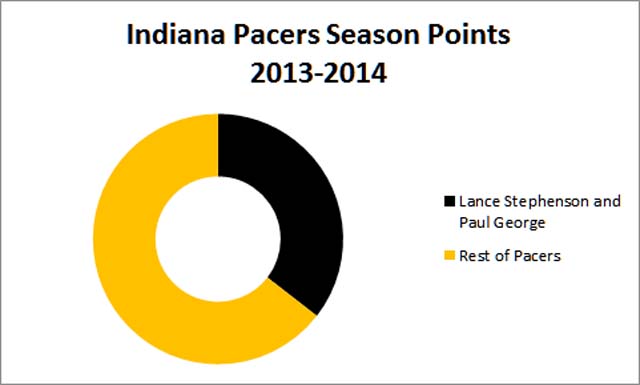 Over a third of their total points and assists from last season are gone for the length of the season. Making up that gap is going to be frustratingly difficult. There's no way to spin it. There's almost no way this could have been worse for the Pacers.
Defense
George was named to the All-Defensive first team this past season, and the second team the year before that. Long before he was ever an offensive threat in the NBA, he earned playing time as a rookie due to how he harnessed his length and athleticism on defense. He's since developed into an absolute monster on that end, and Indiana will miss him immensely. 
It'll be most obvious when the Pacers play teams with ball-dominant wing players. George is the league's only 20-points-per-game scorer who almost always guards the other team's best player. With George gone, who's going to guard LeBron James, Carmelo Anthony and Kevin Durant? Free-agent acquisition Miles is probably a bit underrated on that end, but he's not a stopper. Solomon Hill is strong, but has next to no NBA experience and doesn't have a crazy wingspan. Chris Copeland could barely even get on the court last year because head coach Frank Vogel didn't trust him defensively. It looks like Indiana will be eligible for a $5.3 million disabled player exception, and it should probably take a look at Shawn Marion.
The Pacers had the best defensive rating in the league last year, even with their late-season collapse. When George went to the bench, they were worse, but they still stopped teams at a rate about the same as the Chicago Bulls, the second-best defensive team. This is why they won't feel George's absence quite as much on defense as on offense. Vogel's system won't completely fall apart without him and Stephenson, and Roy Hibbert will still be near the basket as an extremely effective anchor.
The challenge will be making up for George's versatility. He made life much easier for his teammates every night, and those teammates will now be pushed to their limits. If Derrick Rose or John Wall is destroying George Hill, Vogel can't just throw George on him.
At the end of the 2012-2013 regular season, George's big breakout year, Vogel told Grantland's Zach Lowe that he'd nominate George for Defensive Player of the Year over Hibbert because he's "able to guard just about every position." There aren't a ton of guys who can guard point guards and power forwards, but George is one of them. He routinely does that, sometimes taking both tasks at different points in the same game. With George out of the picture, Indiana should still be a strong defensive team. It likely won't be the NBA's best, though, and weathering the storm will be Vogel's biggest test yet.
Thomas took to Twitter to let the Celtics know he doesn't want to ruin Pierce's night

The Hall of Famer was a seven-time All-Star with the Celtics, and was MVP of the 1976 Fina...

It's rare to see a legit punch in an NBA fight, but this was definitely one of them
We've got all the scores, highlights and news from an NBA Tuesday

The former Slam Dunk Contest champion will take his talents to Tri-State

Do NBA players have look-a-likes from famous paintings? We found out on the new Arts & Culture...