After reported Love trade agreement, Cavs are 5-2 title favorites
With the reported Kevin Love trade, the Cleveland Cavaliers are reportedly 5-2 favorites to win the 2015 NBA championship, according to Bovada.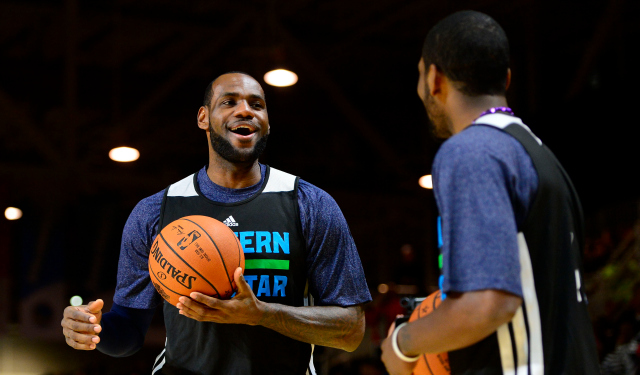 More on Kevin Love trade: Cavs, T-wolves reach agreement | Not binding until Aug. 23 
With the report that the Cleveland Cavaliers have a pending agreement with the Minnesota Timberwolves to trade Andrew Wiggins, Anthony Bennett, and a 2015 first-round pick for Kevin Love, oddsmakers Bovada are now putting the Cavaliers as 5-2 favorites to win the NBA championship. 
Kevin Love is heading to the #Cavs to unite with #LeBron James where they are 5/2 favorites to win the #NBA title pic.twitter.com/7mDdOJrHFC

— Bovada Official (@BovadaLV) August 7, 2014
Previously, the Cavs had been 4-1 favorites to win the title right after James' signing. The Spurs (5-1) and the Thunder (6-1) were right behind them.
Having a two-time champion in his prime in LeBron James returning to the organization certainly improves the title odds in the first place. And acquiring All-NBA forward Kevin Love (assuming the trade goes through as reported) to put next to LeBron is going to boost up your odds as well. But the concern some have that Love and Kyrie Irving have never been in an NBA playoff game doesn't appear to be hurting the Cavs' odds of winning the title with the oddsmakers.
The Blazers guard was a guest on the Sirius XM radio show 'Sway in the Morning'

L.A. reached a three-year jersey ad patch deal with Wish, a San Francisco-based e-commerce...

John Paxson doesn't intend to buy Wade out without some sort of compromise from the 3-time...
Lonzo's signature shoes have a sleek, all-black design and will be available in November

Durant recently apologized for tweets criticizing the Thunder and Billy Donovan

Jackson says he has 'no respect' for Durant after KD created fake Twitter pages