After two games, the Mavs have been better than the Spurs
The Mavericks got the win they needed in San Antonio, but still have to being feeling a tad bit bitter about not having a commanding 2-0 lead as things move to Dallas.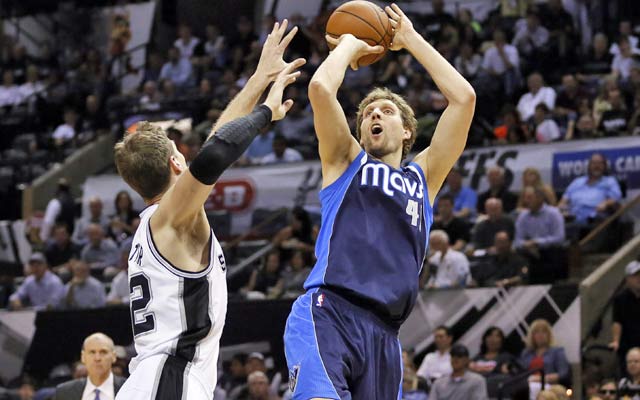 More Playoffs: Schedules, Results | Updating Bracket | Wednesday's Court Vision
Even with five minutes left and the Mavericks up 20, it just didn't feel secure. The Spurs being the Spurs, having so much magic in those old legs, seemed like they had a 12-0 run in them at any moment to make Dirk Nowitzki and the Mavs squirm. 
Instead, the Mavs out old-manned the old men. Dirk hit daggers. Monta Ellis sliced his way anywhere he wanted. And what little bursts of energy the Spurs had completely ran dry as the Mavs coasted in with an easy 113-92 Game 2 win to even the series 1-1.
The win for Dallas breaks a 10-game losing streak to the Spurs, and seemed to establish they're absolutely game in this series. But even with the satisfaction of stealing home court advantage and evening up as the series transitions to Dallas, the Mavs have to feel like they missed an even bigger opportunity. After controlling Game 1 only to let it slip in the late stages, this series could easily be 2-0 in the Mavs' favor. 
"I'm a little worried going home," Dirk said. "I'd rather play Game 3 here, I guess."
Still: How can you not feel terrific tied at 1-1 if you're Rick Carlisle and the Mavs? Because even with the Game 1 loss, the Mavs made a solid statement that they're completely capable of playing with the mighty Spurs. It's not that the Mavs present difficult matchup issues or having overwhelming youth and athleticism. It's that they basically are able to beat the Spurs at their own game. Crisp execution, brilliant half court offensive design and star keystone that makes it all work. 
Dirk started the game 0-6, and seemed as if he was about to slog through another painful outing after his difficult Game 1. Instead, he hit seven of his next 10 shots, a couple of them very dagger-ish, and then stepped aside as Monta Ellis and Shawn Marion did the rest of the work. 
What does this mean? Do the Mavs actually have a chance to stun the Spurs? Of course they do. When we all spent the last month dissecting which team wanted to see which team, there was always a good reason to prefer to miss the Mavs -- Dirk. And not just that, but with Carlisle's coaching chops and the strong supporting cast, the Mavs aren't some upset fluke. They might be an eight-seed in name, but they are some kind of stout. 
"We're going to try to win our game just as much as if those teams were losing," Carlisle said. "You can't sit back and watch other teams win and say: that means we're going to win. We got to do it. We got to go out and play our game to a very high level. We got to be together and play with a lot of force."
And while the Spurs are still an obvious favorite, they have to feel a bit shaken up by this result. The Mavs stopped the Spurs' winning streak, and not just that, sent a firm message that any given night, they can be better than them.
Love left Saturday's game, which the Cavs lost 148-124, due to illness

Kidd was fired by the Bucks on Monday afternoon

We've got all the scores, highlights and news from an NBA Monday
Leonard was recently shut down again to rehab the nagging quad injury

Durant, who joined the Warriors, says that Capela, the league's most efficient player, has...

Jason Kidd's firing gets the celebratory balloon treatment on Milwaukee's Twitter page