Agent: Andrew Bynum 'seriously contemplating' German knee therapy
Center Andrew Bynum could go to Germany for Regenokine and try to come back to the NBA in 2015-2016.
• 1 min read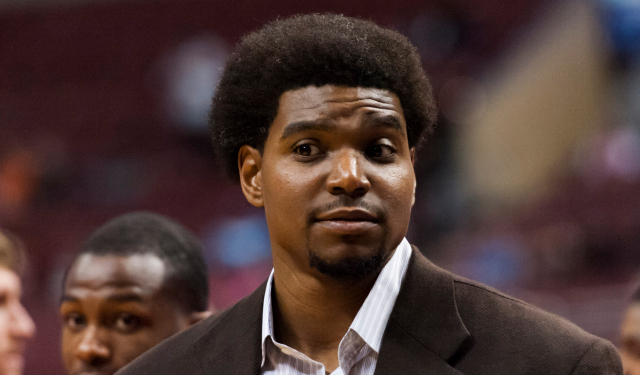 More Offseason Analysis: Coaching changes, news | Free Agency | Draft
Andrew Bynum might be heading to Germany for knee treatment and sitting out the 2014-2015 season, his agent, David Lee, told the New York Post's Marc Berman.
The 7-foot Bynum may not be reuniting with Phil Jackson's Knicks or any other team next season because he is seriously contemplating sitting out 2014-15 to undergo the Germany-based knee therapy called "The Regenokine Program'' that would require an extra long rehab, according to his agent David Lee. But he could be in play for the following season.

Regenokine is a non-surgical program that promotes new cartilage growth through a series of injections. The FDA still hasn't approved it in the United States. Bynum is considering doing the program with well-known doctor German doctor Peter Wehling, who worked with Kobe Bryant and Alex Rodriguez. It is similar but not identical to the PRP procedure.
Bynum played 24 games for the Cleveland Cavaliers last season before being traded to the Chicago Bulls, who promptly waived him just before the second half of his yearly salary would have become guaranteed. He latched on with the Indiana Pacers afterward, but only played two games for them and during the playoffs they announced he was no longer with the team.
He averaged 8.7 points, 5.6 rebounds and 1.1 blocks per game last year, but the mobility that made him so effective years ago was long gone. Worse than that, he was suspended by the Cavs in December for conduct detrimental to the team. Later, it was reported that the suspension took place after he'd spent a scrimmage shooting "from whatever remote part of the court he caught the ball."
Bynum was one of the best players in the league at his position just a couple of years ago. Knee problems have messed everything up for him, and you have to hope that, if he opts for Regenokine, it helps. You also have to hope that, if he ever gets another chance in the NBA, it goes significantly differently than the last couple of them. The first part is almost completely beyond his control; the second part is not.
Greek Freak scores career-high 44 points and reaches scary level to finish the game

It was an ugly finish as the Warriors fell to 1-2 on the season -- both Curry and Kevin Durant...

Mirotic was hospitalized with facial fractures after an altercation with Portis during pra...
Irving had some choice words for a fan who heckled him in Philadelphia

Several teams were reportedly interested in Nelson after he was waived by the Nuggets

Cousins got into a heated exchange with a fan during the Pelicans' season opener