Agent: Clippers will be off limits if Sterling made racist comments
NBA representative says that there is no room for ignorant perception in the league.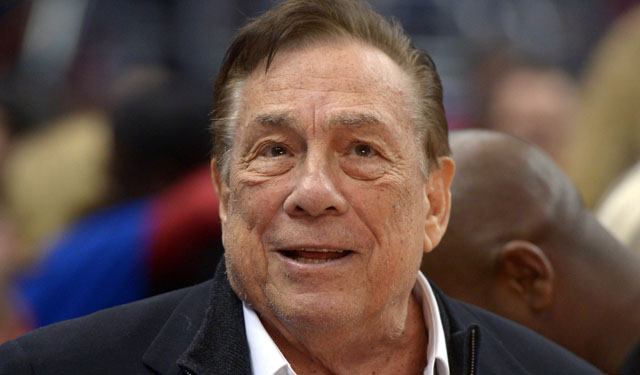 More on Sterling: League investigating | Barkley: Ban Sterling | Reactions
NBA agent Chris Luchey responded to a question on Twitter Saturday about whether he would steer clients away from the Los Angeles Clippers in light of the alleged racist comments from owner Donald Sterling. 
In a locked tweet, Luchey responded to a query from BasketballInsiders: 
NBA agent @ChrisLuchey says that he will steer his clients away from the L.A. Clippers due to Donald Sterling's comments.

— Alex Kennedy (@AlexKennedyNBA) April 27, 2014
Chris Luchey: "No room for this ignorant perception, ZERO tolerance for racism! Let alone those that have helped build your empire."

— Alex Kennedy (@AlexKennedyNBA) April 27, 2014
It's one thing to say this now, in light of the controversy. The question will be what happens when the Clippers are flush with cap room and willing to substantially spend for an agent's client. This gets complicated. Players would have to turn down playing in LA (a plus), for a team that in recent years has shown a willingness to spend (a plus) in a limited market (only 30 NBA teams). Freezing out one, and a major market, becomes complicated.
But at the same time, despite the fact that there is a longstanding history of Sterling's culturally insensitive remarks, something will prove as the tipping point. It's looking more and more like the new situation could prove to be that tipping point, if the alleged comments are proven to be Sterling and accurate. 
Luchey's agency CGL represents Nuggets forward Wilson Chandler, Bucks center Ekpe Udoh and more. 
Nerlens Noel is now being represented by Rich Paul of Klutch Sports

Steve Kerr opens up about his back issues and more

OJ Mayo, banned from the NBA for positive drug test, is considering playing overseas
The King? 'LeBron, it turns out, is Aquaman,' or so the account via Dwyane Wade's wife goe...

From Penny to Thunder Dan to Pistol Pete to Agent Zero, guys who would be better in 2017

Griffin said recently he thinks it's more likely that LeBron James goes to New York than L...