Agent denies Zydrunas Ilgauskas comeback rumor
Is 39-year-old retired center Zydrunas Ilgauskas seriously trying to come back to the NBA?
• 1 min read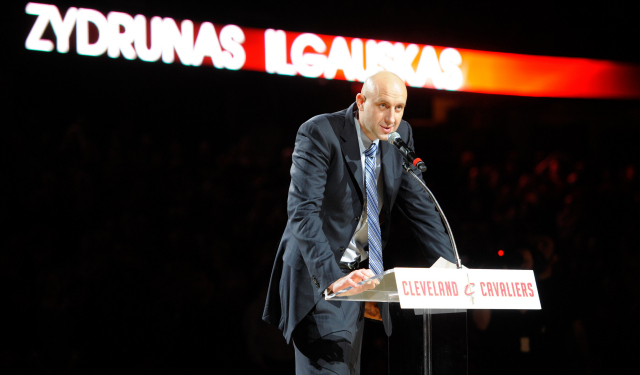 UPDATE: Agent Herb Rudoy has denied the comeback rumor:
Zydrunas Ilgauskas' agent, Herb Rudoy, tells RealGM of speculation of the 39-year-old center attempting an NBA comeback: "False rumor."

— Shams Charania (@ShamsCharania) August 26, 2014
----
ESPN Cleveland radio host Tony Rizzo reported that retired Zydrunas Ilgauskas wants to play for the Cleveland Cavaliers again. The 39-year-old last suited up for the Miami Heat in the 2010-2011 season, but his lack of mobility meant he didn't play much as the season went on. He took a front-office job with Cleveland shortly after his playing career ended.
Let's take all of this with a massive grain of salt. Rizzo said that the 7-foot-3 former center wanted to play 10-15 minutes a game and skip back-to-backs, but from the outside it seems very, very questionable. It's hard to imagine Ilgauskas being effective at this point, given how he played when he was in Miami. 
Ilgauskas knows the guys on the team well, and the Cavs do need some more size on the roster. They need someone who can protect the rim and play pick-and-roll defense, though, which are things he probably cannot provide.
Cleveland retired Ilgauskas' No. 11 jersey just a few months ago. 
A dive into the NBA history books for every result from every NBA All-Star Game

James set the tone during practice that this year's All-Star game was going to be differen...

The 76ers center handled 'mismatches' like they were nothing
LeBron James says he will continue his social activism no matter what people say about him

The 76ers guard is in hot water after a controversial video surfaced showing him using a racial...

LeBron James earned his third career All-Star Game MVP award