Agent says Rockets are a 'leading contender' for Marcus Camby
The agent of Marcus Camby says the Rockets are a 'leading contender' for the veteran center.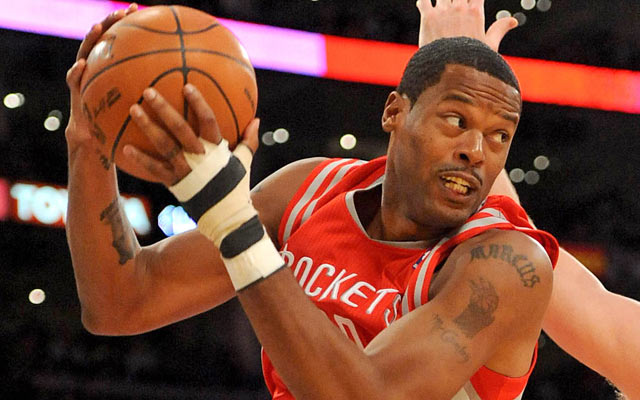 Fox 26 in Houston reports the Rockets are a "leading contender" to sign free agent center Marcus Camby, according to his agent:
The Houston Rockets are a "leading contender" to land center Marcus Camby according to his agent Rick Kaplan if he becomes a free agent on Sunday, which is expected.

The Toronto Raptors, who acquired Camby in a trade with the New York Knicks last week, bought out the remaining $7.5 million on his contract and placed him on waivers on Friday.

"If Marcus becomes a free agent as we expect on Sunday the Rockets are a leading contender for where he'll end up next season," Kaplan said in an interview with FOX 26 Sports

"He had a very positive experience there. It's his adopted hometown. He'd be a great fit with the organization. It's premature right now. We'll see what happens in the next few days."
Camby, 39, was traded to the Raptors in the deal that sent Andrea Bargnani to the Knicks, and then was waived for salary reasons. He averaged 1.8 points and 3.3 rebounds in just 24 games last season for the Knicks in an injury-plagued season. 
The Rockets need cheap options to fill in their roster after the addition of Dwight Howard. Camby can still rebound a little bit and defend if need be, but if they trade Omer Asik, they'll need a better backup center option because Camby simply can't provide much at age 39. 
Wherever Camby winds up, it'll be a championship contender. He's too far into his career to play for anything less. 
Wade opted in to his $24 million player option earlier this summer

Barkley spoke to the NFL Today crew about the response the president received in his home...

The restricted free agent has a deal in place that will keep him with the Bulls after a st...
James' support continues his trend of social activism on social media

The newly-acquired All-Star thinks the addition of Anthony boosts the Thunder in the NBA's...

The Knicks were asking for the house in discussions for Carmelo Anthony