Agent: Thanasis Antetokounmpo sacrificed $500k to play in D-League
Forward Thanasis Antetokounmpo had a two-year deal lined up in Italy, his agent said.
• 2 min read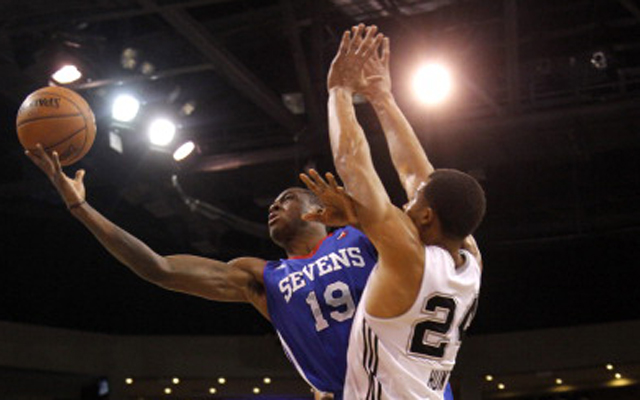 New York Knicks second-round pick Thanasis Antetokounmpo took a sizable pay cut to sign in the NBA D-League rather than going to Italy next season, his Greek agent Tim Lotsos said, via the New York Post's Marc Berman.
The Greek agent for Knicks draft pick Thanasis Antetokounmpo said he's "amazed'' his client chose to play in the NBA's D-League for the $25,000 cap and turn down an offer from an A-Division team in the Italian League, calling it "a big sacrifice.''

According to agent Tim Lotsos, the Italian club, Varese, offered Antetokounmpo a two-year deal worth $550,000 with an opt-out to join the NBA after one year. Olympiakos in Greece and Sevilla in Spain also offered him deals.

"Amazing isn't it?,'' Lotsos told The Post in a phone call from Greece. "To my surprise, he passed on it. He's very ambitious and determined to make the NBA. It's a big sacrifice. It could've really put him ahead of schedule in his career. I didn't try to force him. I wanted him to make his own decision.''

…

"He spoke with Steve Mills and Phil Jackson,'' Lotsos said. "He felt he's in their plans in the future. They don't have room for him on the roster, but they supported the idea of keeping [him] within the system and working and improving. He felt they do have a plan for him but they didn't guarantee anything for next year.''
The Knicks now have their own D-League team in Westchester, NY, and the plan was always to stash him next season when they selected him with the No. 51 pick in June. They do not have any open roster spots. 
Since Antetokounmpo won't sign a contract with New York, he can't be a part of its training camp. Communication between him and the team on the matter has been "poor," though, according to the Post, as evidenced by Antetokounmpo saying three weeks ago that he expected to be there. 
Antetokounmpo reportedly "was leery of going to Europe" because his family had moved to Milwaukee to live with his brother, Giannis, who plays for the Bucks. Thanasis played for the Delaware 87ers of the D-League last season, and averaged 12 points, four rebounds and two assists per game.
The 6-foot-6 swingman has great athleticism and, at 22 years old, he has plenty of potential as a 3-and-D guy. He started last year shooting incredibly well from beyond the arc for the 87ers, but struggled with consistency. If he stars in Westchester, perhaps New York would look into clearing space on the roster spot for him. 
Westbrook's late layup gave the Thunder a 109-108 victory

LeBron became the seventh player in league history to reach the milestone

There were a few things that stood out from Tuesday's All-Star selections
Here are three players from each conference who had legitimate claims to make the game

LeBron achieved the milestone in the first quarter Tuesday

Here are the full lineups for the 2018 NBA All-Star Game