Agent: Wade, Bosh weighing options separately, denies any changes
Agent denies that the two are working in tandem, says they want to stay in Miami as long as they can win championships.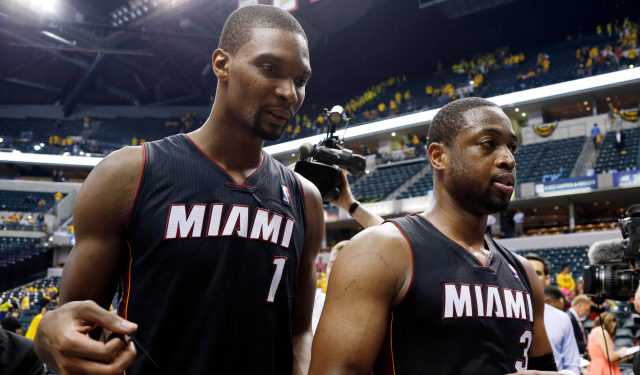 More Offseason Analysis: Updating Free Agency news | Top 40 free agents
Henry Thomas, the agent for Chris Bosh and Dwyane Wade, told ESPN "nothing has changed" for the Heat stars since the start of free agency and that both players are weighing their options individually, not together. 
Chicago-based agent Henry Thomas insisted to ESPN.com on Sunday that Wade and Bosh are dealing with their free agency on individual terms, but that both want to make decisions that give them the best chance to compete for championships the next four seasons the way they have the last four years.

"They appreciate what they've done in Miami those four years together, and they want to make sure they have a chance to have that same success the next four (years)," said Thomas, who attended Sunday's games at the Orlando Pro Summer League. "With Dwyane, he's been there his entire career, so he's in a unique situation. Chris has made it known how he's felt about being in Miami these four years."

(LeBron) James, Wade and Bosh each opted out of the final two years and more than $40 million left on their respective contracts last month to become free agents. The moves, in addition to other expiring contracts and options held by Miami's other players, gave the Heat at least $50 million in cap space and flexibility for team president Pat Riley to retool the roster in free agency.

Thomas insisted that Bosh and Wade are operating under separate circumstances, but expects them to reach decisions on new deals "within the next couple of days."
via Agent says Dwyane Wade, Chris Bosh continue to weigh options in free agency - ESPN.
Ken Berger of CBSSports.com reported this weekend: 
Several teams chasing James and (Carmelo) Anthony would have a max slot for Bosh if they struck out on their two top targets. At minimum, the Rockets, Mavs and Lakers fit that description. The Bulls, Suns and Cavs also possess -- or have been working on creating -- room for a max free agent starting north of $20 million. For that reason, Bosh is viewed around the league as the most likely member of the Big Three to break off and change teams.

A rival team executive told CBSSports.com on Friday that the growing belief around the league is that Bosh would prefer a four-year max deal with another team to a discounted, longer-term deal with Miami. So many pieces in the Heat's puzzle are connected, and one of them falling out of place threatens to tear the whole thing apart.
via Chris Bosh becomes key to Heat keeping Big Three in Miami - CBSSports.com.
The futures of Wade and Bosh are thought to be linked, even more so than James and the other two superstars. There's been widespread confusion over exactly how much money each star wants, with the salary for Bosh ranging from $12 million to as high as $18 million based on some reports. 
An Alabama native, Barkley campaigned for Jones leading up to Tuesday's election

Kerr knew just what to say after Jones pulled off an upset in Alabama

The future of the league was on display on Tuesday night
Check in throughout the night for the latest news and highlights from NBA games

The Lakers legend details why the NBA popularity will continue to rise

SportsLine's Mike McClure, a DFS pro with more than $1M in winnings, gives optimal lineup...