Ainge: Celtics expect to retire Pierce, KG jerseys
Danny Ainge says that he doesn't know whether the Celtics will retire the former star. Because hypocrisy is cool.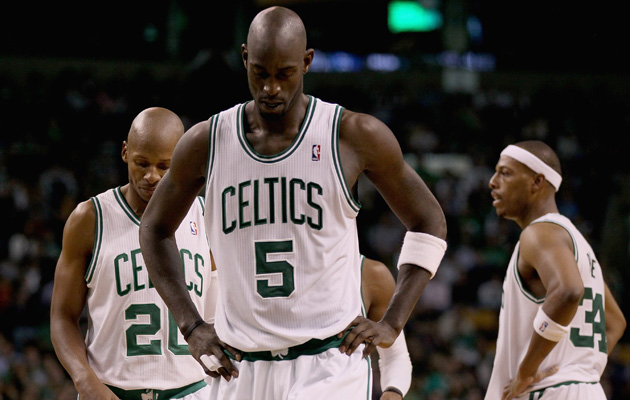 In a radio appearance last week, Celtics GM Danny Ainge said that while Kevin Garnett and Paul Pierce will definitely have their jerseys retired in Boston, Ray Allen is not a sure thing. From CelticsHub.com: 
Ainge told Toucher and Rich he very much expects for Pierce and Garnett's number will be retired in the coming years. However, when being asked about the third member of the Big Three in Ray Allen,

"I'm not sure yet." Ainge said about Allen's number. I don't know the answer to that. It will be something the ownership of the team will decide. Who knows what happens when those guys careers are over and time settles in."
via Ainge: Celtics Will Likely Retire Pierce, KG's Number, Not Sure on Ray Allen | CelticsHub.
OK, we gotta talk about this. 
I get it. I do. Allen left the Celtics and joined their rivals, the Heat, the summer after the Celtics lost in Game 7 of the Eastern Conference Finals to Miami. Boston has a long-standing rivalry with LeBron James going back four years. It hurt. I get that. 
But Allen was jerked around by that organization just as much over his last two years. Instead of standing by the guy who was as big a part of their title run as Pierce or Garnett, they dangled him constantly. Allen later revealed a deal had been agreed to that was sending him to Memphis, then the deal fell apart. 
You can say the run was over when Kevin Garnett waived his no-trade clause and Pierce joined him in a move to Brooklyn. But they still left. You can say the same about Doc Rivers abandoning ship after saying he was OK with a rebuild. But you can say the same thing about the run after 2012. They gave it their best shot, they came up short. It was through. The Celtics were never the same. Look at that next season as proof. 
Allen left as a free agent to go where was best for his career after the eltics had made it clear they didn't value him enough to reain loyal. To split hairs over this is petty. Garnett says he'll always bleed Celtics green, which has to make Minnesota fans feel great. Pierce was the cornerstone of Boston, the captain, but there were rumors of him wanting out after the disastrous 2006-2007 season before Garnett and Allen arrived. Garnett reportedly told LeBron James after the Cavaliers' 2010 playoff loss to Boston that he needed to look out for his own career. 
Why, on Earth, is what Allen did any different? Especially when you look at the results? 
I understand the situations are different. I do. I know how it felt when Allen went to Miami. But how things feel and how they are are often different, and they are in his case. 
Pierce, I have no argument with. But if KG goes up, so should Allen. 
We've got all the scores, highlights and news for Thursday night

The Sixers big man got his first All-Star selection -- and maybe some revenge -- on Thursd...

It appears some players are not entirely taking the All-Star voting process seriously
There were some weird discrepancies between the fan, media and player votes

LeBron and Steph will be the captains for the 2018 NBA All-Star Game

Arron Afflalo was involved in an altercation with Timberwolves big man Nemanja Bjelica on...