Ainge hints the Celtics have already agreed to terms with Jeff Green
Danny Ainge casually mentions that the Celtics have "added Jeff Green." Is a deal done for the free agent wing?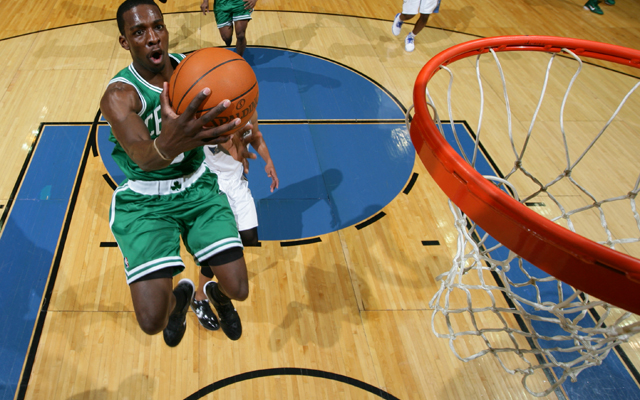 Danny Ainge refused comment on the Miami Heat coming to terms with Ray Allen on Friday night, but did talk to the Boston Globe about the eventuality of what the Celtics have to do with Allen gone in boosting their shooting guard position. Avery Bradley will start at the spot next season despite being a point guard at heart, and Jason Terry will replace Allen off the bench. 
But hidden in his comments to Gary Washburn of the Globe was this gem (emphasis mine):
"We've added a couple of great professionals in Jeff Green and Jason Terry and we drafted three guys that I think are very professional and add to the locker room," Ainge said. "Talent is a hard thing to find but we put a great deal of value into what goes on in the locker room also."
via Ainge, Celtics move on after Allen departure -Celtics blog - Boston Globe basketball news.
Green, as of this writing, has not been reported as having agreed to terms with the Celtics, but they have expected to re-sign him. SI.com reported earlier in the week that Green's dealings with the Celtics centered around a 4-year, $40 million contract which would essentially make the internet explode with guffaws. 
Green missed the entire 2011-2012 season because of a dangerous heart condition that required surgery. He is expected to make a full recovery, but the concerns about Green are focused primarily on his pre-absence play. Green is a power forward that doesn't rebound, has never shot the lights out from the perimeter (but certainly does have range) and lacks a go-to offensive set.
In short, he's a tweener. 
There are major concerns as to what he can provide, but the Celtics need him, first and foremost as a centerpiece outside of Rajon Rondo who isn't 100 years old, and also as a possible defensive deterrent to the hyper-athletic wings the Celtics face who Paul Pierce can no longer defend. So basically LeBron. 
It'll be interesting to see if Ainge misspoke, was assuming the deal gets done, or if reports surface that the deal is completed. One thing's certain, it looks like Green will be a Celtic for years to come. 
Kris Dunn somehow took a chunk of the Bulls court out with his teeth, but didn't lose any in...

The fallout from the Rockets-Clippers tussle continues; no Clippers were disciplined

DH12 is picked for free throws after a teammate gets ejected. He makes both, and lets Scott...
Bell was injured defending a Robin Lopez dunk and had to be taken off the floor in a wheel...

Trevor Ariza and Gerald Green are reportedly both suspended two games

We've got all the scores, highlights and news from Wednesday night