Ainge: Opening night a 'reasonable goal' for Rajon Rondo's return
GM Danny Ainge says Rajon Rondo could return for opening night but the Celtics will take it slow with the veteran point guard.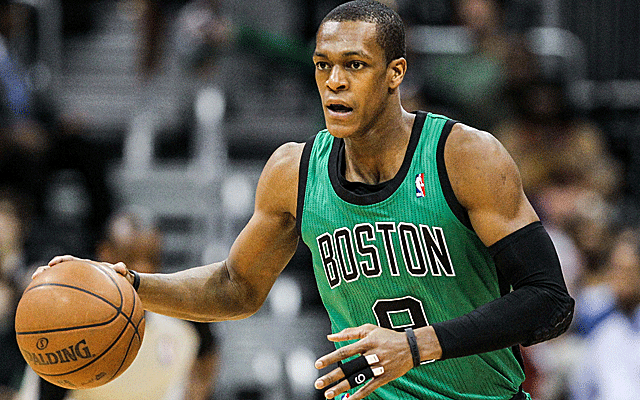 Rajon Rondo is the last man on Earth. 
OK, that's a little overdramatic, but he is the last remaining member of the championship core in Boston, with Ray Allen in Miami, Kevin Garnett and Paul Pierce in Brooklyn and Doc Rivers in Los Angeles. He's also facing recovery from a major knee surgery to repair his ACL. His tear wasn't complete, and so his timeline should be shorter than most, but it's still a long, painful process. 
ESPN reports that GM Danny Ainge considers opening night of the 2013 season to be a "reasonable goal for Rondo to return: 
Ainge did admit that the team might have to take it slow with Rondo during training camp starting in late September, but said being ready for opening night in late October was a reasonable goal.

That's still an aggressive timeline considering Rondo had surgery in February and would be little more than eight months removed from surgery for that partially torn ACL by opening night.

Pierce and Garnett hinted that they have suggested to Rondo to take it slow, maybe noting that there's little rush to get back for a team in transition. But after Rondo had to sit out the final three months of the 2012-13 season, it's going to be hard to keep him pinned down.
I had this idea on our Eye on Basketball Podcast several weeks ago, and I'm completely serious about it. The Celtics should just tell Rondo not to come back. Just let him sit out the season. There's nothing to be gained for either Rondo or the team by him coming back. No matter what they say, they're tanking.
They're building toward the future. Rondo going through the physical and emotional frustration of trying to play on a weak team with a significant injury (and the subsequent media and fan scrutiny) is only going to make things difficult for him and hurt the Celtics' chances at an elite pick. 
Rondo will likely return and face similar struggles Pierce went through in the mid-00s before the formation of the Big 3, which Rondo became a part of. His career path is still bright, but it's probably going to get worse before it gets better.
Deciding who to watch on League Pass can be difficult, but these rankings promise to help

Veteran forward signed a one-year deal with the Knicks in offseason

Knicks forward had his truck stolen out of his driveway
The Celtics will send No. 34 to the rafters in Boston when they take on his old rival

It's never too early to look at June's NBA Draft

Cousins uses some colorful language to get his point across