Al Jefferson questionable for season opener Wednesday
Bobcats center optimistic he can play through ankle injury.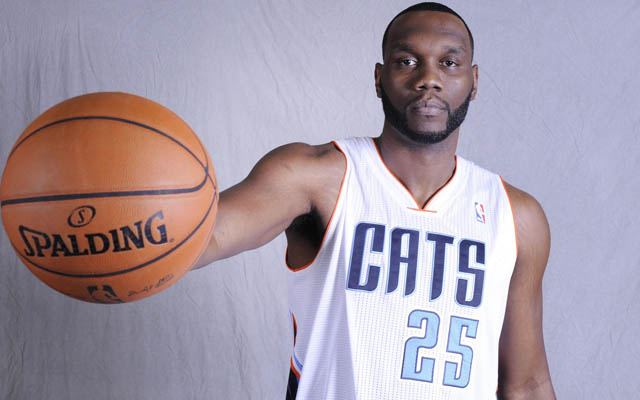 Bobcats center Al Jefferson suffered a severe ankle sprain in preseason and while he's optimistic he'll play, he's listed as questionable for the season opener in Houston. 
"He did some contact, some 5-on-5, but not everything," coach Steve Clifford said following practice.

Jefferson said "in my head" he's ready to play Wednesday against perennial All-Star Dwight Howard, who the Rockets signed over the summer. The two have played since their mutual rising senior summer in high school. Both turned pro out of high school in 2004.

"The ankle felt good," Jefferson said following practice. "My lungs were hurting more than anything, my wind."

Jefferson said he understood why Clifford and the team's medical staff might be cautious in projecting whether he will be ready for the opener. Part of the issue will be how Jefferson's ankle feels overnight, now that he's tested it in practice.

Assuming there's no setback, Jefferson said, he'll participate in an eight-minute full-court scrimmage Tuesday to test his mobility and conditioning before the team flies to Houston.
via Inside the NBA: Charlotte Bobcats' Al Jefferson 'questionable' for opener.
The Bobcats need Jefferson and not just to make back their money on the $15 million they gave him in free agency. He's going to be the anchor of their offense and essential to their team approach. Losing him would be... bad. Especially starting off against the Rockets, who aren't exactly short on size. 
Problem is, ankle injuries just don't heal very fast and can get re-aggravated very easily. So they've got to balance being careful with getting back as soon as they can. 
We'll update you on Jefferson's condition closer to tip Wednesday.
KD is still battling online critics, while the new Celtics guard is openly disregarding LeBron...

Collins has been working as a broadcaster, and previously coached the Bulls from 1986-89

Before accounting for revenue-sharing payouts, 14 of league's 30 teams reportedly lost money...
Howard considered calling it quits after his second season with the Houston Rockets

Bogut, coming off a broken leg he suffered with the Cavs last season, reunites with Luke Walton...

The incident occurred in Phoenix when the twins were both playing for the Suns