Al Jefferson targets season opener for return from ankle injury
Bobcats center set to miss rest of preseason with ankle injury but plans on being ready opening night vs. Rockets.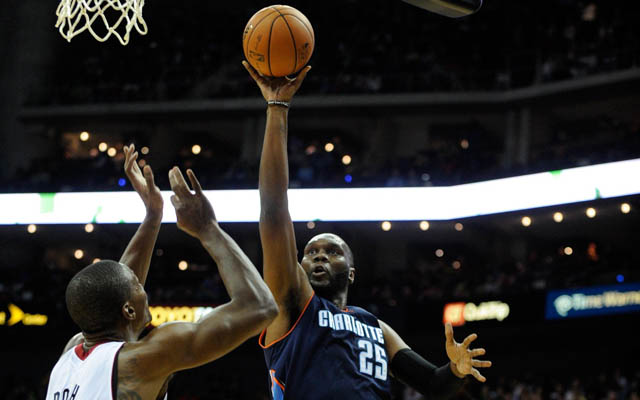 Bobcats center Al Jefferson sustained what at first appeared to be a serious leg injury Friday but instead turned out to luckily just be a sprained ankle. Ankle turns are nasty business, and Jefferson's going to be out a while, but he's still targeting the Bobcats' season opener to make his return. 
"I'm going to do my best to be back for opening night," Jefferson said before the Bobcats played the Milwaukee Bucks on Saturday night. "I'm going to take it one day at a time and go through the process. I've sprained my ankle so many times, I just know how it goes."
via Bobcats' Jefferson sprains ankle, eyes opener | NBA.com.
Jefferson's coming from an informed place here, and isn't putting any unrealistic expectations on the injury either way. It's an annoying injury, but shouldn't cause any significant long-term problems. He's got over two weeks before the opener. Sometimes ankles, especially for big men take longer, but there's a good chance he's back. Which is good, since the Bobcats are paying him $13.5 million this year. 
The Bobcats open October 30th in Houston vs. the Rockets.
Irving has requested a trade away from the Cavaliers

The Lakers made a strong push for Rose, but he would have been a backup in Los Angeles

The small forward spent last season with the Sacramento Kings
Knight still has three years left on his five-year, $70 million contract

The Golden State forward is accused of assault, battery and making misleading statements

The Nets get their shooter a year later, and the Blazers reportedly will waive Nicholson