All-Star Diary: Cavs owner Dan Gilbert learns from his mistakes
Dan Gilbert has realized what cost him LeBron James and is determined not to make the same mistake with Kyrie Irving. Trade and front-office news from New Orleans.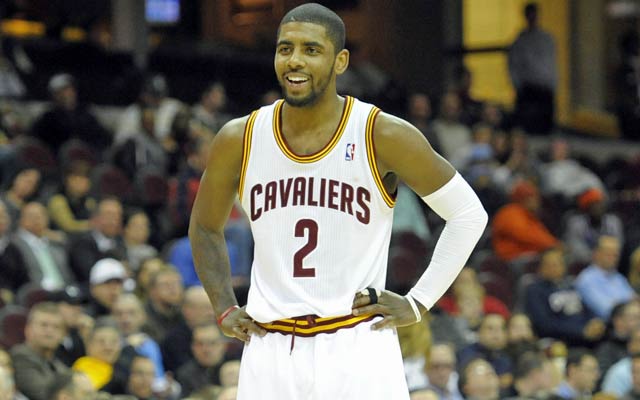 More NBA: All-Star Weekend | Saturday event schedule
NEW ORLEANS -- No beignets or Hurricanes for me. Just a 35-hour, door-to-door trip from snowed-in New York through Cincinnati and Atlanta to All-Star weekend, where the trade and front-office news is beginning to take shape.
The most interesting tidbit I've heard so far comes from another Ohio city, Cleveland, where the Cavs fired GM Chris Grant last week and will embark upon a serious search for a permanent replacement after the season. Owner Dan Gilbert, who attended Friday's annual technology conference as a panelist, is determined to get this one right.
Much is at stake. The Cavs are 3 1/2 seasons removed from LeBron James' departure for Miami and have nothing to show for it. Well, not nothing. They have one extremely valuable asset to show for it: Kyrie Irving.
Gilbert is ferocious in his determination not to lose Irving the way he lost LeBron, and league sources say the lessons learned from James' decision to go to Miami in 2010 will be the guiding force behind his search for an executive to lead the franchise forward.
Gilbert, according to sources, understands now very clearly why he lost LeBron. He didn't lose him to Miami's tropical weather, or to Dwyane Wade and Chris Bosh. Gilbert now understands that he lost James to Pat Riley.
When James met with the Heat, Knicks, Nets, Bulls, Clippers and Cavaliers for presentations in July 2010, Riley was the only one speaking from experience to James about winning championships. Riley famously tossed his championship rings on the conference table during a stirring, forthright speech in which he told James he was the only one speaking to him about how to win championships "who wasn't guessing," a person familiar with the meeting said.
Riley's presence, and his championship history, resonated with James more than anything during those meetings, and Riley's track record ultimately guided James' decision.
Now, with his franchise in shambles, Gilbert's worst fear is that he will lose Irving as a free agent the way he lost LeBron. His search for a new GM will begin and end with the kind of championship pedigree that might've helped him hold onto James 3 1/2 years ago.
The problem, of course, is where to find such a person. Riley isn't leaving Miami for Cleveland, even if it meant going with LeBron. Larry Bird, a champion as a player but not as an executive, isn't leaving Indiana. Jerry West? Retired, and probably for good. Phil Jackson continues to yearn for a chance to get back into the NBA, and prefers an executive role. But those in the coaching industry who know both men don't view Jackson and Gilbert as a compatible couple.
Isiah Thomas? He was a champion and all-time great as a player and wasn't exactly a failure as a coach, but his executive resume is filled with red flags. Remember, though: It's likely that Irving knows and cares more about the former than the latter.
The other issue, of course, is that coach Mike Brown is barely half-a-season into a five-year, $20 million contract. Any executive of the caliber Gilbert is seeking would want to pick his own coach. Alternatively, you could hire a championship coach and give him full operational control. The logical names that come to mind are Gregg Popovich and Doc Rivers, and they're both busy with other jobs they aren't likely to leave any time soon -- ever, in the case of Popovich.
So once the Cavs have navigated next week's trade deadline, Gilbert will begin an all-out push for a championship executive who can help avoid the mistakes of the past. Whether he's able to find one is another matter, but at least he's on the right track.
Here are some other tidbits gathered in New Orleans on Friday with the trade deadline six days away:
 The Charlotte Bobcats, clinging to the eighth playoff spot in the East, will be aggressive buyers at the deadline, league sources say. The team's interest in Sixers guard Evan Turner is real. Philadelphia GM Sam Hinkie wants a first-round pick for Turner (and the same for Spencer Hawes). The Bobcats can offer their Detroit pick if they're serious about making a push.
The Nuggets, who stumbled into the break losing four straight road games by a combined 110 points, are looking to revive trade talks for point guard Andre Miller, who hasn't played since Dec. 30. The Sixers are one team that could absorb his $5 million salary, but Denver would prefer to find a team that needs Miller for a playoff push and thus would be willing to give up an asset. With an underachieving team and payroll that is clogged up for the next two seasons, the Nuggets are expected to be active at the deadline. One person in contact with Denver officials said everyone on the roster is up for trade discussion except Ty Lawson.
Several teams have called Milwaukee about point guard Luke Ridnour, including Washington and Sacramento, a league source said. The Bucks are also fielding calls about their young players, as teams are dubious that owner Herb Kohl is serious about going through the pain of a youth movement. (It's been painful enough as it is.) But the message from the Bucks has been consistent: Barring a significant offer, their young assets are staying put.
Suns GM Ryan McDonough has informed inquiring teams over the past few weeks that if Phoenix is still in the playoff hunt at the break, he will be aggressive in the trade market in an attempt to push the team into the postseason. The Suns hit the break in the seventh spot in the West, but one rival executive says Phoenix will not take parting with draft picks lightly and isn't interested in taking on future salary. At least one of those conditions would have to change to turn the Suns' aggressive posture into an actual trade.
The trade dynamics are much more fluid than at recent deadlines, especially in the East. Several teams are on the borderline between pulling back and positioning for a better draft pick and making a move to push for a playoff spot. With 30 losses apiece, for example, the Bobcats and Pistons are on the cusp of a fruitless postseason venture as the seventh or eighth seed, which would almost certainly mean a first-round sweep at the hands of Indiana or Miami. But they're also only five games out of the fourth spot, which could deliver home-court advantage in a winnable first-round series.
A season-ending injury kept the Celtics guard's time at Duke very brief before he jumped to...

Here's a look at what has brought fans the most joy so far this season

Kevin Mackey says he gave Manute Bol a birthday because they didn't know how old he was
Hosts Bill Reiter and Reid Forgrave are joined by America's Lakers Podcast co-host Aaron L...

Meanwhile, we learned the hard way just how many supporters Lonzo Ball still has out there

The fifth-year forward has continued his growth on both sides of the floor