All-Star MVP Kyrie Irving key to any chance Cavs have of luring LeBron
MVP Kyrie Irving leads the East to victory over the West in the NBA All-Star game, with an assist from LeBron James. And Irving is the key to any chance the Cavve has of luring the King back to Cleveland.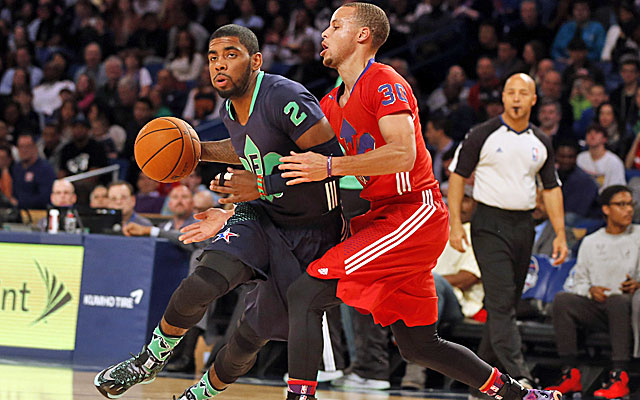 MORE: East rallies to beat West | Moore: Who needs defense? | Griffin goes off
NEW ORLEANS -- With the biggest stars of the sport, some of the biggest in the world, saving All-Star weekend with a dazzling performance on Sunday night, the one who lives in their shadows stole the show.
On a night when Blake Griffin rose above the rim and challenged Wilt Chamberlain's All-Star scoring record, when Carmelo Anthony dropped an All-Star record eight 3-pointers, when Kevin Durant displayed the incredible breadth of his talents, Kyrie Irving was the one who so improbably stood above them all -- raising the MVP trophy in the air.
Only after some prodding from LeBron James and his Eastern Conference teammates, though. At the tender age of 21, in his second All-Star Game and first start, Irving should be forgiven if he didn't quite know what to do.
"I just wanted him to have his moment, and the moment is holding that trophy above your head," LeBron James said after Irving led the East to a 163-155 victory in the 63rd All-Star Game. "It's one of the few moments in our year when you do that. It seemed like he didn't know exactly what to do and I just wanted to give him a little tip."
It wasn't the first time on this night when James helped Irving  out, or vice versa, as the Cavs' former centerpiece and the current one teamed up for an array of dunks and spectacular layups that conjured images of what their future together night be.
"Kyrie's special," James said. "It's just that simple. Very special basketball player, very smart basketball player -- his ability to shoot the ball, get into the lane, make shots around the rim. He has the total package. I've always known that, always witnessed that ever since he was in high school. I'm extremely happy for him, extremely proud for him to win this award."
Irving finished with 31 points on 14-for-17 shooting, dishing out 14 assists. One of them was a nifty one to LeBron for a layup that put the East up by six points with 43 seconds left. He crossed up Dwight Howard and drove for a layup, and might've made the shot of the night in a game filled with them as he drove and scooped a driving layup off the glass -- a wicked moment, a breathtaking reminder of how lethal he is.
So young. So much future.
"Being as young as he is, his second All-Star appearance and to be able to come out  with the MVP just validates and solidifies why he's in this game and why he's one of the best point guards that we have in our league today," James said.
And amid the misery of a dismal season in Cleveland -- a losing team, a fractured, rudderless organization that never recovered from James' departure four seasons ago -- there rises the faint hope of a reunion. That hope burns hot within the team's owner, Dan Gilbert, who is fiercely determined not to let Irving leave him the way James did in 2010. And the owner's belief remains strong that he'll have a shot to get James back -- either as a free agent this summer or next, if James' championship well runs dry in Miami.
Whether that notion hanging over Cleveland is healthy for the Cavaliers or not, Irving wouldn't say. But moments after clutching that MVP trophy in his hands, raising it above his head with an assist from LeBron, he admitted that he's well aware of the possibility.
 "Everyone is going to have their opinion and write different stories," Irving said. "But for me, my focus level is just on my team and our team that we have now. That's the most important thing at this point for me. All the outside sources, I really don't pay attention to. It's more of an internal confidence thing that I'm trying to raise with the morale of my teammates. That's what it's about."
Sunday's All-Star Game marked the beginning of a shift in the NBA's tectonic plates of talent. With Dwyane Wade, Chris Bosh and even James willingly taking a back seat to the tidal wave of young brilliance crashing on the NBA's shores, the dynamics have changed since James created his super team in Miami nearly four years ago.
Whatever the outcome of this year's championship chase, with James seeking his third ring since leaving Cleveland, he knows that he will need an infusion of youth to finish the job. The NBA's arms race never ends, and James knows it is a young man's game.
"To be able to win [MVP] at a young age, it just gives you another boost of confidence," James said.
If James ever went home again, it wouldn't be about going home. It would be about the same thing it was about when he left – teaming up with the kind of talent that can help him fill his trophy case. He has an early-termination option this summer, and he's obviously learned from his past mistakes. He has managed to make his pending free-agency a non-story. He hasn't fueled it at all. Quite the opposite.
It's feasible, even likely, that James will opt in for next season if Miami's championship fire still has a spark, then do this all over again with a player option in 2015. By then, Irving will have a chance to be a restricted free agent.
Most rival teams think Gilbert's fixation on reclaiming the transcendent talent he lost is little more than fool's gold. But everyone knows this: Whatever chance Gilbert has of pulling this off, however faint the possibility, rests in the fingertips of the 21-year-old force of nature who was holding the All-Star MVP trophy on Sunday night.
"It's a great accomplishment, bringing this back to Cleveland," Irving said.
As for bringing something else back, that would be the ultimate prize.
The singer of the national anthem at the Nets game took a knee at the end

This was the Lonzo Ball people were expecting out of college

Antetokounmpo finished with 34 points, 8 rebounds, 8 assists, and 3 steals, but the Cavs won,...
John Wall is proud of his ability to block shots and thinks nobody at his position has been...

Giannis went at LeBron on a fast break, but LeBron won the matchup

Boucek most recently was head coach of the Seattle Storm in the WNBA