Allen, Chalmers aren't thinking about Heat futures quite yet
Heat future free agents say they're not looking past Game 5 of the Finals or reflecting on their time with the Heat with work still to be done.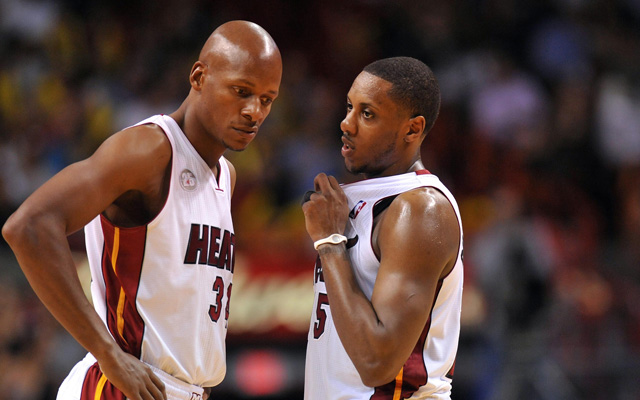 More Finals: Doyel: Miami's Big 3 already a success| Duncan's legacy
SAN ANTONIO -- Faced with the possibility this could be their last games with the Miami Heat in Sunday's Game 5 of the NBA Finals against the San Antonio Spurs, both Mario Chalmers and Ray Allen said they weren't thinking about those elements yet. 
Both players will be unrestricted free agents this summer. Allen said this week he'll consider retirement after this season, but when asked if he was at all considering that this might be his last game in an NBA uniform, the future Hall of Fame guard simply said, "No, I'm only focused on this game right now."
Chalmers, who has struggled mightily in this series, was his usual confident, upbeat self Saturday and said that he hasn't thought at all about his future with the team. Chalmers, despite winning a title in college at Kansas and then two NBA titles and having started for Miami for nearly all of the Big 3 era, has his status in doubt thanks to recent struggles, the emergence of Norris Cole and what could be significant changes to the Heat's roster this summer. 
The Heat would almost certainly welcome Allen back, but it might have to be at the veteran minimum considering their reported lofty plans to pursue a fourth star in Carmelo Anthony to add to their triumvirate of All-Stars. 
Allen made $3.2 million with Miami this season after singing with the team in 2012, while Chalmers is in the final year of a three-year, $12 million deal he signed in 2011. 
With 2K18 out everybody wants to know who has the 10 highest ratings in the game. Here's the...

Durant noted in an interview that all of the criticism in the immediate aftermath hit him...

Want the swagger of LaVar Ball? "NBA 2K18" lets you copy his absurd run from his WWE appea...
Durant apologized for a few tweets in which he criticized OKC and his former coach Billy D...

Lue does not expect the Cavs' big trade to affect the team's starting frontcourt ... at least...

Dwight Howard wants to be a farmer in his future and retire with his donkeys