Allen Iverson: 'I want to play basketball so bad'
Former NBA All-Star Allen Iverson said that he still wants to play professional basketball and doesn't want to enter retirement.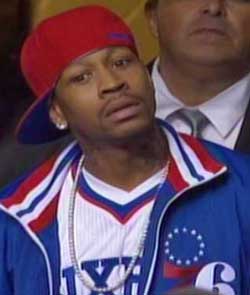 Allen Iverson wants to continue his professional basketball career.
(ESPN)
The Answer wants another chapter.
Former
NBA
MVP Allen Iverson was in the house for Game 6 of an Eastern Conference semifinals series between the Philadelphia
76ers
and Boston
Celtics
on Wednesday night.
Greeted with a standing ovation by the Philly crowd after spending the first 10-plus seasons of his 14-year NBA career with the Sixers, Iverson said that he isn't ready to officially call himself retired from professional basketball.
"I'm not using that word [retirement]," he said during an in-game interview televised on ESPN. "I want to play basketball so bad."
Iverson, 36, has not played in the NBA since the 2009-2010 season, when he made an encore run with the Sixers for 25 games. From there, Iverson played professionally in Turkey for Besiktas and has repeated a desire to return to the NBA while dealing with rumors of financial and personal problems.
He said Wednesday that he understands that an NBA comeback isn't likely to happen but that he still wants to lace up the sneakers.
"I mean, the way it is right now, I've accepted the fact that [playing in the NBA] might not happen," he said. "But I still want to play basketball. If I can get an opportunity to where it's going to make me happy at the end of my career, I'll take that opportunity. But I just love to play and I want to have another opportunity to play on the professional level."
Iverson was the 2001 NBA MVP, the 1997 NBA Rookie of the Year, an 11-time All-Star, and he guided the Sixers to the 2001 NBA Finals.
Asked for his memories of playing in Philadelphia, Iverson admitted the return to the arena had him near tears as he stepped onto the court to deliver the game ball to the officiating crew.
"It was the best," he said. "I love these fans, and obviously they showed me a lot of love here. I was basically trying to hurry up and get off the court. My legs started wobbling, I was getting ready to tear up. My eyes got teary and my lips started shaking. I knew it was time to go, so I hurried up and tried to get off the court."
Durant says he probably wouldn't have gone to college because he 'needed the money'

Ball, who has missed the last 15 games with a sprained MCL, will be on a minutes restricti...

Larry Hartstein is in the midst of his best run of the season and released a pick for Mavericks...
Larry Hartstein has nailed 19 of his last 25 NBA picks and just released a play for Cavs vs....

The defending champs made their own plans after being disinvited to the White House

Stephen Oh has his finger on the pulse of the Rockets and locked in a play for Friday