Amar'e Stoudemire says he's sure Knicks will return to playoffs
Knicks forward believes Knicks may have been the league's best on paper despite not making the playoffs.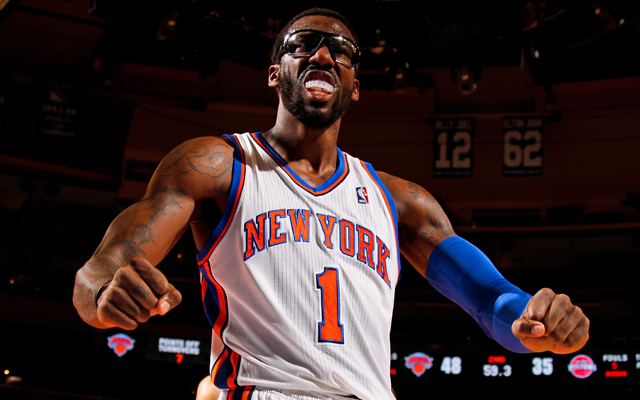 More NBA: Power Rankings | Expert Picks | Latest news, notes
The New York Knicks were... what analogy do you want for this season? Choose one: a trainwreck, a dumpster fire, a rotting mess, the "Beverly Hills Cop III" of Knicks teams. They missed the playoffs after winning 57 games last season. They had injuries, but not on par with the Lakers, Pelicans, Nuggets or even Bulls. 
But that won't dampen Amar'e Stoudemire's enthusiasm. STAT says that next season, they'll be back... as long as he's healthy. 
"Not making the playoffs is not an option," Stoudemire said on Sunday. "That's [another losing season] not an option for us. We're definitely looking to make the playoffs every year.

"This year's been a struggle," he continued. "But if I return healthy and ready to go, I'm sure we'll make the playoffs."
via Amar'e Stoudemire: New York Knicks will 'make playoffs' if healthy - ESPN New York.
Stoudemire averaged 11.9 points and five rebounds this season in 63 games. It was the most he's played since 2011. Amazingly, this was only the second-most ridiculous thing he's said about the Knicks this week. 
"They should have been a little bit higher if you ask me," Stoudemire said on Sunday. "On paper we might be the best team in the league. We've got great players on this team who accomplished so much. We just couldn't put it together."
via Amar'e Stoudemire: On paper, Knicks are best in NBA - ESPN New York.
You have to respect Stoudemire's optimism, and he did play well down the stretch for the Knicks this year. But he's not getting any younger and he's had so many knee operations over the past ten years I've lost count. The Knicks could be back in the playoffs, but it's going to take a better team than the one they put on the floor this year. And a lot of that will depend on how much money Carmelo Anthony demands in free agency. 
Here's how to watch Team Stephen vs. Team LeBron in the 2018 NBA All-Star Game

Jimmy Butler is resting during the All-Star Game and that's kind of weird

The 2018 NBA All-Star Game introductions were just too much for Twitter to handle
Cousins is out for the season with a torn Achilles tendon

Twitter roasted Fergie's rendition of the national anthem, and even Draymond couldn't contain...

LeBron James, who fell two assists shy of a triple-double, was named All-Star Game MVP