Amar'e Stoudemire talks about the fire extinguisher incident and Jeremy Lin
Amar'e Stoudemire is setting the record straight: He didn't punch a fire extinguisher. He slapped it. You hear?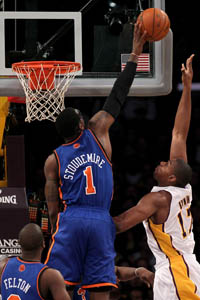 Stoudemire says he slapped, not punched the fire extinguisher.
(Getty Images)
Amar'e Stoudemire is setting the record straight: He didn't punch a fire extinguisher. He slapped it. You hear?
Stoudemire joined Fox Radio (via Sports Radio Interviews) and talked about the incident that happened during the Knicks' opening-round series against the Heat.
"It wasn't a punch at all, actually. It was more like a slap against the wall, but I caught the edge of the fire extinguisher. Some people think I balled my fist up and punched through a glass fire extinguisher, which is totally opposite of the truth. It was more like a smack against the wall, kind of a backhand or a reach-back slap across the wall and caught the edge of the fire extinguisher. I think a lot of people confused my passion with frustration. I'm such a passionate player. I want to win so bad to where sometimes I want to win, so I bring my passion and it gets confused with frustration."
After slap-punching the extinguisher following Game 2, Stoudemire missed Games 3 and 4 but returned for Game 5 with stitches in his left hand. He apologized after the incident, tweeting "I am so mad at myself right now. I want to apologize to the fans and my team, not proud of my actions. headed home for a new start."
The way Stoudemire describes what happened makes a lot of sense. Because it's hard to imagine him just wailing on a fire extinguisher case. He's not a moron. But an innocent, frustrated slap against the wall that went wrong? Understandable.
Like he said, he's passionate. And the Knicks just fell in an 0-2 hole to the Heat and were looking at a swift first-round exit. Naturally, he didn't help things by cutting his hand to pieces, but accidents happen.
And not that we really need verification, but the nasty picture he tweeted of his hand certainly shows it was a slap, not a punch. But then again, does it matter? He cut it and had to miss games. Slap, punch, kick, whatever -- it ended up costing the Knicks.
Stoudemire was also asked about Jeremy Lin and said he deserved all the buzz.
"Jeremy had a great 15 or 20 games when he played. Those were some pretty phenomenal games and what he did out there was … you can't take nothing from him, so the hype was well-deserved. I mean he really played well for us and he put us back in the playoff mind frame. It was great to watch."
Too bad, you know.
CBS Sports HQ Daily Newsletter
Get the best highlights and stories - yeah, just the good stuff handpicked by our team to start your day.
Please check the opt-in box to acknowledge that you would like to subscribe.
Thanks for signing up!
Keep an eye on your inbox for the latest sports news.
Sorry!
There was an error processing your subscription.
The Cleveland Cavaliers owner is recovering comfortably at a Detroit-area hospital

SportsLine's projections give the Warriors a 66 percent chance to beat the Raptors without...

It's time for the third edition of our NBA playoffs sneaker rankings
Game 1 of the 2019 Finals is set for Thursday night in Toronto

The 2019 NBA Finals have finally arrived, with Game 1 tipping off on Thursday, May 30

Our NBA experts predict the winner of every playoff round, all the way through the Finals