Amar'e Stoudemire to judge Miss America pageant
Amar'e Stoudemire will join Lance Bass and a bunch of other people you don't care about in judging the Miss America pageant.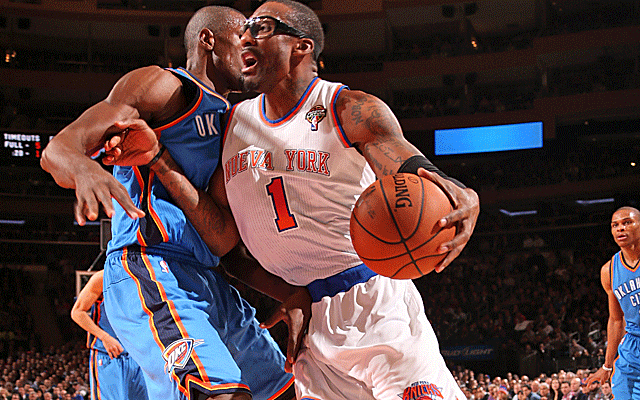 Well, Knicks forward Amar'e Stoudemire's talent hasn't been on stage much since injuries and Carmelo Anthony popped into New York, but he's still got star power, apparently. From The AP: 
Former 'N Sync singer Lance Bass and New York Knicks forward Amar'e Stoudemire highlight the list of judges for next month's Miss America pageant in Atlantic City.

Joining them will be Grammy Award-winning violinist Joshua Bell; comedian and performer Mario Cantone; and Barbara Corcoran, an investor from ABC's entrepreneurial competition show "Shark Tank." Also on the panel are Carla Hall, co-host of ABC's food-and-talk show "The Chew," and Deidre Downs Gunn, an obstetrician and gynecologist who was the last Miss America to be crowned in Atlantic City.
via Amar'e Stoudemire One Of Judges For Next Month's Miss America Pageant « CBS New York.
Oddly enough, Stoudemire's still coming off the bench, because Bass is most comfortable at power forward with the ball in his hands. 
Stoudemire just got married over the summer, so this is a little surprising. I'm just saying, if I went from my honeymoon to "judging the Miss America pageant," there might be some issues. 
Clearly, Stoudemire's experience as a professional basketball player puts him in prime position to judge a competition that features people at the highlight of their lives. 
Stephen Curry, who grew up in North Carolina, wants to be part of the next Panthers ownership...

Vince Carter is destined for a Raptors reunion; he doesn't know when it'll happen

Thomas has a target date for his return, and with the Cavaliers scorching, this could be h...
LeBron James once again is using his platform to be socially active

Not many games, but still plenty of action and intrigue Sunday in the Association

Kobe Bryant had a solid piece of advice for back in 2016 when he left OKC for Golden State